It is relatively easy to create an AI or machine learning proof of concept, and eventually you will have multiple teams creating their own models to perform similar tasks. Beware, however, that this can result in duplicative training and tuning efforts, different outcomes and predictions, and variances in accuracy. The goal of automation is to create, train, tune, and task one model so that all efforts to curate, label, and define data are put into a common engine.
Building a Center of Excellence
Data is the foundation of intelligent automation, and a combination of different technologies – such as DPA, RPA, and AI – will act on the data. It is equally important that there are individuals overseeing human elements, such as the change management process that occurs during intelligent automation adoption.
To holistically fuel intelligent automation, consider the people contributing to workflows, processes, and technologies that are built from the data.
Start by creating purpose-driven architectures and leverage each technology platform for what it was inherently designed to do: optimize your overall solution by creating repeatable patterns and scalable components across the enterprise.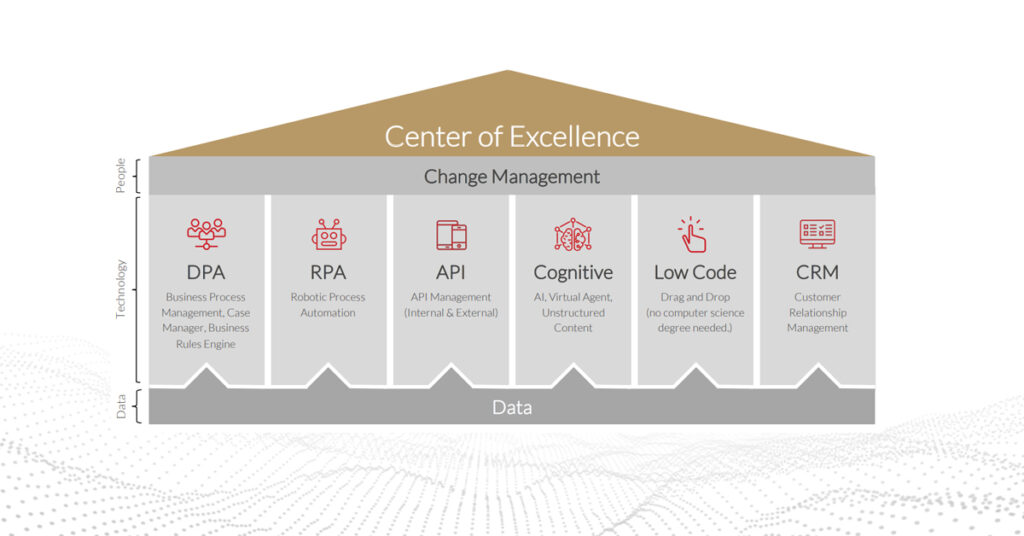 3 Tips for Success
Enable holistic, enterprise-wide efficiencies: Create purpose-driven architectures by leveraging your technology platforms for what they are inherently designed to do. The goal is to create a center of excellence (CoE) that encompasses a holistic intelligent automation approach (rather than individual initiatives that fight for budget). This approach optimizes your overall solution and allows you to create repeatable solution patterns and reusable components across your enterprise.
Automate in phases, starting with reliable data: Automation introduces complexities that must be continually monitored for efficiency and compliance. When determining how to govern data automation, it's vital that you first identify a single source of truth so you can assess potential automation opportunities that fully utilize your data. Then, you're ready to build a roadmap and identify ways to bring in additional capabilities. Rolling out automation in phases enables you to achieve ROI and create a more sustainable environment.
Ensure successful adoption: Importantly, you must communicate with other teams in your organization and address any concerns. This helps create a sense of ownership and treats automation as a shared service.
Rolling out automation in phases enables you to achieve ROI and create a more sustainable environment.
Enabling Your Organization for Automation
Automation is a driving force in digital transformation. Today, there are few business processes that are not touched by automation. Healthcare organizations are pursuing automation for various reasons, including:
Increase consumer satisfaction and engagement
Focus employee attention on other business-critical tasks rather than on repetitive ones
Increase capacity
Improve efficiency
Humans remain a vital contributor in the mix. As automation's adoption grows, people will still work alongside the technologies and discover new ways to improve processes. Leadership must remain open to new ideas and invest in new technologies to set their business up for future success.
Over time, the process for completing tasks typically changes. The advent of new technology does not mean that people will never perform a certain task again – it means they will do it differently. Technology does not replace human efforts, rather it augments them to make systems and processes more efficient.
For example, when ATMs were introduced, financial institutions were concerned that tellers would become obsolete and the profession would be eliminated from the workforce. ATMs have eliminated the need for certain transactions, such as face-to-face cash withdrawals, which means there are now fewer tellers at each branch. However, as more ATMs have been installed, more tellers are employed because of the growth of and need for regional and local bank branches.
Our new guide The Healthcare Executive's Guide to Intelligent Automation explores how to combine leading automations technologies, insights, and governance to heighten efficiencies and increase value within healthcare organizations. In the guide, we examine:
How automation drives efficiency and value in healthcare
Key automation trends and drivers of adoption
Core elements of a successful automation strategy
Best practices and steps to get started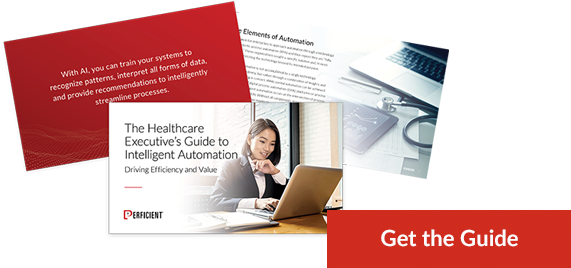 Why Perficient
We blend healthcare and automation expertise to help you build stronger teams and establish optimal processes. Our experts will help you identify how work is performed today and how you can optimize for tomorrow.
We work with partners that address the key elements of intelligent automation with their best-in-class product offerings. Your needs are unique, and we can help you determine the product or system for your particular use case. We also provide readiness evaluations, business case development, implementation and migration services, and rapid development and pilots.
We are recognized by Modern Healthcare as a key healthcare consulting leader. Additionally, Perficient was cited as a "Contender" in The Forrester Wave™: Digital Process Automation Service Providers, Q3 2020 report.