We are excited to welcome Sarah Khalid to Perficient as a Salesforce and MuleSoft Technical Architect, and as a partner community leader and mentor!
A Salesforce and MuleSoft Technical Architect role at Perficient plays a crucial part in our Salesforce and MuleSoft strategies. It requires not only a high degree of skill in our technological solutions, but also requires a high degree of consulting, relationship building and management, and the ability to see the big picture that our solutions can bring to a client.
This role owns the overall technology roadmap and vision for a client and is responsible for maintaining and growing relationships with our clients to ensure a strong long-term partnership. Sarah will work closely with client consultants, engagement managers, project managers, as well as the technology teams to ensure projects are on-time, on-budget, and of the highest quality, as well as adhere to the technology roadmap that she will have laid out.
Sarah Khalid has over 12 years of experience on the Salesforce platform. As a Salesforce and MuleSoft Technical Architect, she holds 15 Salesforce certifications, including the Application and System Architect certifications, and has recently become MuleSoft certified. She looks forward to sharing her insights and best practices for both Salesforce and MuleSoft technologies.
Sarah is also an active Salesforce Community Group Leader for Women in Tech and one of the first sixteen individuals to take part in the brand new MuleSoft Community Program — The MuleSoft Mentors!
Recently, Sarah was awarded a Golden Hoodie from Salesforce! Becoming a Golden Hoodie Trailblazer is a way for Salesforce to recognize people for their contributions to the Salesforce and local communities. It's an elite group of Trailblazers for going above and beyond, and Sarah is a great resource for both Salesforce and MuleSoft Architects and communities.
---
5 Questions for Sarah
Question 1: As a Salesforce and MuleSoft Technical Architect at Perficient, what is your main responsibility? Can you explain your role in the consulting world?
Sarah: I am responsible for successfully designing and managing the delivery of Salesforce cloud-based solutions and MuleSoft technologies. I will work with application developers, users, operational leadership, and subject matter experts to understand current and future operational data analysis goals. It is then my responsibility to recommend modern technology stacks to meet our clients' goals and help engineering teams migrate towards their use.
In the consulting world, I leverage a consultative approach to explain solutions that I have designed with an engineering mindset. It is important for me to be able to speak to a wide range of audiences from highly technical to strictly business focused. As a Technical Architect, I work in parallel with the Client Consultant on an account. The Client Consultant will represent the business process and vision, while the Technical Architect delivers the technical solutions and roadmap to fulfill the business needs and visions.
Question 2: Can you describe your technical background and your journey growing within the Salesforce platform?
Sarah: Towards the beginning of my career, I was a general developer and soon progressed into a Salesforce specialist. At the time, Salesforce gave me the unique opportunity to work from home while raising young kids, but I recognized Salesforce provided much more than that. I eventually became accustomed to Salesforce as I truly enjoyed designing systems and solving problems using the platform. Ultimately, I then decided to holistically focus my career on Salesforce and subsequently pursued the Salesforce Architect track. As my kids got older, I learnt about the Salesforce Community and started attending Community events where I was able to meet a lot of amazing people and share my technical knowledge. By creating connections within the community, I was compelled to take on a leadership role as a Salesforce WIT User Group co-leader.
Question 3: Can you talk about how you expanded your skillset from a Salesforce Technical Architect to MuleSoft?
Sarah: Learning about MuleSoft, an integration and API platform, was a result of sheer curiosity and thirst for knowledge. Since Salesforce had announced their acquisition of MuleSoft I was interested to learn how the two platforms would work together as one. Due to the lack of information available on how Salesforce and MuleSoft connect, I decided to learn the MuleSoft platform myself to comprehend the connection of the technologies.
First, I started with MuleSoft's free self-paced learning path (training available on MuleSoft.com) and later fulfilled the instructor-led training course for Mule 4 Developer which helped advance my skills by providing hands-on experience. Afterwards, I worked towards my goal of becoming MuleSoft certified and in roughly a year, I was able to achieve that goal.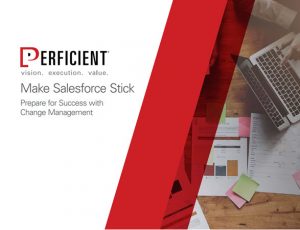 To ensure your Salesforce implementation or migration goes as planned, our team of change management professionals discuss how to manage the transition process to ensure your team is ready, willing, and able to perform effectively in the new environment.
Following my certifications, I felt it was my obligation to leverage my subject matter expertise and give back to both Salesforce and MuleSoft by contributing content focused on the two technologies working together. This led to the start of my personal and professional blog, sarahinthecloud, which features technical content for implementing Salesforce and MuleSoft together.
Question 4: What are your contributions to the Salesforce and MuleSoft communities?
Sarah: For the Salesforce Community, I am a user group co-leader for the Salesforce Women in Tech (WIT) Group, Princeton, United States. I have also contributed presentations and speaker sessions to other Salesforce user group events, including Salesforce's World Tour. In addition to Salesforce user groups, I assisted a local non-profit PTO with obtaining free Salesforce licensing and configured the platform to distinctively operate for their organization – ultimately replacing manual paperwork by automating their business processes.
For the MuleSoft Community, I was recently selected as one of the sixteen first MuleSoft Mentors for the launch of the brand new MuleSoft Mentors Program. As a MuleSoft Mentor, I will help MuleSoft Community users to expand their technical skill set, share technical content of their own, and eventually prepare them to become Mentors as well! In addition, I have participated in various speaker sessions for MuleSoft user group events to highlight both the Salesforce and MuleSoft platforms.
For both communities, I contribute technical content with my blog, sarahinthecloud, which is focused on the Salesforce and MuleSoft platforms. Throughout this first year of blogging, sarahinthecloud has won multiple awards from the MuleSoft Community. Moving forward, I will continue to be an active contributor for both communities. Check out the upcoming events for which I will be featured as a MuleSoft Trailblazer with background for both Salesforce and MuleSoft platforms.
 | Thursday, June 17, 11 AM CDT | Register Here
 | Wednesday, June 23, 12:00 PM – 12:30 PM CDT | Register Here
If you are interested, please register with the links above for the events and learn more about my journey expanding into the MuleSoft platform from Salesforce.
Question 5: Do you have any advice for our team?
Sarah: My advice would be to always work on your personal professional development. I expanded into MuleSoft from Salesforce by development of my professional skills. It was important for me to develop my skillset and grow my certifications. After 8 years of working within the Salesforce platform, I decided to start growing my certifications and was able to achieve 15 of my certifications within 2-3 years.

---
About Our Salesforce and MuleSoft Practices:
Perficient is both a proud Salesforce Consulting Partner and a MuleSoft Premier Partner. As one of few implementation partners with dedicated practices supporting both platforms, we can solve your toughest business challenges with innovative approaches.
As an awarded industry leader, Perficient thrills clients with innovation. We help the world's leading brands use Salesforce and MuleSoft to accelerate digital transformation, drive innovation, grow their business, and create connected customer experiences. By leveraging consulting services, organizational change management, and customized solutions specific to each industry, Perficient's clients are also able to accelerate time-to-market. With Perficient, you get the experience and expertise needed to deliver impactful solutions that drive your business forward.
LEARN MORE: About our Promise to Challenge, Champion, and Celebrate our People
---
It's no secret our success is because of our people. No matter the technology or time zone, our colleagues are committed to delivering innovative, end-to-end digital solutions for the world's biggest brands, and we bring a collaborative spirit to every interaction. We're always seeking the best and brightest to work with us. Join our team and experience a culture that challenges, champions, and celebrates our people.
Visit our Careers page to see career opportunities and more!

Go inside Life at Perficient and connect with us on LinkedIn, YouTube, Twitter, Facebook, and Instagram.