We are thrilled to announce that Perficient's St. Louis office has been named a 2021 Best Place to Work by the St. Louis Business Journal! This win is a testament to our company's incredible culture, and we are excited to add it to our growing list of honors and awards won by Perficient offices around the country.
Best Places to Work and Quantum Workplace determine their list through the following process:
The Best Places to Work survey measures key areas that make up an organization's culture. These range from compensation and benefits to trust in senior leadership. The survey also measures the level of engagement exhibited by employees, known as employee engagement.
Participating companies are ranked by a points system that is entirely based off of an employee survey. Throughout the process, employees are asked to complete a 30 question survey that allows them to provide a 360 review of their organization. As "People" is one of Perficient's core values, we are honored to receive an award that comes from our people and symbolizes their work ethic, passion, and overall happiness at work.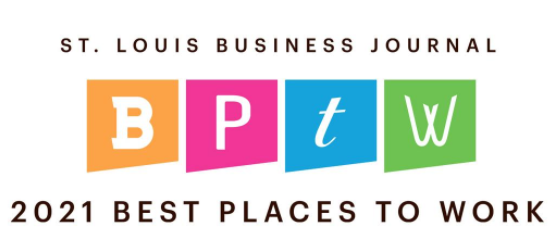 Why Perficient's St. Louis Office is a Best Place to Work
Whether they are giving back to their hometown, cheering on the home team, or engaging in exciting culture activities, the St. Louis team is always working hard to connect with one another and make an impact. Our employees are what make us a Best Place to Work, and we look forward to seeing how our culture can continue growing over the upcoming years.
Check out the gallery below to see some of the ways our St. Louis team embodies the Perficient culture!
This slideshow requires JavaScript.
---
JOIN AN AWARD-WINNING WORKPLACE
At Perficient, we continually look for ways to champion and challenge our talented workforce with interesting projects for high-profile clients, encourage personal and professional growth through training and mentoring, and celebrate our people-oriented culture and the innovative ways they serve Perficient and the community.