We're well into May and Microsoft still has quite a few features on their roadmap that are slated for release before the end of the month. In this article, we'll cover some of the features that should be showing up in your Teams client within the next couple of weeks. With that said, let's see what Microsoft has in store for us!
Android On-Demand Chat Translation
Get inline message translation on your Android device with a simple click! Now you'll be able to easily communicate with someone that speaks a different language by translating posts in channels and chats. Now you can break down those language barriers by allowing every worker to facilitate global collaboration!
Dynamic View
Microsoft is making some changes to how content is seen when being shared within a meeting. The new controls will allow you to personalize the view such as the ability to show shared content and participants side-by-side to better suit your viewing preferences.
Custom Attendee Registration
Looking for ways to more easily manage the attendance in a Teams meeting or webinar? Look no further, now you can add a custom attendee registration page so you can manage the meeting attendance before or after an engagement. Once the registration has been set, all meeting attendees will receive an email confirmation and a calendar invite.
Out of Office
Microsoft is making it easier to set your Out of Office status by integrating this feature into your presence status options in Teams! Now you'll be able to schedule your "Out of Office" presence in Teams which will also carry over to your Outlook calendar and update the automatic replies accordingly.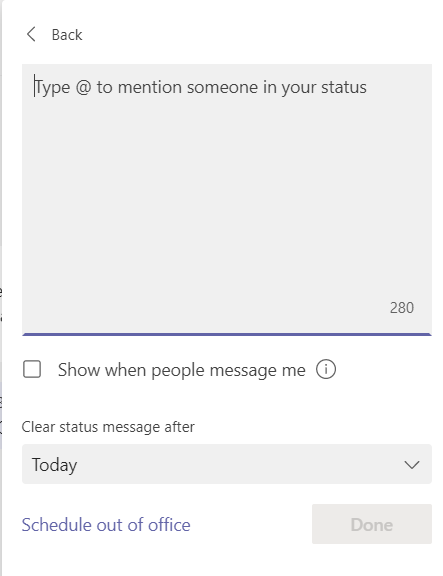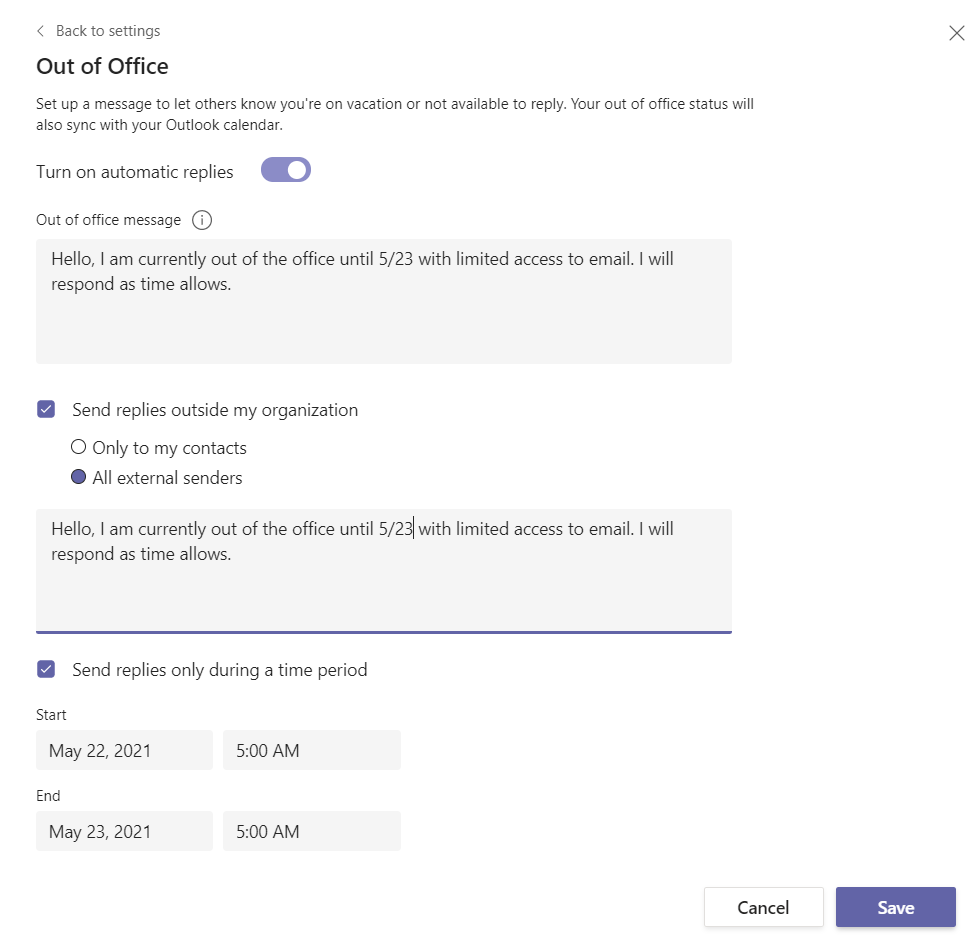 Block Downloads for non-channel Teams meeting recordings on OneDrive
Now if a standard (non-channel) meeting is conducted and you are only granted view-only permissions of a meeting recording that was uploaded to OneDrive, you'll be blocked from downloading the recording by default. 
Updated in-meeting sharing experience
Microsoft is giving its in-meeting sharing experience a facelift! The in-meeting share features have been redesigned to help presenters more easily navigate and find their desired content for sharing.
Updates to Sensitivity Label hierarchical display in Teams
If you are currently using hierarchical sensitivity labels (parent label and child labels), the channel headers in Teams will now only display the parent label as opposed to showing the child label. For example, if we had a sensitivity label entitled Confidential\Accounting, the Teams client would only show the parent label "Confidential" in the channel header and now the Accounting header.
New updates for Together Mode and Large gallery views 
You will now have the option to change the viewing layout for both Together mode and Large gallery views in Edge and Chrome browsers! Sorry Firefox users, you weren't invited to the party. 😉 
Disable/Enable a single attendee's video or all attendee's video in a Teams meeting
Soon you will have the ability to disable/enable either a single attendee's video or the all attendee's video in a Teams meeting! As of right now the only way to disable video is via meeting policies which would then disable video for all meetings the user(s) organize. Having the ability to control this on a per-user basis and per-meeting basis is a great addition for Teams!
Noise suppression coming to Macs
A little late to the party, but better late than never! Windows users have had the capability to set the level of noise suppression on their microphone however, Macintosh users will now have this same capability coming to their Teams clients! If you're working from home and you're like me where at times you have a good amount of background noise (i.e. barking dogs) then this feature can be a godsend! There are four different levels (auto, low, high, and off), and I take full advantage of the "high" noise suppression setting 😉. 
Note: This feature is available now for all Mac users except for those with the new Macs that have M1 ARM processors. 
Polls are getting smarter in Teams meetings
Now when you create a poll for your Teams meeting, Microsoft Forms intelligence service will suggest some polls based on your meeting purpose. In addition, after you've used polls for some of your meetings the Forms intelligence service will suggest your historical polls based on the meeting's purpose. 
Webinars in Microsoft Teams
You will now be able to schedule and deliver a webinar to upwards of 1,000 people within the Teams application! Webinars support capabilities such as the registration page we talked about earlier, email confirmation for those registrants, host management for attendee audio and video, attendee reporting, and even interactive features like your polls, chats, and reactions!
Meeting participant roster changes
Microsoft is making some major changes to how the participant list is displayed. The participant list will be displayed within a meeting for the following sections: "Lobby", "In meeting", "Presenters", and "Attendees". Going forward, a maximum of 20 participants for each of the sections mentioned above will be displayed in the initial view. However, you will have the option of drilling into each of these sections to view more participants. Within the Lobby section, you will also have the ability to review a full list before admitting anyone into the meeting. Lastly, the roster will display additional details like who is the most active participant in the meeting which will be listed in alphabetical order for your viewing. 
Search capabilities in participant roster
If you have a large meeting with hundreds of users attending, sometimes it becomes a bit overwhelming trying to find a particular user in the roster. Luckily, Microsoft is releasing searching capabilities so you can search for in-meeting participants. If you find that the user you're looking for isn't part of the meeting you can continue that search for participants outside the meeting and drag them in by requesting them to join the meeting. 
Correct Answer capabilities in Polls
Microsoft is adding a new feature allowing you to select a correct answer to a multiple-choice polling question. This includes the ability to select a single option or multiple options if the "multiple answers" option is selected. After the poll is complete the correct answer choice will be shown within the Results card. The feature will exist in the following scenarios:
Teams meeting polls (ones that pop up as a window on your screen)
Polls used within a Teams chat (inside or outside of a meeting)
When opening the polls from the Forms site (read-only)
Polls in Teams are getting support for large meetings
Polls are getting a buff to their meeting support capabilities. With the power of Forms, your polls within a Teams meeting will support up to 1,000 users! 
Teams Live Event Producer experience updates
Now as the Producer of a Teams Live Event you'll have the ability to produce the event in a separate window, which will then allow you to more effectively manage and track your event! 
Well, that wraps up all of the updates currently rolling out for the month of May! I hope you have found this article helpful and I encourage you to start using these features as soon as they drop to your Teams client! As always, Microsoft is constantly releasing new exciting features for Microsoft Teams, so this list will continue to grow as the month progresses. Stay tuned for another blog in a couple weeks where we'll discuss all of the upcoming features coming to Teams over the next few months!