As a dynamic, purpose-driven organization, Perficient's people are what make us a unique and formidable force. At the heart of our culture, we promise to challenge, champion, and celebrate our people. And today, we're thrilled to announce that CRN®, a brand of The Channel Company, has named four Perficient colleagues – Liza Sisler, Lynn Brading, Liz Stuart, and Kathryn Bogan – to its esteemed 2021 Women of the Channel list. This annual list recognizes the unique strengths, vision, and achievements of female leaders in the IT channel. In addition, Liza was also named a Power 60 Solution Provider, recognizing her leadership, insight, and influence that helps drive Perficient's channel success.
"It's fantastic that CRN has recognized each of these leaders who are truly champions in the channel for Perficient and our key partners," said Bill Davis, vice president of Marketing and Alliances. "Our strong and consistent growth would not be possible without strong contributors like Liza, Lynn, Liz, and Kathryn who, alongside hundreds of fellow female business leaders and technology professionals, help power our progress and performance each and every day."
At Perficient, we believe our people can achieve their potential when they're part of a unique and collaborative culture that values every voice. Each of these women not only demonstrates an unwavering commitment to our clients, our partners, our communities, and to one another, but they serve as inspiration for our global community of nearly 5,000 colleagues around the world.
Meet the Four Women Leaders Who Have Earned the 2021 CRN Women of the Channel Distinction
Building a Partner Team to Enhance Our Channel Relationships
Meet Liza Sisler, Director, Partner Marketing and Alliances
With more than 20 years in the technology industry, and over 10 spent with Perficient, Liza leads Perficient's Partner Team, a combined team of alliance leaders, software sellers, and partner marketers that work closely with Perficient's partners to deliver solutions that help our shared clients accelerate time to market, enhance their customer experience, access new markets, and outshine their competition.
Liza takes tremendous pride in leading this team of exceptional colleagues, a team that was newly formed at what has proven to be a crucial time.
"Having a combined alliance and partner marketing team allows us to respond to partner needs quickly as there is no barrier to fast decision making, and allows us to pivot as market conditions change. This became especially important over the past year when all in-person events were canceled and go-to-market plans needed to change due to the COVID-19 pandemic."
Among her many achievements in 2020, Liza drove partner program creation that focuses on our largest partners, creating an alliances program and team that included facilitating standardized plans, approach, enablement, and best practices; increased communication cadence with both our channel partners and internal colleagues; and developed new engagement models to facilitate partner engagement tracking.
Liza also serves as the co-chair of Perficient's Women in Tech (WiT) Membership and Expansion Committee. WiT is Perficient's first formalized Employee Resource Group (ERG), and this leadership position provides an opportunity to learn from women and allies across Perficient and contribute to building a community dedicated to supporting fellow colleagues.
"Learning from others, and adding different lenses through which I view challenges and opportunities, is always energizing. I continue to learn from my team, Perficient leadership, and partners. These relationships inform my own work in identifying what is working, what's not, where we should focus efforts, and where we should shift strategy."
Championing Our Partner Relationships and Opportunities
Meet Lynn Brading, National Alliance Director
A second-time Women of the Channel honoree, Lynn Brading serves as the National Director of Customer Experience Alliances at Perficient. In her role, Lynn manages a team of alliance managers who support our growing number of digital experience partnerships, including a key relationship with Adobe.
"As a leader, I empower our alliance managers through coaching and mentoring to dig into their respective partnerships, nurture those relationships, and embrace the challenge of change. In my career, I strive to be an engaging and enthusiastic supporter for my colleagues and our partners. I believe that the key to life and professional development is living in the moment, learning from our past, and preparing for the future."
In the five years of managing Perficient's partnership with Adobe, Lynn's enablement, advocacy, and engagement efforts were influential in achieving significant growth in Adobe service bookings. Throughout 2020, she designed and led several initiatives to drive Adobe bookings across our organization, partnered with our sales and alliance team members to identify opportunities where we could grow, maintained a regular cadence of communication to stay on top of strategy, and pursued a variety of virtual social events designed to engage and inform. During 2020, her contributions also resulted in Adobe recognizing Perficient as a Top Ten Focus Partner.
Looking ahead, Lynn sees even more opportunity for continued growth and success.
"Digital experience is at the center of everything Perficient does, meaning that my channel partners can make a difference in every one of Perficient's customer engagements. To achieve this, I have a personal goal to reach strategic booking revenue thresholds with Adobe and our other customer experience channel partners – retaining our Adobe Top Ten Focus Partner distinction and ascending our partnership levels with Sitecore, Optimizely, HCL, and Acquia."
Driving Innovative & Strategic Experiences for Our Partners
Meet Liz Stuart, Alliance Director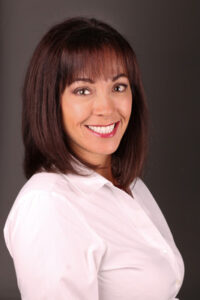 As the Alliance Director for Emerging Solutions, Liz Stuart aims to elevate partner experiences by educating them about Perficient's business, capabilities, and go-to-market strategies. With more than 20 years in the industry and as a four-time CRN Women of the Channel recipient, Liz uses her expertise as a foundation for creating partner frameworks that bring people, processes, and technology together to influence revenue via the partner ecosystem.
"With such a broad national focus for me to tap into, I can develop a partnership strategy that incorporates sales and technical enablement to showcase the importance of partnering with a technology vendor and pursuing opportunities together. We're selling our services alongside those of our technology partners to build an end-to-end solution that achieves the client's current business goals and has room for further development and innovation."
Among her achievements in 2020, Liz partnered with complementary technology vendors and our internal alliance members to drive demand generation, awareness, and virtual events resulting in new leads to the business. Driving this within the company also created several new opportunities for Perficient's business units to collaborate with one another and develop solutions together.
"I am not a rule-breaker, but I tend to push the limit in terms of thinking outside of the box before saying "no" to something. I call it coloring outside the lines. I think it's a good mental exercise to stretch my own creative thinking and challenge our teams to push the boundary of what we think is possible."
Enhancing Meaningful Partner Relationships
Meet Kathryn Bogen, Alliance Manager
With over a decade of experience in the digital technology space, and a strong background in agency and consulting success, Kathryn manages Perficient's digital commerce partnerships, representing the incredible work our teams create on the top technology platforms in the market.
With only one year working in her role, Kathryn has had tremendous achievements – starting with using her delivery and leadership strengths to enhance relationships. In 2020, there was an increasing need to build stronger channel partnerships within the digital space, and despite not meeting her channel counterparts in person during the pandemic, she has built great momentum and growth.
"I leveraged my unique perspective, combining delivery, sales, and digital strategy, in all channel interactions, allowing me to gain the trust and respect of our partners and quickly increase business velocity."
Looking ahead, Kathryn plans to focus her efforts on strengthening partner sales relationships, increasing the visibility of her business team's capabilities and accomplishments, and facilitating stronger marketing support for our key partnerships.
Kathryn's advice for ongoing success?
"The key to 2021 for solution providers is empathy for our customers. Business transactions are almost entirely virtual now and require a level of human connection that cannot be understated. Until we're able to get back together in person, customers are looking for solution providers that are flexible, understanding, and go the extra mile for the business. This also applies to how we engage with our partners, and how our partners engage jointly with customers and prospects. A little extra patience and adaptability go a long way to building long relationships that will last beyond the current challenges."
Women of the Channel List
The 2021 Women of the Channel list acknowledges women from all over the IT channel, including vendors, distributors and solution providers.
The women honored on this year's list pushed forward with comprehensive business plans, marketing initiatives and other innovative ideas to support their partners and customers, helping them through the uncertainty brought on by the global COVID-19 pandemic. CRN celebrates these exceptional women for their leadership, dedication, and channel advocacy.
Catch Liza, Lynn, Liz and Kathryn featured in the 2021 Women of the Channel list online at www.CRN.com/WOTC.
---
Ready to Grow Your Career?
Perficient continually looks for ways to champion and challenge our workforce, encourage personal and professional growth, and celebrating our people-oriented culture. Work on interesting projects for some of the world's most recognizable clients and enjoy life while doing so.
Learn more about what it's like to work at Perficient at our Careers page.
Go inside Life at Perficient and connect with us on LinkedIn and Twitter.