As I write and post this blog, within a few days the calendar will change from April 2021 to May 2021 and four months of 2021 will be behind us.  As an implementer of OneStream software, my perception is that the first four months of 2021 have been busy for OneStream development as a new release of the OneStream XF platform was released as well as numerous updates to MarketPlace solutions.  This blog will provide a summary of the various releases as well as highlighting a key new feature or two that I found of specific interest.
First and foremost, I will start with OneStream XF as the platform is the foundation of any implementation as well as the basis of the minimum version for a MarketPlace Solution.  As of March 26, 2021, the most recent release is OneStream XF 6.4.0 replacing OneStream XF 6.3.0 which was announced in December of 2020.  This release has numerous enhancements including but not limited to Table Views, interfacing of data, and large file support for File Share Explorer.  My personal favorite is the improvement that occurs when selecting Help.   Instead of waiting for what typically felt like a minute or two for a large PDF to download and open, the selection of Help now opens a browser tab displaying Platform Documentation.  The home page of the Platform Documentation offers quick links to Design and Reference, BI Blend, Tables Views, and Cloud Architecture as well as search capabilities.  Also included are the Release Notes not only for the installed release "6.4.0" but also releases 6.3.0, 6.2.0, and 6.1.0.
Transitioning to MarketPlace Solutions, the updates since December of 2020 are:
Predictive Analytics 123 PV620 SV100
Reporting Compliance PV620 SV102 of
Transaction Matching PV530 SV201
Application Control Manager PV630 SV101
Task Manager PV630 SV100
Account Reconciliations PV630 SV100
Account Reconciliations PV440 SV303
If you are not familiar with the release convention, PV### indicates the minimum OneStream Platform version e.g. PV620 requires version 6.2.0 of the platform to deploy the MarketPlace solution and SV indicates the solution version.  You may notice a trend that the majority of the minimum Platform versions listed are V6## with five of the seven bullets requiring V6##.  If the environment you work with has not been upgraded recently, it may be time to consider an upgrade to take advantage of the numerous improvements in both the OneStream XF Platform as well as one or more MarketPlace solutions.
From the MarketPlace Solutions listed, I will focus on Account Reconciliations "RCM" PV630 SV100 which from my perspective is a simplification and productivity release.  First, the User Interface "UI" is simplified as the Grid View and Standard View have been replaced with a single Workspace "0_Frame_RCM_OnePlace" displayed in the next image.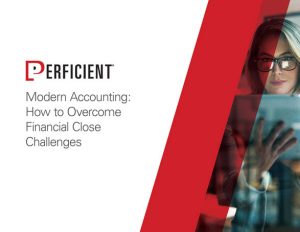 Improvements in each of the following period-close core tasks can provide transformative change and are reviewed in this guide include closing the books and external reporting, periodic reconciliations, and managing the period-close process.

When selecting a reconciliation as a Preparer, the UI to complete the preparation of the reconciliation is displayed in the lower half of the Workspace.

In addition to the simplified interface, this release of RCM has a new feature "Mass Actions" which is accessible by selecting the "Show Settings Page".  Once the "Settings" page has rendered, the setting "Enable Mass Actions" option is visible which has two options to select:  "Prepare" and "Approve".  To enable, select the options and then click "Save".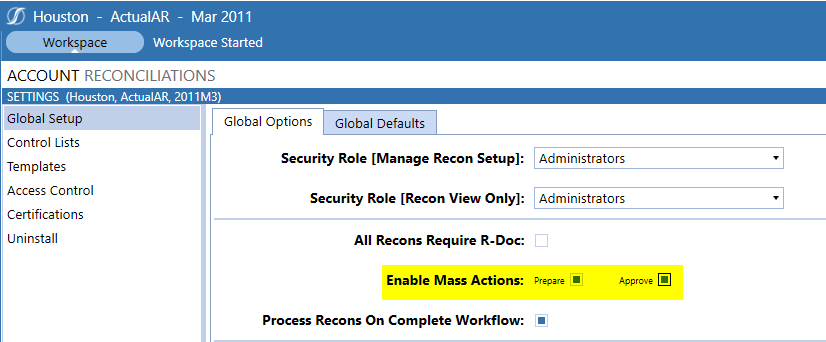 With the "Mass Action" options selected and returning to the "Show Reconciliations Page", the Preparer or Approver can select multiple reconciliations "1" which will then provide an option "2" to either "Recall, Complete, Reject, Unapprove, or Approve".  Selecting one of these options will display the appropriate dialog box for the option selected which can then be completed.
As always, thank you for reading this blog which I hope has been helpful.  Should you have any questions, feel free to either post a comment to the blog or email me at terry.ledet@perficient.com.