For the fifth year in a row, Perficient and Adobe hosted the Women in Digital breakfast prior to Adobe Summit 2021. This year, we celebrated the amazing accomplishments of four outstanding panelists in a virtual forum. Although unconventional, it allowed us to gather together more attendees and provide a playback link.  

The panel began with a welcome introduction from Morgan Pressel who is an accomplished professional golfer on Team Perficient. Since she was traveling for an LPGA tournament, she sent words of wisdom to
attendees. She encouraged us to actively seek new opportunities and remember to always be authentically ourselves.
From the Beginning
While each of our speakers is incredibly accomplished in the digital field, we were reminded that you do not magically get to the top. It takes a lot of hard work, determination, and appreciation of all life lessons. Our speakers began the day by answering a simple question: what was your first job? 
Their answers ranged from Loni Stark's one–day stint at mall gift wrapping to Victoria Wallace trying her hand at real-estate. Although neither turned into a full career, each found valuable lessons in those first experiences. Loni learned, in just one day, that the customer is always right in what they want. In the same way, Lisa worked at a dry cleaner and learned about customer experience and management. Suma Nallapati started selling cell phones, which we now see full circle in her experience at DISH and its recent partnership with AWS to start offering 5G.  
Navigating to Fearlessness
Being a woman in the digital field can come with a variety of challenges, particularly because it is traditionally a male-dominated industry. So, we asked our panelists, how do you navigate that to find success? 
In a short, yet powerful, statement, Suma told us to "Be fearless." There is no substitute for hard work, and you must be the hardest working person in the room. Loni echoed the same sentiment mentioning that since the world isn't fair, you have to work 130% harder. While it may feel disheartening at times, Lisa reminded us that so many women before us have blazed a trail that we can proudly walk now. So, find a mentor that can champion you and remind you to speak up and be loud.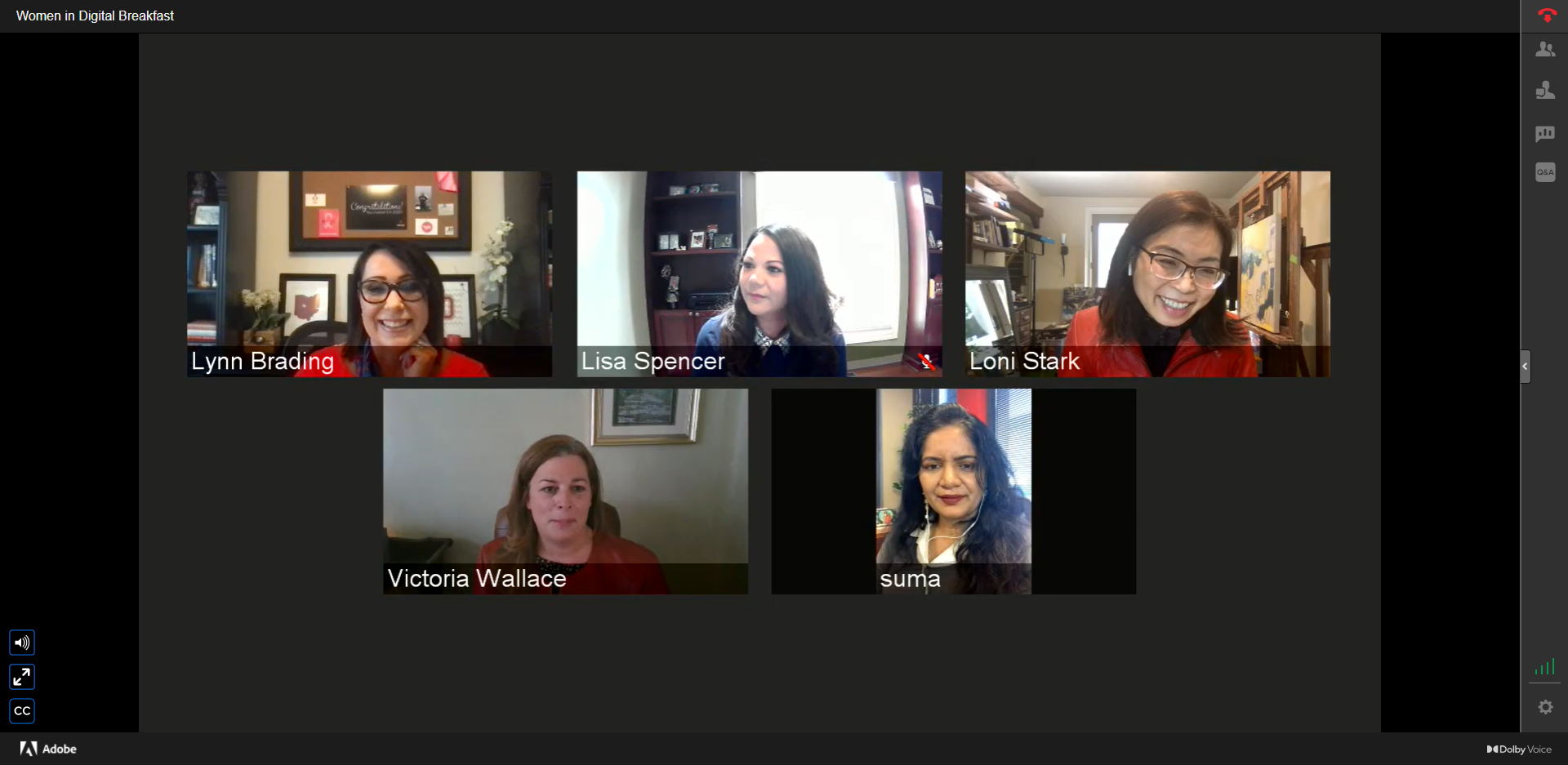 The Whole World is My Family
In the year that no one wanted, 2020 taught us to persevere in a way we didn't know we could. We asked our panelists what advice they had for the audience that they learned from 2020. Suma started by reminding us that we all experienced this together as a global community. In doing so, we learned humanity is resilient and quoted one of her favorite Sanskrit sayings, "vasudhaiva kutumbakam." In English, this translates to "the whole world is my family." 
Even though we did all experience 2020 together, Victoria reminded us that you also need to take time for yourself. As we work from home, teach from home, and have primarily only been at home, it can be hard to take time to separate from the chaos and give yourself a break. Victoria explained that she has a strategy that once a day, she takes time for just herself that is both good for her and something she wants to do. The real key is not the activity but the mindset you bring to it to truly take a minute to breathe.  
Call Your Own Party
Utilizing your voice in a male-dominated industry can be daunting, so we asked our panelists how they make their voices impactful. Loni pointed to the fact that women often have trepidation to speak out at a meeting, but you don't need to overthink. More importantly, if you have thoughts on a topic, take the initiative to "call your own party" and set up a meeting yourself. By bringing data and preparation to meetings and taking that initiative, you can become more comfortable with yourself and your voice. Lisa echoed the same sentiment in reminding us that we are the subject matter experts in digital; it is critical for those of us in technology to bring that voice of reason and support that voice with data.  
Being Authentically You
Finally, we asked our panelists what they wanted their legacy to be. Each woman has such passion for their industry, work, and life, and we wanted to celebrate that by looking ahead to our collective future. Lisa said she wants people to say she cared. Loni that she developed the next generation of leaders with an inclusive culture. Victoria for her family as her main priority and for breaking down silos at work. And Suma as an authentic person who lived her life to the fullest and made an impact.  
Each of these leaders is working toward their legacy and hopefully, this panel discussion inspired you to keep working toward yours. Watch the full recording and leave a comment with your favorite takeaway from the event.  Future events will be posted on our landing page. 
---
At Perficient, we continually look for ways to champion and challenge our talented workforce with interesting projects for high-profile clients, encourage personal and professional growth through training and mentoring, and celebrate our people-oriented culture and the innovative ways they serve Perficient and the community.