I recently got a chance to work on Optimizely's Product Information Management (PIM) system and to familiarize myself with the platform. Optimizely PIM is a cloud-based product information management system that provides a centralized hub to manage all your product information. Like other traditional PIM platforms, it provides a single place to collect, manage, and enrich product data and distribute it across your commerce channels.
Some key features of Optimizely PIM include data import, workflow, data governance, and asset management. However, some core differences make Optimizely PIM different from other PIM systems:
Optimizely PIM is tightly integrated with Optimizely (Episerver) B2B Commerce Cloud and works as an add-on rather than an independent tool.
A business user needs to do pre-setup and configuration at Optimizely B2B Commerce Cloud before beginning with Optimizely PIM.
Optimizely B2B Commerce Cloud comes with a pre-built integration module to bring approved data over Episerver PIM.
A traditional PIM helps to syndicate enriched product content to multiple places, but at present, Optimizely PIM syndicates to Optimizely B2B Commerce Cloud. The product team is enhancing this further to allow for the data to be pulled out of PIM for external use.
At this time, there are no extension points for customization.
Optimizely PIM comes with a defined set of entities based on Optimiely B2B Commerce Cloud needs. Below are the core entities and relations between Optimizely B2B Commerce Cloud and Optimizely PIM.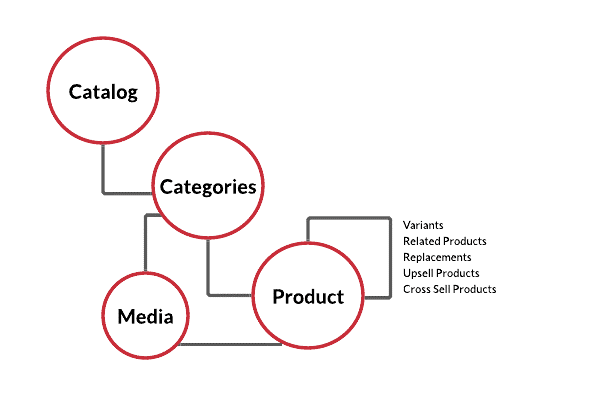 | | |
| --- | --- |
| Catalog | Represents Optimizely B2B Commerce catalog |
| Categories | Represents taxonomy in Optimizely B2B Commerce |
| Product | Information of a product/item in Optimizely B2B Commerce Cloud |
| Media | Represent images/assets |
How Attribution Works in Optimizely PIM
An entity is a container with any kind of property. Properties, also known as attributes, are data elements that define your products. These properties are grouped and organized and then pulled into product templates.
Product templates are used to define the major data elements required or recommended to populate for items within a family of products. This helps enforce data governance before publishing products to the Optimizely B2B Commerce Cloud. The following diagram shows the Optimizely PIM attribution structure:
One of the key features that I like about Optimizely PIM is that, as you create properties, you also get the option to map them with Optimizely B2B Commerce Cloud fields. The properties can be mapped to virtually any product-related object or field, such as attributes, specifications, related products, and even custom properties. Still, it also imposes restrictions based on control types and validations, such as minimum or maximum length.
A Typical Workflow in an Optimizely PIM Implementation
A product content workflow plays an important role in any PIM implementation because it is how a product moves through processes, whether you are adding a new product, removing a product, or updating existing product information.
Optimizely PIM moves the enrichment process forward as products are imported. When product import is complete and the product has all of the required data based on the product template's data governance, a user can then submit the products for approval. Only admin or manager users can approve products to be submitted to Optimizely B2B Commerce Cloud. Once products are approved, they are pulled into Optimizely B2B Commerce Cloud using the "published approved" products job, which also flags products published in PIM. "Refresh published" products job will be used to sync the secondary (Stage/Sandbox) environment.

Things to Consider Before Using Optimizely PIM
Optimizely PIM is a newer PIM Platform, and it's important that the following is considered and taken care of before you start to use it:
Identify the key member who will be working on Optimizely PIM
Have those members complete the Optimizely PIM Training (Episerver Academy)
Identify base product information from the data source
Gather your product data and assets
Perform the data profiling and analysis to identify any data inconsistencies
Work with a PIM expert to create a robust data model and establish data governance.
Final Thoughts on Optimizely PIM
As mentioned before, Optimizely PIM is natively built to integrate with Optimizely B2B Commerce Cloud. It allows to quickly set up a catalog and ensures that product information is up-to-date, consistent, and helps deliver the effective product experience in Optimizely B2B Commerce Cloud. For more information on Optimizely PIM and product information management, contact our PIM experts today, and check out our partner page to learn more about our work with Optimizely.