Life sciences organizations typically manage their IT infrastructure and applications in silos. They implement disparate applications and manage the content and process within those applications separately. They then deploy integrations between those applications to streamline processes and share content and data with different business areas. Much of this work, including the development of integration tools and accelerators, is accomplished with the support of system integrators and consulting partners. However, the cost and complexity of clinical and safety integrations can be quite prohibitive.
Software vendors have tried to address the challenges associated with operating point solutions by creating cloud-based platforms that can replace a multitude of clinical R&D applications. These clinical development platforms, which include the likes of Oracle Clinical One and Veeva Development Cloud, are designed to encompass capabilities from traditional systems, including clinical trial management, electronic data capture, safety, electronic trial master file, and regulatory information management. The main difference by implementing platforms is that companies can optimize the collection, sharing, and tracking of data and content. They remove many manual processes by reducing data entry, reconciliation, validation, training, and user support.
This platform strategy can be extremely beneficial; however, it may not be a practical approach for all organizations to pursue. In particular, organizations with established collaborations and partnerships might find it incredibly challenging to adopt a clinical development platform in its entirety and gain all of its benefits due to how the different collaborating companies share data with each other.
Before organizations evaluate clinical development platforms, they should carefully analyze their current clinical technology landscape, map out their requirements, and develop a clear strategy that will result in a clear return on investment.
Example Evolution of an Organization Adopting a Clinical Platform Strategy
Stage 1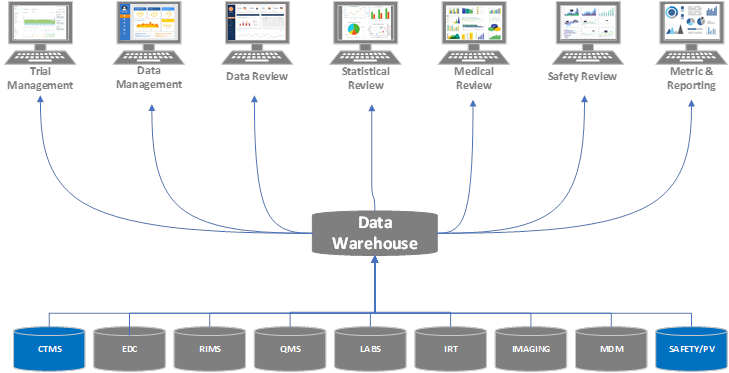 An organization leverages several modules/components of a clinical platform instead of implementing all functions within a unified platform. In fact, the organization doesn't realize its clinical operations and safety/pharmacovigilance groups are using related systems from the same vendor. The organization understands processes can be streamlined by moving to a single platform, even if it's not ready to replace all of its systems at one time.
Stage 2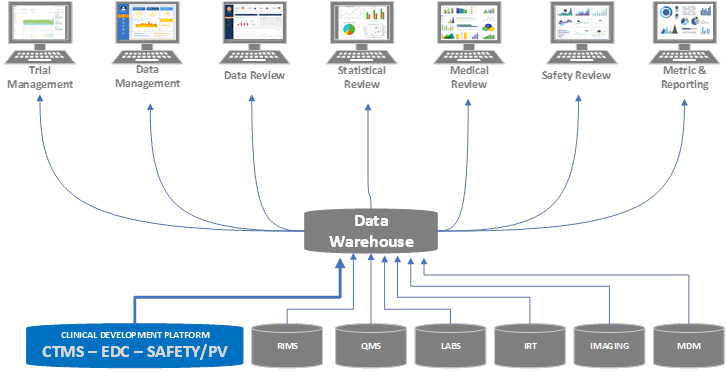 In a step toward adopting key components of a clinical development platform, the organization teams up with a services provider, such as Perficient, for advisory consulting services. Working together, it is determined that the organization can immediately adopt and combine CTMS, EDC, and safety/pharmacovigilance functions by leveraging one unified platform. This will eliminate the need to replicate shared data, such as Studies, Site, Account, Contact, Addresses, etc. across systems, as well as remove the need for integrations between these systems.
Stage 3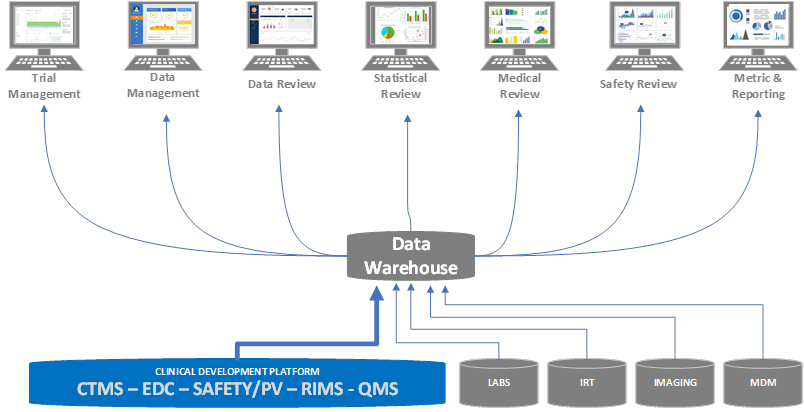 Once the organization adopts several components of its new clinical development platform, it determines that additional clinical platform components can be adopted. This continues to reduce the need for other complex system integrations.
In-house and third-party clinical systems will continue to be part of an organization's overall IT landscape. Ensuring these work in conjunction with the platform will be a key part of the strategy.
Contact Perficient to start your journey
At Perficient, we have the experience, skillset, and expertise to help you determine whether a clinical development platform is right for you, and if it is, create a path to move forward. Our goal is to help your organization take advantage of a comprehensive, clear strategy and the technologies that accompany it. That could be a clinical development platform in its entirety or a portion of its capabilities, with the continued use of system integrations. It could also be that this is not the right time for your company to move to a platform. Our goal is to ensure that your decisions make sense for your business.
---
The Clinical Development Platform Dilemma
Interest in clinical development platforms is picking up steam. And for the right reasons. These platforms substitute multiple disparate point applications – such as electronic data capture, trials management, randomization, and pharmacovigilance systems – with one unified solution.
But is a clinical development platform right for you, and if so, which one?
Download our perspective to learn the:
Brief history of clinical platforms
Potential challenges
Questions to ask before and during your search
How Perficient can help