Accelerating digital transformation requires flexibility and efficiency, while also ensuring security, governance, and support structures of your public cloud strategy. For many years, Amazon Web Services (AWS) and Red Hat have collaborated to provide groundbreaking hybrid cloud solutions. Whether you're migrating legacy applications, modernizing applications via cloud-native development, or embracing container orchestration, AWS and Red Hat provide the platforms, services, and support required for trusted transformation at scale.
Introducing Red Hat OpenShift Service on AWS (ROSA)
Perficient is one of nine launch partners for Red Hat OpenShift Service on AWS (ROSA), a fully-managed and jointly supported offering that combines the power of OpenShift – the industry's leading enterprise Kubernetes platform – and AWS public cloud. ROSA delivers the production-ready Kubernetes that many enterprises already use on-premise today, simplifying the ability to shift workloads to AWS public cloud as business dictates.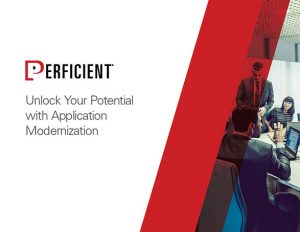 Application modernization is a growing area of focus for enterprises. If you're considering this path to cloud adoption, this guide explores considerations for the best approach – cloud native or legacy migration – and more.
"We're excited to collaborate with Red Hat and AWS to support this unique service offering to our clients," says Vishal Rajpal, Area Vice President, Cloud Platform Services, Perficient. "ROSA provides another option for our containers offerings and will bring added value to our clients' application modernization and migration projects."
ROSA offers a number of benefits, including:
AWS Console integration and streamlined OpenShift cluster creation. Once created, you can manage your clusters through the OpenShift Console, or with the OpenShift Cluster Manager you're already familiar with.
Standard OpenShift clusters consumption experience. ROSA has the same OpenShift APIs so you can lean on your existing skills and tools for operating your clusters.
Out-of-the-box integration with AWS infrastructure. Your developers can easily deploy applications with dependencies on AWS services by leveraging the OpenShift Service Catalog and AWS Service Broker. The AWS Service Broker has an intermediate layer that allows users to deploy services using native manifests and OpenShift Console. (AWS Service Broker also supports a number of AWS services.)
A fully-managed OpenShift service backed by an enterprise class service-level agreement. Installation, monitoring, management, maintenance, and upgrades are performed by Red Hat site reliability engineers covering the complete stack including the control pan, worker nodes, and key services. This offers your team the necessary focus and tools to accelerate development processes with familiar APIs and existing OpenShift tools for deployment in AWS, all from the AWS console.
Flexible, consumption-based pricing. This enables ROSA to scale with your business needs and introduces a pay-as-you-go model with on-demand, hourly, or annual billing options.
Integrated AWS billing experience. You'll only have to deal with a bill from one vendor – AWS.
Why Perficient
We're one of a few launch partners for this offering, which will also be available to the AWS channel.
We're your partner on your digital transformation journey, implementing solutions on Red Hat and AWS Cloud. Our industry specialists, management consulting experts, and experience design visionaries deliver unparalleled vision, execution, and value. Our Red Hat and AWS experts will help you effectively leverage ROSA for your business needs.
Contact us to learn more.