Today, Perficient colleagues are excited to welcome 25 new women to the tech industry as the first Perficient Bright Paths training program kicks off at an online pop-up campus in Detroit!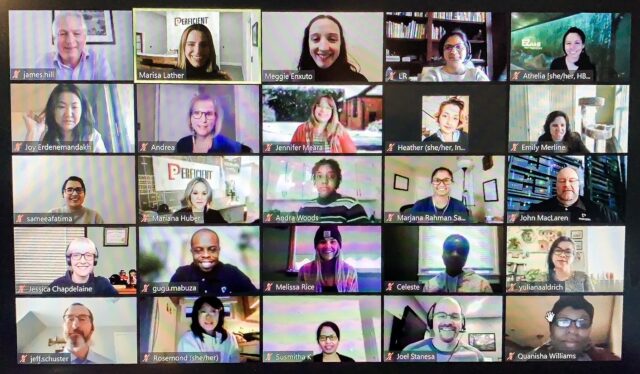 The Perficient-sponsored Hackbright Academy offers 25 women a fully-paid, customized coding bootcamp over the next ten weeks. This all-women coding bootcamp and software engineering program launched with an enthusiastic group of ladies ready to take on new challenges and build new skillsets.
As a company known to treasure talent, embrace effort, and reward results, Perficient's goal is to extend a number of qualified cohort graduates a full-time job in the software engineering and development field, where they will partner with one of the world's biggest brands in the Detroit metro region. 
BONUS: What Perficient Leadership Says About Driving STEM Education and Career Opportunities
Welcoming Women to the World of Technology
Several members of various Perficient teams welcomed the new coders with words of encouragement to support them along their journey. 
"My advice to you is to be curious, be intentional, and be resourceful. Ask a lot of questions and really dig into the material. Be intentional about who you meet along the way. Have some fun, and certainly, learn new skills," advised vice president of people, Andrea Lampert. 
READ MORE: Perficient's Women in Technology
Additionally, 'Perficient Thursdays' offer the women a chance to learn about the consultancy business, ensuring they are ready to hit the ground running upon graduation. It's important for the women to know the support we provide doesn't end with just the technical skills. 
Joel Stanesa, general manager of Detroit, echoed, "We want to get to know you throughout the class and we're here to support you. Beyond the technical side of things, we're available and want to see you massively successful."
READ MORE: Career Growth at Perficient
About Perficient's Bright Paths Program
Perficient is committed to focusing on advancing women in technology to facilitate STEM career growth, and building a technology community dedicated to supporting diversity. Bright Paths, a program designed to advance STEM education and career opportunities for underrepresented constituencies and communities, is partnering with Strategic Education, Inc., an education services company focused on advancing economic mobility for working adults, to create relevant learning experiences that prepare students for the workforce, and further drive innovation and growth in the technology industry. 
KEEP READING: Perficient Launches Bright Paths Program to Drive STEM Education and Career Opportunities
---
At Perficient, we continually look for ways to champion and challenge our talented workforce with interesting projects for high-profile clients, encourage personal and professional growth through training and mentoring, and celebrate our people-oriented culture and the innovative ways they serve Perficient and the community.
Learn more about what it's like to work at Perficient at our Careers page.
Go inside Life at Perficient and connect with us on LinkedIn, YouTube, Twitter, and Instagram.