The following is the first in a series of blogs about how a center of excellence can help you unlock the potential of your people.
Oracle Talent Acquisition Cloud (OTAC), also known as Taleo, has long been considered a global leader in talent solutions. However, for Taleo clients that have implemented Oracle HCM Cloud, there is now a natively built solution Oracle Recruiting Cloud (ORC).
Released in 2018, ORC was built organically and is the type of innovation that will enable organizations to bring key business functionality on the same platform. The SaaS solution provides key recruitment features such as sourcing, recruiting and onboarding.
Here are 6 value benefits our clients consider when choosing the right solution
Better data quality due to reduced integrations: 
With ORC, the number of integrations needed to maintain the system decreases dramatically. Integrations for foundational data (organization, location, and job function), requisition templates, position/job details, new hires, are no longer needed. With all data on a single platform and the capability to leverage configuration from other HCM modules including organizations, jobs, positions, work locations and more are data available immediately in the recruiting process. This reduces the number of costly data errors that may arise throughout the recruiting, hiring and onboarding processes.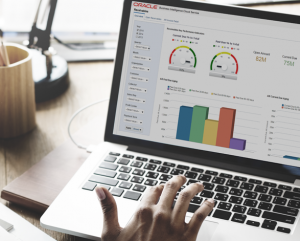 Explore key considerations, integrating the cloud with legacy applications and challenges of current cloud implementations.
Integrated reporting:
With ORC, organizations now have the ability to have all available HR data housed within one reporting tool. Reports can seamlessly include data across different functional HR areas. The business challenges that can be solved with integrated reporting are numerous – combine recruiting data and performance records to help make more strategic business decisions around hiring practices to identify top talent or link job openings to talent profiles and key competencies to identify internal talent, to name a few. One HR platform – Within HCM Cloud, employees will now have one location to go to for all HR self-service activities. In addition to submitting a timesheet or updating their address, employees can now search for open jobs or review a job offer within the "Me" tab. The manager experience is enhanced as well – one single manager self-service interface drives adoption, satisfaction and most importantly, enhances managerial decision-making when it comes to identifying quality new-hires.
Seamless onboarding experience:
ORC leverages a tool called HCM checklist. This offers organizations the unique ability to leverage different application tasks such as payroll and IT can be available directly in the onboarding experience. This reduces the need for custom forms and data integration with Taleo and introduces new hires to HCM Core employee self-service activities. As a result, new hire data is in HCM Core before day one. This introduction allows them to become familiar with the user experience they will have in HR throughout their career.
Improved internal mobility:
Often organizations tend to focus solely on the external labor market when filling open roles in the organization. But what about the internal labor market? ORC promotes internal mobility and the value of getting the right people, in the right role or position at the right time. ORC has dedicated space in HCM where candidates can locate jobs and apply – leveraging their talent profile used by many other modules in the HCM Suite.
For organizations facing talent scarcity or other challenges in talent acquisition, ORC offers multiple, high value returns for a comparatively light investment. Many of our clients are realizing these returns as they swap out Taleo for ORC.
Helpful Links:
https://www.gartner.com/en
https://cloudcustomerconnect.oracle.com/pages/home
https://www.oracle.com/human-capital-management/customers