It's February! With Valentines Day right around the corner, love is in the air, and Microsoft has so graciously given us a plethora of new features and functionality over the past month! What's not to love about that!? In today's blog, we'll discuss some of the latest and greatest features around Teams collaboration, meetings, calling, and security/compliance!
Chat & Collab Updates
Approvals App in Teams
Looking for an easy way to create, manage, and share approvals without even leaving Teams? Look no further, with the Teams Approvals app you can easily start an approval flow directly from a chat or channel conversation! To complete an approval, all you'll need to do is fill in the name for the request, who needs to approve it, and any additional details. You even have the option to attach files if needed! For instructions on starting your first approval, check out Microsoft's support article here!
Offline Autosend
Trying to send a message but you don't have internet connectivity? No need to worry, with Microsoft's latest update to the offline experience in Teams you can craft your messages and send them while offline and have the messages automatically sent as soon as you establish connectivity again!
Increase in user count for org-wide teams
If you're part of a small to medium-sized organization with less than 10,001 members you'll be happy to hear that Microsoft has increased from 5,000 to 10,000! Provided you fall into that category, your administrators will have the ability to create an org-wide team that will automatically pull in every user within the organization and has the team automatically keep itself updated with Active Directory as people join or leave the organization! If you're interested in learning more about org-wide teams, check out Microsoft's documentation here.
Meeting Updates
Meeting chat moderation
With this latest update, you will now have the ability to choose from 3 different chat settings for better moderation capabilities in your meetings! The 3 options include:
Disabled

Organizer and participants won't be able to use meeting chat

In-meeting Only

Allows participants to send messages only during the meeting
Allows organizer to send messages at any time

Enabled

Allows chats for all meeting attendees at any time
Adding a shared calendar to a Teams channel
Now you can easily create, manage, and share a calendar with members of a specific channel! Whenever a channel meeting is created you will have the ability to see the event within the channel's activity feed and now the channel's calendar. This allows you to easily track any upcoming channel meetings, especially if you have notifications turned off! To get this added, simply go to your channel and select the ' + ' option to add a tab to the channel. From there just search for channel calendar and add the app as a tab within the channel!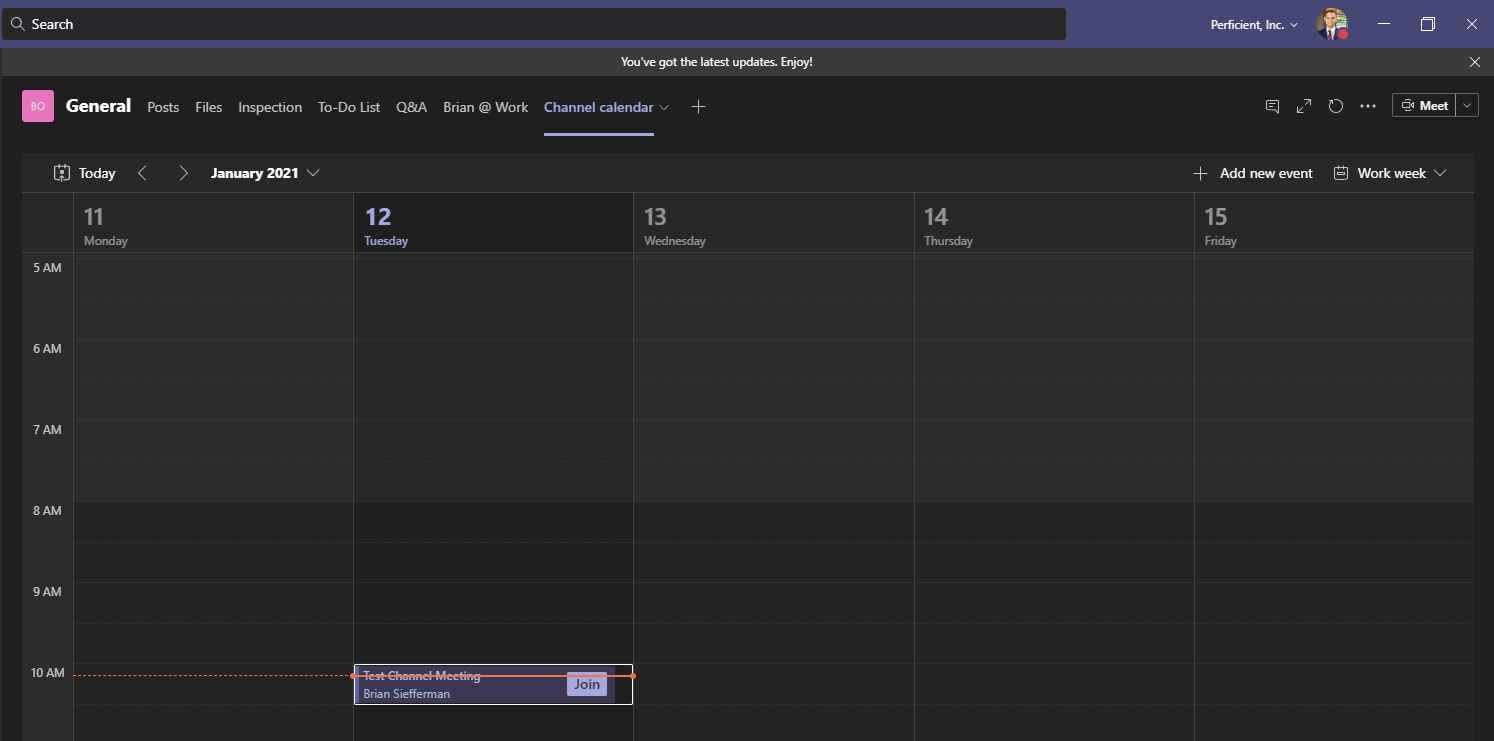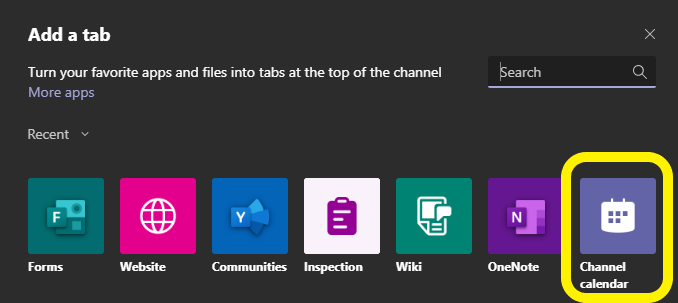 Free Audio Conferencing Offer
If you missed the deadline to benefit from Microsoft's free audio conferencing add-on offer, no need to worry! Microsoft has just extended this offer until June 30, 2021! This offer gives your meetings a global dial-in number so those joining on any mobile device can easily dial into the meeting. In addition, you can connect others to the audio portion of your meeting by dialing out to them. To learn more about the offer, check out the official announcement here.
Calling Updates
If you're involved in the voice side of Teams you're probably familiar with Direct Routing. If not, I encourage you to check out my whole series on Direct Routing, you can start that off here! To put it simply, Direct Routing allows your organization to place and receive calls over the PSTN (Public Switch Telephone Network) in Teams when coupling this Microsoft's Phone System. With this latest update, Microsoft has added 3 additional SBC vendors who have successfully completed their Session Border Controller (SBC) certification process. This certification ensures that the SBC supports Microsoft Teams Direct Routing and includes rigorous 3rd party testing and validation before being released to the public.
Security and Compliance Updates
Adaptive Card Compliance Capabilities
According to Microsoft, more than 70% of the apps today generate card content in Teams conversations. This means that 100% of that card content should be regulated since it involves Teams chat and file content. Luckily, Microsoft has just released new compliance capabilities around Adaptive Card content that is generated through apps in Teams messages. The following compliance capabilities are now generally available:
Legal hold

Preserve adaptive card content

eDiscovery

Identify, collect, and produce card content in response to an investigation

Audit

Audit user activity on Adaptive Cards for forensics

Retention

Manage the card content lifecycle in Teams
So what do you as the app developer need to do to benefit from these capabilities? Easy, nothing! Simply have your tenant admin turn on the Teams workflow as a location for any of the compliance capabilities mentioned above and Adaptive Card content generated through apps in the Teams conversation will be automatically included in the reports! Looking to learn more about this? Check out Microsoft's official post here.
Secure Score for Teams
Microsoft Teams has just joined the Secure Score family! Now you can see Microsoft's security recommendations around Teams for your tenant! Within the Improvement actions tab of the Microsoft Secure Score, you can easily filter on Microsoft Teams to get improvement actions strictly around Teams.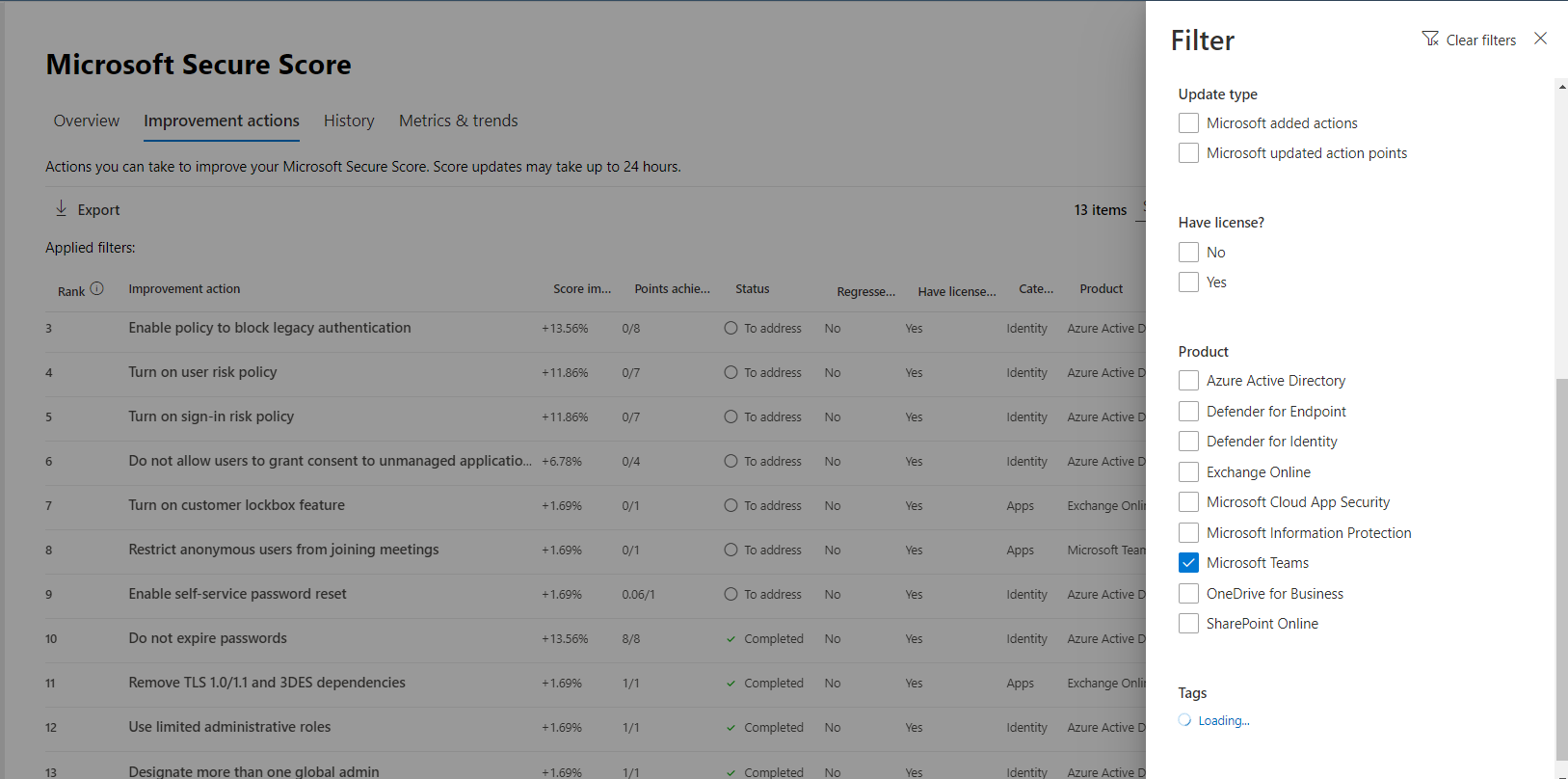 That wraps up this month's main updates around Microsoft Teams! If you're looking for additional updates around GCC or Education tenants, I encourage you to check out Microsoft's updates located here. Check back soon, as I plan to start branching out with my blogs by including workloads like Intune/Endpoint Manager, Security, Compliance, and even governance in Microsoft 365!