Why do people love working on the Sitecore team at Perficient? If you ask our colleagues, you might hear words like "teamwork, trust, and fun."
Learn more about our Sitecore Architect role. (And, pssst! We're hiring!)
Working On Sitecore at Perficient is a Winning Work Day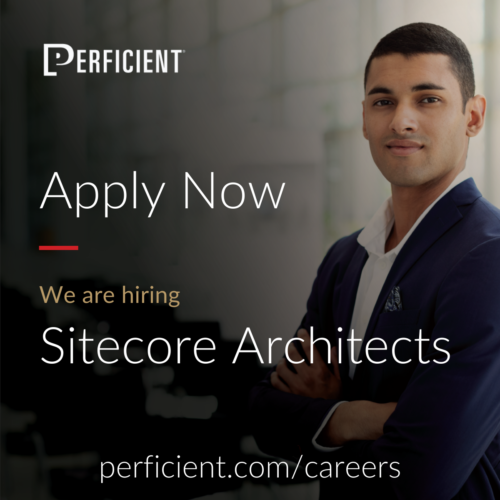 Perficient has been partnering with Sitecore for more than a decade, and as a Platinum Sitecore partner, we are dedicated to both the partnership, the success of our clients, and the incredible team members that make up the Sitecore practice at Perficient. Our team is proud to have designed, implemented, and delivered many enterprise-level sites powered by Sitecore Experience Platform.
With this growing partnership, we are always seeking the top talent to add to our teams. Alongside other top Sitecore developers in the industry, you can help create impactful omnichannel experiences that transform everyday interactions into moments that matter.
We leverage our platinum Sitecore partnership to ensure industry-leading expertise and insight. We're proud to have more than 110 developers dedicated specifically to Sitecore, and many Sitecore MVPs who make it easy to integrate Sitecore Experience Platform with many different internal and external systems. Perficient continually looks for ways to champion and challenge our workforce, encourage personal and professional growth, and celebrate the unique culture created by the ambitious, brilliant, people-oriented team we have cultivated. 
What Our Colleagues Say
We know how to get the most out of this versatile digital experience platform and create highly effective and personalized experiences for our customers — and have fun doing it. 
"The team is friendly, fun-loving, and respectful." — Rick Bauer, Strategy Solutions Architect, and Sitecore Strategy MVP

"I appreciate that everyone I work with is mature, responsible, and accountable. This may not sound like a lot, but working remotely takes a certain level of discipline that not many people have. It's more than just showing up, it's being present and doing what you say you are going to do. I respect that people on our team are available. They make time to answer questions and help me understand why something was built a certain way so that I can better explain it to a client, or train them on how to use what we've built." — Jim Petillo, Technical Consultant, and Sitecore Ambassador MVP

"The culture at Perficient really allows you to become friends with the people you work with." — Courtney Dean, Senior Technical Consultant

Work With Truly the Best of the Best
Work with the best of the best. Our expertise in all of the major marketing technologies allows us to facilitate complex integrations across applications to give customers a unified solution. Learn more about how we cultivate customer-centered business with Sitecore.
Perficient has:
15 Sitecore MVPs (the most in North America)

110+ Certified Sitecore Developers

5 Sitecore Site of the Year Awards

2018 Experience Award Winner
Read the Stories of our Colleagues and Their Work
In the video below, Megan Jensen, solutions architect for Perficient's Sitecore practice, talks Sitecore 10's advanced audience segmentation features which deliver rich insight about your audience.
More blogs from our Sitecore team:
See the rest of the Sitecore blogs here
Come be a Sitecore Architect at Perficient. Apply here.
---
At Perficient, we continually look for ways to champion and challenge our talented workforce with interesting projects for high-profile clients, encourage personal and professional growth through training and mentoring, and celebrate our people-oriented culture and the innovative ways they serve Perficient and the community.
Learn more about what it's like to work at Perficient at our Careers page.
Go inside Life at Perficient and connect with us on LinkedIn, YouTube, Twitter, and Instagram.