With direct debit, you are in control – once your customer authorizes drafting their bank account you can collect payments whenever they are due without needing your customer to do anything else. Therefore, no more chasing customers for payments – they will be on time every time.  Your cash flow will improve and you will always know when payments will remit so you can plan accordingly.
Automatic Receipts and Remittance Process flow:
Key Features that Enable the Process
Once you have a set up with your customer, you can collect direct debit payments from them at any time. Use the automatic receipt process to create a batch of receipts from selected customer transactions for payment by bank account transfer.
Manage Automatic Receipts
Prepare transactions. Ensure each transaction that you want to include in the batch has the paying customer's banking account. In addition, the transaction should be assigned the appropriate receipt method (receipt method with a class of automatic). Review batch you can update or delete receipts that were created by the batch.
Notifying your Customer of Payments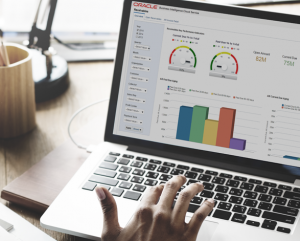 Explore key considerations, integrating the cloud with legacy applications and challenges of current cloud implementations.
Before you can collect a direct debit payment from a customer, you must give them "Advance Notice". Essentially, industry practice is to inform your customer of each payment before it leaves their account. Pre-notification letter details invoices/transactions that are due, amount, drafting date.
 Remittance
The automatic receipt process assigns your remittance bank accounts to each receipt created by the payment of a customer open invoice(s).  Remittance bank account information includes the general ledger accounts used during receipt application.
Submit Settlements Request and Transmission
Generate direct debit Instructions and payment requests and transmit to your banking institute. The contents of this file depends on the bank specified formats. Oracle offers industry- standard transmission protocols such as FTP, HTTP and HTTPS.
 Acknowledgment
Oracle provides a function to retrieve funds capture acknowledgment files from your bank. You must, create a transmission configuration using the protocol named Secure File Transfer Retrieval Protocol for Static File Names.
Key Process Points to Consider
Essentially, customer relationships and technology help facilitate the success for this process. You will need to assess your relations and request your customers to switch to direct debit collection method. The following trigger points could be used;
When you are signing up a new customer
When a customer is always late and you are calling or emailing to all the time
Long standing customer with repeat business
Security is a big item to ensure you get right and your customer have confidence in your systems. This is vital had you will house customer sensitive such as debit authorization, banking accounts and contact information.
Oracle secures both outbound and inbound messages. Secure payment files and other files using payment file encryption and digital signature based on the open Pretty Good Privacy (PGP) standard. Encryption and digital signature verification requires a public key. You can generate or receive a public key subject to the agreement with your bank.
In conclusion, direct debit is often seen as just for big businesses or expensive and complex to implement. Oracle Cloud Receivable makes adopting the process accessible no matter the size of your business or your income.  Having a consistent, predictable cash flow is vital for businesses of any size, but this is especially true for businesses whose potential cash flow problems are increased by limited budgets.
For more information on ideas to transform your business with Oracle Cloud, contact Perficient.