The New and Improved Microsoft Dataverse
As if 2020 didn't hit us with enough changes, Microsoft revealed some new terminology that all Dynamics 365 and Power Platform users should be aware of. From November 2020 onward, the Common Data Service (a secure data platform utilized in the Power Platform and Dynamics 365) will be referred to as the Microsoft Dataverse. This new nomenclature extends to the elements that make up the Dataverse. Entities are now tables. Records are now rows. Fields are now columns. Option sets are now choices. And the classic Two Options is now just Yes/No.
All of the new terms are more consistent with what developers and business analysts would use to describe data held in well-known Microsoft products like Excel and commonly used databases. These customary terms are a positive step in reducing the learning curve of the Microsoft Dataverse and making it more accessible to new users.
Leverage the Power Platform and Microsoft Dataverse Without Leaving Teams
The rebranding comes with a very exciting development: Microsoft Dataverse for Teams! With the addition of Teams add-ins for Power Apps, Power Automate, Power BI and Power Virtual Agent, users can create apps and business processes leveraging Dataverse for Teams without even opening a web browser. These new embedded capabilities offer a world of possibilities for each of your teams. In minutes you can create a Team PTO Tracker in Power Apps with data stored safely in Microsoft Dataverse. Create a Power Automate flow to send out reminders for each of your team members' upcoming time off. Add a Virtual Agent to answer some frequently asked questions about working remotely and when employees can return to the office. The possibilities are endless!
Get Started!
To add these apps to Teams, simply click Apps in the left-hand toolbar then search for whichever app you intend to add.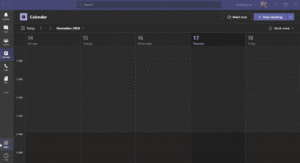 Read more about Microsoft Dataverse for Teams here.