A year and a half ago I published an updated view of Digital Responsibility as part of our Digital Essentials series. It challenged the notion that digital responsibility starts and ends with data privacy, and introduced the idea of incorporating accessibility, diversity, and inclusion into digital responsibility mandates. While some organizations had started considering these areas as part of their strategic digital programs in 2019, 2020 only accelerated these considerations. In some cases, the events of 2020 forced organizations into reaction mode and they rushed to try and operationalize digital responsibility initiatives at a much higher rate. That included looking inwards to identify internal operating models and biases that may have inadvertently been impeding business goals and objectives.
Fast-forward to this past October when I was asked to participate in an IBM Global Elite Partner panel featuring Perficient, focusing exclusively on how businesses can and should start incorporating diversity and inclusion initiatives into their digital roadmaps. It was an exciting conversation to have, and very encouraging to see digital programs starting to consider how to grow and gain loyalty through digital initiatives that consider all team members and customers.
Each member of the panel brought a different perspective to the conversation but some of the key takeaways included:
Don't be afraid to get into it. Yes, diversity and inclusion can be a scary subject to broach, fraught with the fear of coming across as inauthentic,  hurting feelings, or making a huge PR mistake. This is where the 'strategy' part comes into play. Strategy is nothing more than a high-level plan to achieve one or more goals under conditions of uncertainty. Align on your vision for diversity and inclusion, identify the 'what ifs' and risks with a plan to mitigate.  Identify initiatives that will drive operationalizing diversity and inclusion across the organization and customer base. The key here is don't be afraid to engage in the conversation. Build those VOE/VOC programs INTO the roadmap. LISTEN. Be proactive. Be outcome-driven. Think operationally, not aspirationally. Involve people from across the organization. Start from a place of commonality, not difference. This allows for a foundation built on trust. If you engage with authenticity, you will get authentic engagement in return.
Communication is a mandate; cameras on.  Especially as we remain home-bound it becomes extraordinarily difficult to really know how your team members and customers are feeling. This is not the time to take the 'no news is good news' stance. Set up overt communication avenues with your team and your customers. Ask the tough questions. Make it okay to blend personal with business. This is where the greatest insights will emerge. Simple roadmap item; if your internal communications tools and platforms don't allow or struggle with video, add that as a top priority.
Look outside your organization; outside your customer base for what you don't know. If you stick within your friendly confines you might miss a bigger insight that can really move the needle, especially if your organization has ties within the local community. Actively look for input outside a cohort you normally turn to and keep an open ear for pain points you might be able to address by shifting roadmap initiatives.
Innovative ideas come from groups with different perspectives.  As the saying goes, 'The definition of insanity is doing the same thing and expecting different results."  The same principle applies to expected outcomes from teams.  If you don't build teams that have diversity you will not get outcomes that reflect diversity.  Everyone from Google to smaller organizations has recognized better, more innovative outcomes from teams that are more diverse.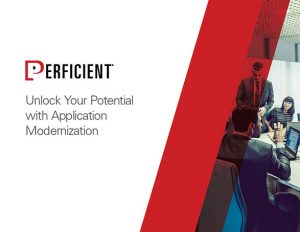 Application modernization is a growing area of focus for enterprises. If you're considering this path to cloud adoption, this guide explores considerations for the best approach – cloud native or legacy migration – and more.
I invite you to register and watch the full panel discussion. Hopefully, you'll come away inspired and more importantly ready to be proactive in 2021 to make diversity and inclusion a reality in your digital programs.
To register, visit the IBM Global Elite webcast site and select "Partner Perspective: Digital Transformation, Culture, and Diversity & Inclusion in Business".
---
At Perficient, we continually look for ways to champion and challenge our talented workforce with interesting projects for high-profile clients, encourage personal and professional growth through training and mentoring, and celebrate our people-oriented culture and the innovative ways they serve Perficient and the community.
Learn more about what it's like to work at Perficient at our Careers page.
Go inside Life at Perficient and connect with us on LinkedIn, YouTube, Twitter, and Instagram.