As we gear up for 2021, I recently attended a Magento Product Roadmap webinar. It included a demo of the Magento 2.4.1. (2.4.1 release notes are available here). What I found exciting in the webinar was the announcement of what is coming in 2021, which includes four key areas: headless commerce, new B2B capabilities, intelligent commerce, and improvements to the cloud infrastructure.
Headless Commerce
"According to Adobe's digital economy index, smartphones are on track to contribute more than 50% of online spend by September 2022." In noting this, the speaker stressed the need for merchants to change their outlook on commerce and the fact that people's primary channel is not only desktop. With Adobe's hybrid headless commerce options, you can easily make your brand's commerce experience what customers need. Part of this includes their continuous improvements to their PWA studio, like the recently released PWA Venia store.
The PWA Venia store provides greater support for offline mode and push notifications. It will also be faster and easier to develop and deploy PWA on the cloud. For merchants, this would mean improved website performance and an increase in conversion rates up to 50% or more. Magento is also working on the PWA UI framework which is built in a headless fashion; along with that, they are working on a standalone GraphQL server to support the user's front-end experience. This will help create deeper integration with AEM, also improving the performance.
New and Improved B2B Features
One exciting B2B announcement was the brand new PWA for B2B reference theme that will be available in 2021. Another new enhancement will be intelligent experiences for B2B price books and customer groups. With these features and the ability to create a site that engages and drives conversions, Magento will grow and scale with you.
For B2B eCommerce builds, a large amount of time and resources goes into backend integrations. These often require a lot of custom development. To resolve this, Magento is partnering with an enterprise application integration (EAI) platform to make the process of integrating easier and quicker.
Intelligent Commerce
A simple way to look at intelligent commerce is by understanding the importance of recommendations during the buyers' experience. The webinar noted that "62% of customers purchase products as recommendations," and "Amazon attributes 25% of its sales to personalized recommendations." The question then is, how can you best set up your commerce experience to drive increased sales and conversions with these intelligent commerce features?
One new feature Magento will be introducing to assist with this is visual artificial intelligence (AI). This visual AI is a new algorithm that uses computer vision to dynamically deliver visually similar items in a catalog without the user having to spend hours in search and navigation. Another new feature coming in 2021 is live search powered by AI. This will be a SaaS based site search service that will have features like intuitive search and boost and bury, allowing merchants to implement their own marketing logic to serve up search items based on their customers' behavior and the items merchants want them to purchase.
Frictionless Cloud
Lastly, Magento is improving the cloud infrastructure for scalability, performance, and reliability. In the second half of 2021, they will also be coming out with next generation hosting solutions. This will enable simplified upgrades, more guardrails, and checks to ensure smooth migrations, and increased support responsiveness.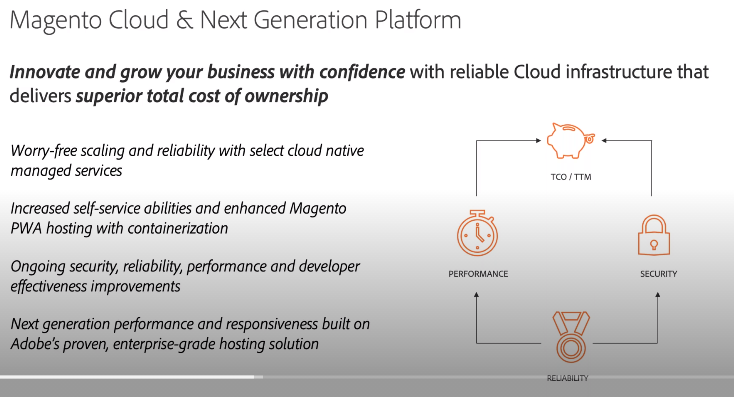 What to look forward to in 2021
With all of these new features and improved functionality, Magento will continue to be the commerce platform of choice for brands that want to digitally transform their customer experiences. Along with these updates, Magento is continuing to work on a mechanism so users and developers can more easily search for patches and apply them without having to contact support. These types of improvements help partners and their clients to save time and cost. So, with this in mind, what is holding you back from creating the commerce experience your customers are dreaming of? Reach out to our expert Magento Commerce team to start your journey.