Our colleagues are always looking for creative ways to connect and make a difference. Our Chicago team is no different. Recently, the team got together to hold a virtual DIY night. The goal was to show just how easy it is to transform basic items into reusable ones.
A No Sew Upcycle
For the DIY event, the team demonstrated how to make a tote bag out of old t-shirts. The process of creating a tote bag out of a t-shirt only required a shirt and a pair of scissors. Everyone on the call followed along with the tutorial by cutting out the neck and sleeves of their shirt, then creating a fringe at the bottom of the shirt and tying the fringe together. The result was a hand-made, stylish tote bag that could be reused for any purpose!
"This was a great easy and fun activity that not only provided us a way to get together, but served as a reminder of the ways we can repurpose what we have already and reduce the amount that we throw away."

– Erin Turley, technical consultant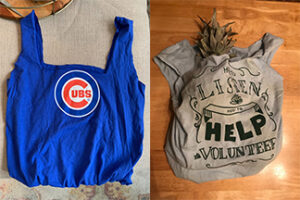 Catching Up on Sustainable Practices
On the call, participants took the chance to catch up with one another and share more about potential uses for their bags, such as using it to carry produce at the grocery store. They also discussed ways to upcycle different items at home as a way to reduce waste. Some people on the call repurposed used candles by melting the candle wax together to create a whole candle, and using the old candle jars for storage. Another employee reused glass bottles and jars from cooking and turned them into Halloween decorations. Personally, I'm always looking for ways to upcycle items, especially food items. The possibilities are endless with a little creativity!
Need some inspiration?
Check out just a few ways you can turn your old items into new uses:
There are so many more ways you can reuse and upcycle your unwanted things. These DIY projects are perfect for the whole family to keep busy during winter. Not only that, but they help to reduce our waste from these items. What will you create?
---
At Perficient, we continually look for ways to champion and challenge our talented workforce with interesting projects for high-profile clients, encourage personal and professional growth through training and mentoring, and celebrate our people-oriented culture and the innovative ways they serve Perficient and the community.
Visit our Careers page to see career opportunities and more!
Go inside Life at Perficient and connect with us on LinkedIn, YouTube, Twitter, and Instagram.