Happy holidays to everyone, and welcome to December! Microsoft has been working diligently to get everyone some great new updates before the end of the year. In this blog, we'll cover some of the biggest updates announced this month around Teams meetings, calling, and collaboration!
Meetings
AI-based noise suppression
I cannot emphasize how excited I was to see this update hit my client. Although I do not have any children (yet), I do have a very loud dog that likes to bark at just about any noise she hears. With this new enhancement, Microsoft has implemented real-time noise suppression which automatically removes unwelcome background noise during your meetings. After enabling this feature in my Teams client, I had the opportunity of "testing" this during one of my calls. During my call, my dog saw something outside our window and proceeded to howl at the top of her lungs. I then asked my colleagues if they heard her howling and they said no. I was shocked as she was only about 5 feet away from me, so this new feature works like a charm! Don't take my word for it though, Microsoft has a nice video showing noise suppression in action! To enable this feature just go to your Teams client, click on your profile picture in the upper right-hand corner of the client, and select Settings. Once there, select Devices and look for Noise Suppression. In the drop-down, you'll see there are 4 options: Auto, High, Low, Off. Personally, I set mine to high knowing that my dog will definitely be testing this capability to its fullest potential.
New Together mode scene selections
By now you're probably pretty familiar with Together mode, if not I encourage you to check out Microsoft's video on this feature here. With this latest update, you'll now be able to select from a myriad of different scene selections for your team. Use different scenes to set a different meeting tone all while creating a new unique experience for your conference!
Polls in Teams Meetings
Polls in Teams meetings are easier to create than ever! As the meeting organizer, you can prepare your polls ahead of time, launch the poll before/during/after the meeting, and have attendees easily respond to the polls in your chat pane of the meeting. I have a whole blog on how you can start using polls in Teams, which you can check out here.

Full-screen support in the new meeting experience
A very nice addition to have during your meetings is the ability to fully expand the meeting window to fill the entire screen. Look no further, Microsoft is giving you this ability which will remove all other screen elements such as the title bar on the tap as well as the taskbar on the bottom of your screen. Even macOS users will have the ability to maximize their meeting window so that the title bar is hidden. Below is an example of what things will look like in full-screen (before and after).
"Meet Now" capability on your mobile device
With this update, you'll now have the ability to start a Meet Now (ad-hoc) meeting on your calendar tab and in the Teams channel all from your mobile device! Once you're in the meeting it's as simple as sending out the invite or adding participants directly to the meeting! In addition, if the Meet Now was started in a Teams channel anyone in that channel will be able to join without having to be invited first.
Updated meeting layout on iOS
With the new enhancements to the Teams experience on iOS devices, you'll see a few new features available:
New presentation mode
Ability to see more participants
Ability to see shared content and see a spotlighted participant concurrently
Calling
Call Merge
For those of you using calling in Microsoft Teams, you'll now have the ability to connect/merge your Teams VoIP and PSTN active 1-1 call into another 1-1 call or another group call. All you need to do to merge the call is select the ellipses ( … ) from the call controls and select merge calls. You can learn more about this capability here.
Survivable Branch Appliance (SBA) support
In order to support PSTN calling in the event of an outage, Microsoft has released support for Survivable Branch Appliances (SBA) which allow you to place and receive PSTN calls even if you have a WAN outage. The SBA is available to certified SBC vendors allowing SBCs to links with the Teams client if the client cannot reach the Microsoft Calling network.
New SBC certification vendor
Ericsson is the latest vendor to obtain SBC certification for Microsoft Teams. This ensures that the SBC will support Direct Routing for Microsoft Teams. Obtaining this certification is no easy process, as Microsoft conducts some intensive testing and validation in production and pre-production environments prior to certification approval. To see the full list of certified SBC's, check out the link here.
Chat and Collaboration
Pinned Posts
Sometimes you have a post that stands above the rest in terms of importance. Now, Microsoft will allow you to make that post easily accessible by giving you the ability to pin any message within a channel. Once pinned the message will be shown in the channel information pane for all members to see.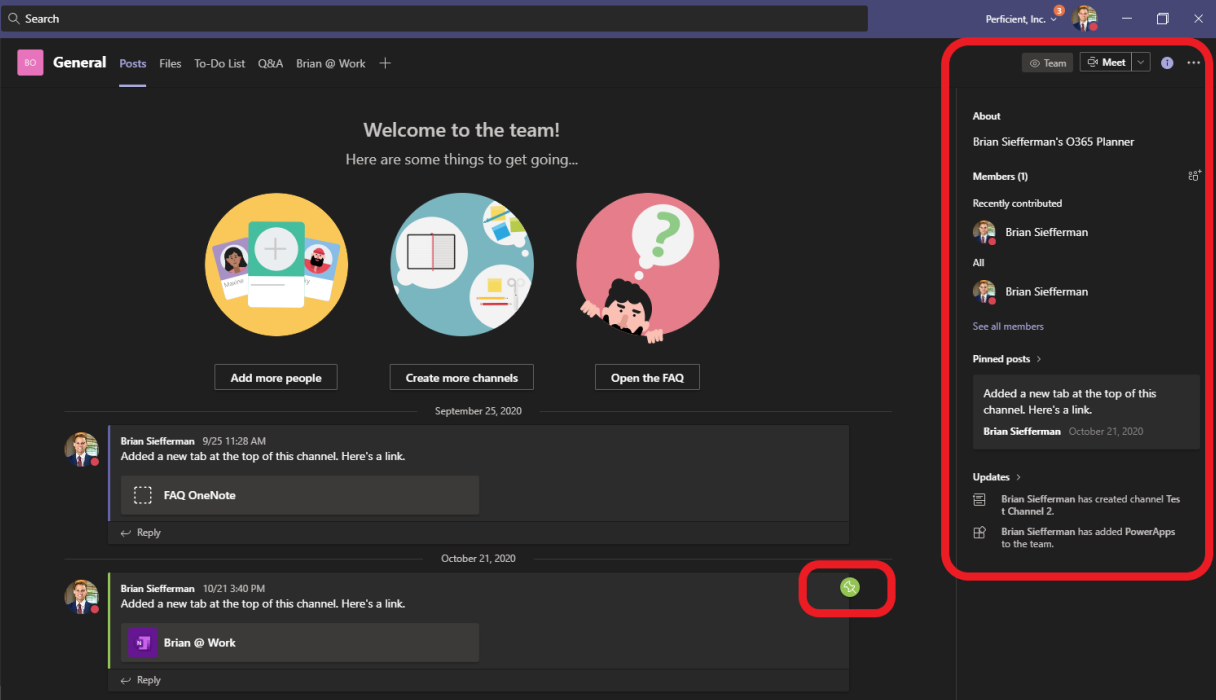 Polls and surveys and checklists… Oh my!
Gathering info and keeping track of things has never been easier with the new app templates for polls, surveys, and checklists in Teams! All you need to do to start leveraging these new app templates is to have your Teams administrator install and configure these extensions. Once complete, you'll have easy access to these different messaging extensions without having to use 3rd party apps. You can learn how to create and send polls here.
If you're more of a survey type of guy/gal, check out ways to gather feedback via surveys here.
Lastly, if you are just looking to keep your team on track, try creating a checklist here.
Set presence status duration
Another very welcomed addition revolves around the status duration. Sometimes you'll notice if you have your Teams client minimized and you are working on something else your client will show you as "Away" when in reality you're there working just not within your Teams client. With this new update, you will have the ability to manage your presence status for a specific period. To do this, just click on your profile picture in the upper right-hand corner of your client and hover over your status. From there you should see the option to select Duration.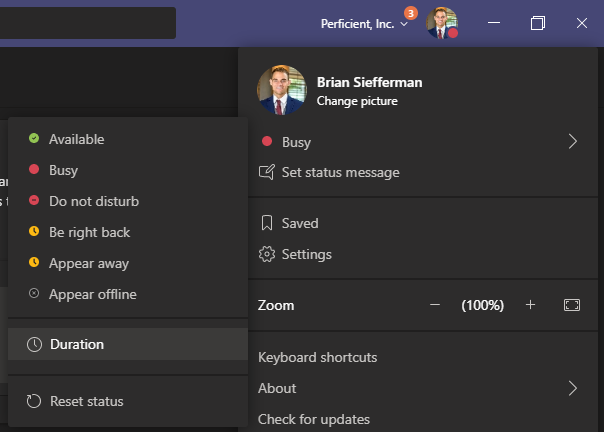 Once selected, you have the option of choosing your status:
Available
Busy
Do not disturb
Be right back
Appear away
Appear offline
Followed by the option of setting the duration of the status ("reset status after"):
30 minutes
1 hour
2 hours
Today
This week
Custom (select date range and time of day)
That wraps up the biggest updates for meetings, calling, and collaboration in Teams. If you want to see a list of all the updates around all things Teams for the month of December, I encourage you to check out Microsoft's official blog here.