In late 2019 Oracle released Fusion Analytics Warehouse (FAW). FAW is built on Oracle Analytics Cloud (OAC) and powered by Oracle Autonomous Data Warehouse (ADW). It provides personalized application analytics, benchmarks, and machine learning-powered predictive insights across all line-of-business job functions and business processes for Oracle Cloud Applications. It consists of prebuilt analytic applications that include a data pipeline, data warehouse and prebuilt KPI's, metrics, reports, and dashboards. FAW is purpose-built for Oracle's Cloud SaaS applications: ERP Cloud, HCM Cloud, SCM Cloud, and CX Cloud.  The first two modules of FAW have been released: Fusion ERP Analytics and Fusion HCM Analytics.  Additional modules for SCM Cloud and CX Cloud will follow.
In today's data-driven world, no process can be considered complete or fully optimized without addressing the analytics related to the process. Although FAW can be deployed at any time – either during the ERP Cloud implementation or after – there are significant benefits to be realized from deploying FAW concurrent to the ERP Cloud deployment. Some of these benefits are:
Improved design for ERP Cloud – especially in the areas of Chart of Accounts and flexfield design
Improved ROI of ERP Cloud deployment through better analytics
Increased visibility of ERP Cloud deployment by providing key metrics, KPI's, and dashboards to senior executives and business managers
Take advantage of the machine learning and predictive analytics available within Fusion ERP Analytics
Leverage economies of scale from common team members for ERP and Analytics
Distribute critical KPI's and metrics via mobile devices
Create a data foundation for future analytics and leveraging of machine learning
Fusion Analytics Warehouse Goes Beyond Transactional Reporting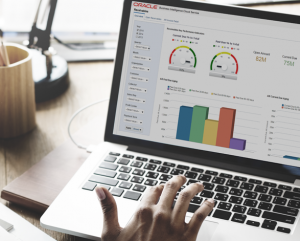 Explore key considerations, integrating the cloud with legacy applications and challenges of current cloud implementations.
The modules of FAW complement Oracle Transactional Business Intelligence (OTBI-which is part of ERP Cloud) and address the need for analytics beyond transactional reporting. Whereas OTBI is focused on transactional reporting with limited historical reporting and works with small volumes of data sourced from Oracle Fusion apps only, Fusion ERP Analytics is geared towards strategic and advanced analytics, supporting deep historical analysis, non-Oracle Cloud data sources and large volumes of data. Fusion ERP Analytics helps executives and decision-makers improve business performance and gives analysts the tools to uncover hidden insights.
Fusion ERP Analytics includes 15 subject areas and over 100 data warehouse tables covering General Ledger, Accounts Payable and Accounts Receivable. It comes with over 50 Financial KPI's that are prebuilt to leverage the data in your ERP Cloud system. With Fusion ERP Analytics you can do the following:
Quickly access critical Financial KPI's and metrics with comparison to target values
Leverage machine learning to drive alerts and discover relationships among metrics
Analyze historical trends
Gain insights into drivers of profitability
Understand your cost structure and expenditure patterns
Automatically gain access to key Financial ratios like ROE, ROA, Debt to Equity, Current Ratio and more
Extend existing KPI's and metrics or define your own KPI's
Drill directly from KPI's and metrics into underlying detail
Take immediate action on insights by linking back into the Cloud SaaS applications to execute transactions (e.g., purchase more inventory)
Integrate non-Oracle Cloud data sources for true enterprise-level analytics
Oracle ERP Cloud and Fusion ERP Analytics represent a powerful combination delivering an integrated platform for flawless business process execution and deep, machine-learning powered analytics to drive improved business performance and continuous improvement. Perficient's credentialed Oracle expertise and team of highly skilled implementation specialists can guide you on your journey to world-class business process execution and analytics.