Prepare yourself for this incredible news! We are excited to announce our W3 Gold Winner Award and Gold Winner MUSE Creative Award for DTE Interactive Virtual Home. This microsite educates consumers on how to save energy for their homes on a completely new level.
The W3 Awards is a major web competition judged by the Academy of Interactive and Visual Arts. This interactive competition recognizes outstanding digital excellence in Websites, Marketing, Video, Mobile Sites and Apps, Social, and Podcasts by the biggest agencies, smallest of firms, and any creators or designers who strive to be the best on the Web.
The MUSE Creative Awards is a prestigious awards competition created by International Awards Associate Inc. in 2015. This competition includes several awards categories and accepts entries from agencies, graphic design companies, web and digital entities, production companies, and freelancers. The MUSE Creative Awards provides a platform where all creative-types can feel accepted and continuously push the status quo.
Collaborating and Creating Interactive Virtual Home
Perficient became DTE's partner to improve the customer journey and make the experience more engaging for consumers. We designed and created the interactive, award-winning microsite where customers can explore 10 rooms of the 3D virtual home and learn tips for saving money and reducing waste, as well as includes several of DTE's programs for customers to enroll in.
The home compromises of checking points where consumers can track the progress they have made while learning on their journey, and offers different educational tips that could translate into energy savings and environmental impact. Customers gain an understanding of how they can reduce waste from these tips of the running totals of hypothetical trees planted, bags of waste recycled, and gallons of gasoline saved. This compelling website successfully launched in June of 2020.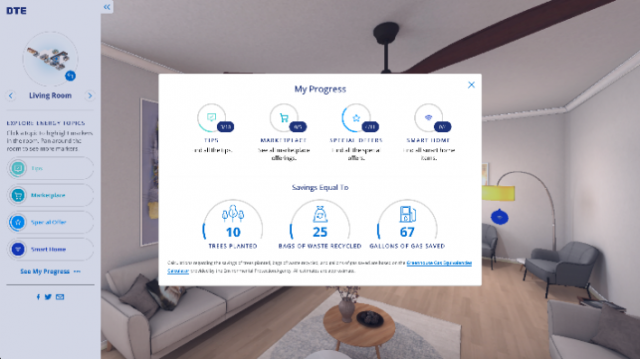 Perficient continuously strives to create strong relationships with our clients, and we exceed this goal by creating captivating work that they are proud of. To learn more about our other awards for DTE Interactive House, read our blog, DTE Energy and Perficient Win Creative Awards for Interactive Virtual Home today.