For the first time ever, we are excited to announce that Perficient's Charlotte office has been named one of 2020's Best Places to Work! This is the third top workplace award earned in the Southeast region this year, with our Atlanta office also being named a Best Place to Work, as well as a 2020 Top Workplace.
The Charlotte Business Journal runs this program each year to recognize outstanding companies whose benefits, policies, and practices are among the best in the region. This was the first year that our Charlotte office has participated in the program, and we are proud that their incredible team and culture is already recognized as one of the best in the region.
Collaboration is Key
A significant factor in the selection of the Best Places to Work winner is the evaluation of the employee experience and overall team morale at an organization. Our Charlotte office excels in both areas.
Life at the Perficient Charlotte office is anything but ordinary. The team recently relocated to a new office space that is designed to encourage networking and team building throughout the workday. Employees constantly collaborate on various projects during work hours and the office atmosphere is described as entrepreneurial and exciting.
This amazing culture continues past the workday as well. The team genuinely enjoys being around one another and can often be found hosting office happy hours after work, participating in community service events around the area, and attending unique events planned by their Culture Committee.
The Impact of Community Service
As a team, one of our Charlotte office's favorite things to do is come together to make an impact through their involvement with community service projects around the city. These employees love their hometown and are always eager to do what they can to make it better. Over the past few years, they have participated in the following activities:
Serving food at the Men's Shelter of Charlotte
Sorting food donations at the local food bank
Landscaping in the classroom garden at a local school
The activism and passion for helping others displayed by these employees are just some of the pieces that make up this inspiring team culture.
Charlotte's Focus on Work-Life Balance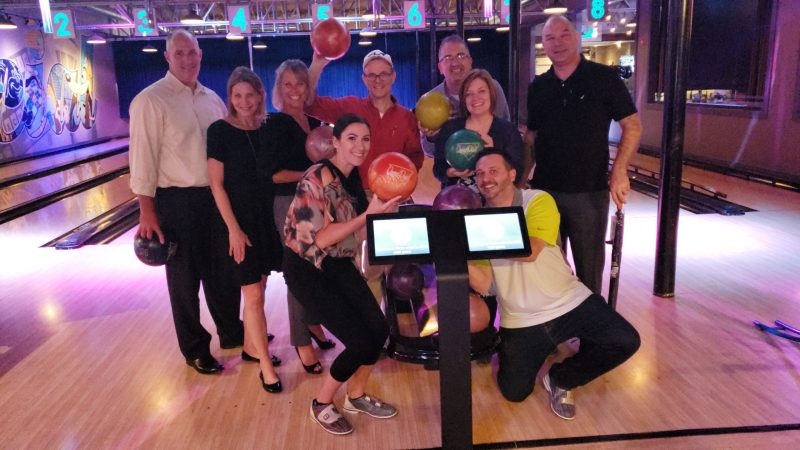 When they aren't out in the community helping others, the team can be found enjoying all that Charlotte has to offer. This office's Culture Committee is active and always trying to plan the most exciting and unique events for their teammates.
Many members of the team are avid sports fans, so the culture committee often plans outings to baseball games at BB&T Ballpark and Carolina Panthers games, sometimes even coming together to tailgate beforehand! The Committee also plans annual holiday parties and coordinates outings throughout the year, such as bowling nights, happy hours, and golfing.
Resilient Culture
Whether they are helping others, enjoying their city, or working in the office, the Charlotte team embodies the Perficient culture and values. Being recognized as a 2020 Best Place to Work is an honor and further proof of the strength of this team.
Due to the current pandemic, the Charlotte office building is only open on a limited basis and most employees are working from home. They have had to adjust to working remotely and working separately from their teammates. However, their work ethic and culture have not wavered, and the team is now stronger than ever. Our Charlotte team is resilient and always eager to succeed, which is why they are a perfect example of a Best Place to Work in 2020.
A Company-Wide Achievement
Charlotte isn't our only office showcasing our great Perficient culture. Additional Perficient offices around the country have also been recognized as great places to work for the same reason. Atlanta, Detroit, Minneapolis, and St. Louis have already been named a top workplace in 2020 as well!
---
At Perficient, we continually look for ways to champion and challenge our talented workforce with interesting projects for high-profile clients, encourage personal and professional growth through training and mentoring, and celebrate our people-oriented culture and the innovative ways they serve Perficient and the community.
Learn more about what it's like to work at Perficient at our Careers page. 
Go inside Life at Perficient and connect with us on LinkedIn, YouTube, Twitter, and Instagram.