How long does it take you to accomplish some of your daily, routine tasks? Are you spending too much time on manual processes? What changes would you make to your current applications or systems?
Perficient has helped our clients take applications and systems from good to great by innovating the customer experience, creating a new process or optimizing an existing one, or enabling a new service for the organization.
How do you bring these innovations to your organization?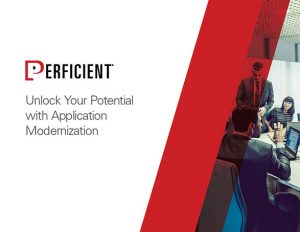 Application modernization is a growing area of focus for enterprises. If you're considering this path to cloud adoption, this guide explores considerations for the best approach – cloud native or legacy migration – and more.
Share your story with us
Our team of Red Hat experts wants to help you reimagine your organization's applications and processes.
It's easy: Complete this form and upload a short video (optional) explaining your team's current applications, processes, and systems and the challenges you encounter with them.
As a 'thank you' for submitting, you'll receive a Perficient branded YETI tumbler.
We'll choose five submissions for a complimentary, virtual wine and whiteboarding session with Perficient. After we've outlined a go-forward plan, you'll receive two of our experts for a four-week redesign engagement to help your organization digitally transform.
Click here to learn more about this initiative and to submit your story!