Back in early 2019, I became interested in how I could use Artificial Intelligence (AI), Machine Learning (ML), and Natural Language Generation (NLG) to write content for my blog posts.  The idea was elementary: come up with a story idea and let an AI tool write the content!  I didn't want to create a tool like this, as I figured with all the hype over AI, ML, and NLG that many people have already made a solution. At that time, I found a few entrepreneurs who had built such applications, but the resulting written content wasn't even useful.  The first image shows the AI-generated article for the topic "What are Future CMS Trends?"
As you can see in the image below, the content is mostly a collection of one line of text pulled from various sources available to the tool. Some of this content might have been useful as a very limited starting point, but in general, it would not have been worth paying for this result.
News Organizations Lead the Push
News organizations saw the enormous potential benefit and have been actively using AI technology to generate content quickly and efficiently.  Back in 2017, Julia McCoy at the Content Marketing Institute, wrote about Content Creation Robots and cited examples from the Washington Post and Associated Press. The Washington Post used a system they built called Heliograf to write social media posts from the content.  While the Post describes this as a storytelling engine, it seemed to be more of a summarizer to get a story down to 140 characters.  Anyway, it saved a lot of time for journalists and copywriters by eliminating the rather mundane task of posting to social media.
Of course, the idea of generating content automatically implies some serious savings in time and resources if it can be achieved.  As we look at where the industry is currently, there are more encouraging signs for AI Content Generation than discouraging signs.  More content-generating applications are popping up every day, and the types of content being generated are becoming very interesting.
Turning Data and Charts into Content
Charts are an effective way of communicating complex data, but for many people, looking at maps, tables, and data is still daunting.  Narrative Sciences has created several AI-driven tools to automatically generate written content from data.  These images show some examples of their Lexio system that makes narratives from data. The first image shows plain text generated from COVID 19 data.  Notice how the written text is interspersed with the data to tell a story.  You might be able to imagine how easy it would be to generate a social media post or even a fuller account from these two AI-generated paragraphs. With our global pandemic going on right now, this kind of automation can keep your audiences up-to-date without having to dedicate one or more people to the task of writing the content.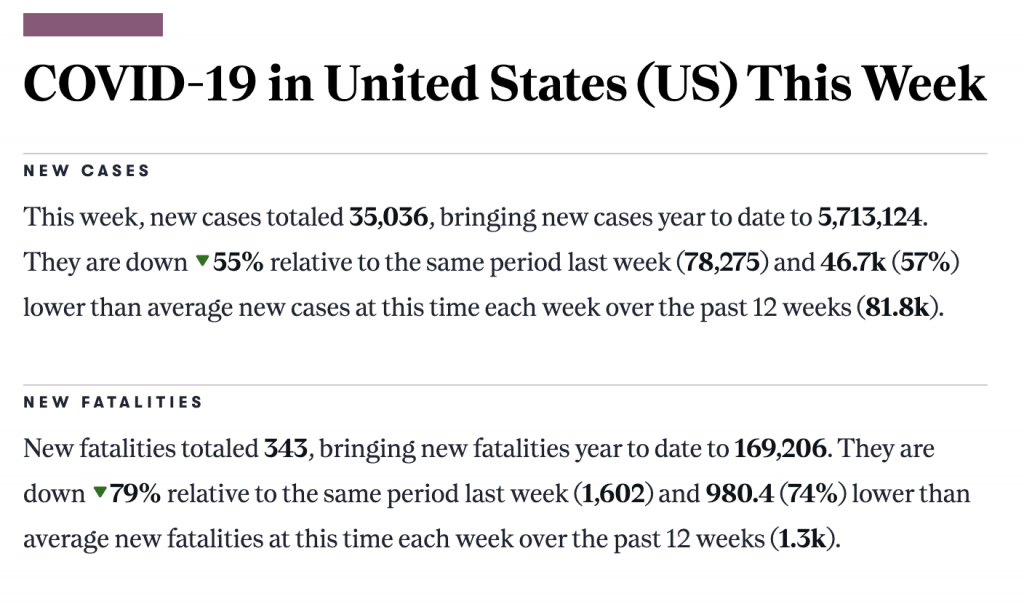 The next image shows an example of Lexio combining text and graphics to tell an even richer story. In this example, Narrative Sciences created an interactive application where the user could select elements of the data (Country), and the application would display both a written narrative as well as create a chart. Of course, this whole application and content were not generated 100% by AI. Still, it shows how you can apply AI, ML, and NLG to generate more useful content, especially when you don't have the human resources available.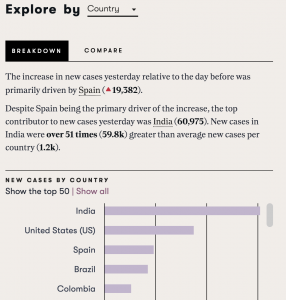 These and other examples show that AI tools really have the potential to address simpler forms of storytelling.  Other examples I've seen include looking at box scores from sporting events and creating simple articles.  According to Julie McCoy, the Associated Press uses a system to generate 3,700 corporate earnings report a quarter.
How about writing full stories?
Back to my quest.  Can I now have an AI-based system write an entire article for me?  According to several reports, complete books of fiction have been written by computers.  Brian Merchant wrote a story in The Atlantic titled "When an AI Goes Full Jack Kerouac."  While the book contained some good lines and good characters, Ross Goodwin, who produced the book I the Road, provided his view of the results:
"This is very much an imperfect document, a rapid prototyping project. The output isn't perfect. I don't think it's a human novel, or anywhere near it"
Things Change Rapidly in AI and NLG
Given all this progress in AI, I hoped that the system I used in January 2019 had improved in 18 months.  So I went back and tried the exact same topic again.  My ambition was not to write a novel or create poetry, but just to generate 60%, 70%, 80%, or even 90% of a blog post.  So here is the result.
The content has undoubtedly improved since my first attempt.  Instead of single lines of text, I now have somewhat coherent paragraphs of content.  Most of the content is also pretty relative to the topic I proposed.  I don't see as much repetitive content as the first time around.
So, I could use some of this content to start a blog post.  But, in reality, only one or two paragraphs would be useful.  Maybe that's a success rate of 20%?  It's still far from my goal of even 60%.
I'm not discouraged, however.  The improvement in 18 months is impressive. And this was only one commercially available site.  I know there are more sites I could try out.  I could also try to create my own generator using new models.  OpenAi's GTP-3 has received a lot of attention and press lately.  I think we are getting closer to having a general-purpose content generator that is useful.  What do you think?