Paul Bjorkstrand is a "Java developer at heart" and was working as such when a former colleague convinced him to come into Perficient for an interview. Knowing that Perficient was an excellent fit for Paul and well-suited for his career path, the former colleague was persistent, and over the course of a year, had continuously encouraged Paul to consider Perficient.
Soon after Paul left his interview in the Perficient Minneapolis office, he received an email offering him a position. Perficient recognized his talent and, as with anyone that comes in that is a perfect fit, we wasted no time in hiring him to our team. (Does the friend get to say "I told you so"?)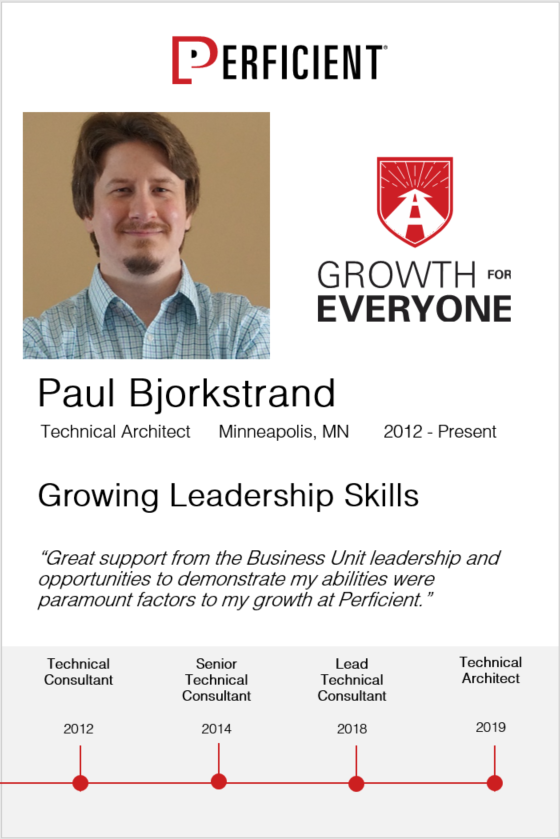 SEE MORE: 6 Great Reasons to Work at Perficient
Art Quinn, general manager of Minneapolis, take great pride in the culture of his team. (They were just named a 2020 Top Workplace in Minnesota, after all!)
He shares, "At our core Perficient can be only as great as the people who make up it. With than in mind retaining and growing top talent is a critical success factor, so we don't consider moving units as a loss to our local market but rather a strengthening of our overall team and offering. We are all proud of what Paul has and continues to accomplish, and with no doubt I will be working for him one day!"
Importance of BU Leadership
Paul's journey with Perficient started in our Minneapolis office, which is where he was assigned his first Adobe Experience Manager (AEM) project. During his tenure at Perficient, Paul has only worked on one non-AEM  project. His experience and skill with AEM made his transition from our Minneapolis GEO to our Adobe Business Unit natural.
"Great support from the Business Unit leadership, and opportunities to demonstrate my abilities were paramount factors to my growth at Perficient. In addition, having honest feedback about my areas of potential growth (in the form of timely reviews and impromptu conversations with team members) showed me where I needed to focus to improve my skills as a consultant."
Although Paul now works mostly remote, he still feels comfortable going back to the Minneapolis office where he began with Perficient. Being able to start in a business unit that was local and had an office nearby made his experience with Perficient more valuable. He was able to work and talk with team members in person and create strong relationships with the Minneapolis leadership team.
That relationship with the Minneapolis leadership contributed to Paul's career growth and expansion at Perficient. Paul started at Perficient early in his career. He notes,
"Having leadership recognize your value, before you even do, is a great feeling. That is one place the Minneapolis office shined. They recognize the value of their employees and reward based on that value."
KEEP READING: See more articles about Leadership at Perficient
The Give and Take of Success
Since joining Perficient, Paul has gone from a technical consultant to a technical architect. As a technical consultant, he was a member of a larger team and a developer, building solutions for clients. Today, as a technical architect, he holds a leadership role where he not only builds solutions, but identifies potential pitfalls and ensures we deliver exactly what our clients expect.
When Paul started here, he dove into projects and worked tirelessly to learn everything he could to become the expert in Adobe that he is now. A large part of gaining all of that knowledge was working to understand all aspects of a project, even when it did not directly pertain to the work he was doing. This allowed him to gain a greater understanding of the big picture.
Another key to success is being honest about what you do know and what you don't. Part of Perficient's culture is the community of asking questions. As a technical consultant, it is important to know when to ask questions rather than trying to fake knowledge of the subject. For instance, on Paul's first project, the project manager asked him to look into Akamai; he couldn't even spell it. So, after a day or two, he finally came clean and asked about it. From then on, he started asking questions about things more freely.
DID YOU KNOW: Communication and asking questions are highly regarded at Perficient 
Considering his experience in asking questions, Paul is motivated to help colleagues in the same way he received help when he first started. He explains,
"Helping colleagues and seeing that 'ah hah' moment is awesome. It's fun to experience that alongside them."
Although Paul is a strong proponent of the formal knowledge sharing initiatives at Perficient, he notes it is also informal instances where a team member talks to another and helps them understand a problem.
How to Never Waste a Day
It may seem like Paul's journey at Perficient has been a smooth, natural climb to the top. However, he noted that journeys are always full of ups and downs; but, you have to take the good and the bad in stride. As we've all heard before, you have to think of bad experiences as learning experiences. Projects not only show us what works; they also show us what doesn't. In consulting and working as a developer, it is vital to understand that we can sometimes learn even more from those instances where something doesn't work.
In the same way, you have to understand your strengths and weaknesses. Although it may sound cliché, Paul explained how important this is for a growing consultant.
"Focusing on improving where you are not the strongest will help you grow more quickly. It gives you a greater breadth of knowledge and experience."
Gathering more knowledge never stops when you are in your career.
A quote Paul told me that exemplifies this philosophy is, "If you have learned something new today, it was not a wasted day."
READ MORE: See more ways colleagues have growth their career at Perficient
Three Tips for New Colleagues
Now, after reading Paul's story, you may be wondering, how do I take that same journey to success? He has three important tips to consider for new colleagues.
While it is not required to move into a managerial role as you progress through your career, it is still helpful to build that leadership skill set. Having leadership skills can help in projects when you have a difficult conversation, or make a difficult decision.
Whether you like or don't like what you are doing (on projects/within your broader role), talk to your manager and let them know! It is essential to be open about your career goals/ideal roles. Leadership needs to know what you want to help you grow your career in the manner you wish. It is much easier to staff you in roles you would both like and excel at, if they know your preferences.
Your title does not dictate your role on a project. Even your role on a project does not dictate everything about how you contribute to a project. You can show your desire to grow by taking initiative and helping your colleagues as much as possible.
And what is next for Paul? He is hoping to personally broaden his experience to other technologies and create a knowledge base and skill set beyond just Adobe  Experience Manager. At the same time, he wants to continue to work on building his knowledge of the full Adobe suite of products. This expanded knowledge will help Paul and Perficient offer even more to clients and colleagues alike.
---
At Perficient, we continually look for ways to champion and challenge our talented workforce with interesting projects for high-profile clients, encourage personal and professional growth through training and mentoring, and celebrate our people-oriented culture and the innovative ways they serve Perficient and the community.
Learn more about what it's like to work at Perficient at our Careers page. 
Go inside Life at Perficient and connect with us on LinkedIn, YouTube, Twitter, and Instagram.