One of the key advantages of Twilio Flex, Twilio's cloud-based contact center platform, is that it is highly customizable. Organizations have a high degree of control over the customer, agent, and supervisor experiences.
Many customers want to accelerate migration of their contact center operations to Twilio Flex with a robust suite of features.
This is particularly the case in the wake of the COVID-19 pandemic, when businesses large and small are recognizing the limitations of their on-premises platforms and looking to quickly pivot to a cloud-based solution.
With accelerated deployment in mind, our Twilio practice has created the Perficient Starter Pack for Twilio Flex. Based on our extensive experience consulting on new implementations and migrations to Twilio Flex, the Starter Pack brings together the following feature sets:
Time of day routing logic that allows you to configure default hours of operation, holiday and non-holiday closures, and exceptional overrides

Disposition codes for completed tasks

Customized task card components in the Twilio Flex Teams View for supervisors and administrators

An easy to use administrator UI that provides access to configure all of these features
Our Starter Pack solution uses Twilio Functions, Twilio Flex Plugins, and Twilio Sync to enable these features in your Twilio Flex environment.
Hours of Operation
When using TaskRouter, Twilio's skills-based routing for contact centers, Twilio provides you with the ability to configure routing based on the time of day.
However, you may also want to differentiate the customer's experience based on the current time of day in the IVR flow or other parts of your implementation, before or after the call or message passes through TaskRouter.
To support these use cases, our Starter Pack admin UI provides a console for a Flex user with administrator level access to configure the following values:
Regular hours – the standard hours of operation of your contact center;

Holidays – public holidays on which your contact center will be closed;

Closures – date and time ranges during which the contact center will be closed;

Overrides – date and time ranges when the default hours will be overriden. The start and end time will replace the default regular hours during the configured date range.
The console allows you to configure the timezone of your contact center. In addition, the UI supports multiple hours of operation configurations — for instance, if you have different hours of operation for different departments working in the same Twilio Flex environment.
Once the configuration is saved, you can now make an HTTP call to a Twilio Function from any part of your implementation to determine if the contact center is open or closed. For instance, in the IVR flow, you can use a Run Function widget to call the Twilio Function and route the customer based on the returned response.
Disposition Codes
The Perficient Starter Pack admin UI also provides a console for Twilio Flex users with administrator level access to configure categories and subcategories of disposition codes that can be selected when an agent completes a task.
Once configured, Twilio Flex agents will be prompted to select a disposition code before they complete a task, with the additional option to save a comment about the conversation. The task attributes are updated with the disposition code and comment entered by the agent.
This feature can be enhanced to save the disposition code and comments as custom conversation attributes, which will make this data available as part of your historical reporting in Flex Insights.
Custom Task Cards in Teams View
Out of the box, Twilio Flex Teams View provides supervisors with the ability to see "task cards," a visual representation of the tasks that are currently being handled by each Flex agent.
The Perficient Starter Pack enhances Teams View to visually notify a supervisor if a task exceeds a configured SLA. In the example below, if the handling time of the task exceeds 45 seconds, the task card component changes color in Teams View so that it comes to the supervisor's attention.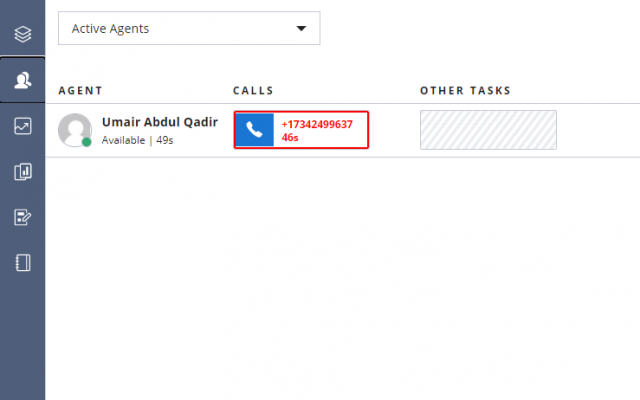 We can use this pattern to create visual notifications in Teams View for other SLAs and metrics. Please talk to us about your specific real-time supervisor monitoring needs.
The Perficient Starter Pack for Twilio Flex provides you with the ability to kick start your Twilio implementation. This package will form the foundation for other future features to enhance your contact center on Twilio Flex.
Watch the video below to see the Perficient Starter Pack for Twilio Flex in action: