The Consultant Development Bootcamp series was written with joy by Grayson Harden, Mary Claire Freese, and Rebekah Williamson.
Creating Career Connections at Perficient
When accepting internship and full-time offers with Perficient, Atlanta's newest members were anxious to get into the office and kickoff the 10-week Boot Camp training program. However, no one could have anticipated having to start a career working from home. Working remotely can bring plenty of challenges, but Perficient's remote accommodations have helped create a fun, productive workspace for the new hires.
BONUS: See what lessons one Perficient director shares after 20 years on the job
Though day-to-day communication looks different in a remote setting, Perficient's newest colleagues feel it has been easier than anticipated to form relationships and collaborate on projects. On a day-to-day basis, there are scheduled meetings and seminars via Microsoft Teams to help everyone stay in touch and on the same page. This creates consistency as well as provides much-needed interaction in between solo project work.
"It feels like we're all in the same space even though we're meeting through a screen." — Eric Cho, associate technical consultant
It also helps to know we're not alone. Across the company, other new colleagues are onboarding remotely, too.
Throughout a normal Boot Camp day, both the technical and business consultants participate in intensive modules, learning the vital programs and technologies that Perficient relies on. While working on the modules, each intern/associate meets with their assigned career counselor and great start guide who offer professional guidance and answer technical questions when issues arise. David Davenport, intern technical consultant, enjoys his weekly syncs with his mentors.
"It's great to have multiple mentors because they provide insight on different roles within Perficient and unique perspectives on the consulting industry as a whole." — David Davenport, intern technical consultant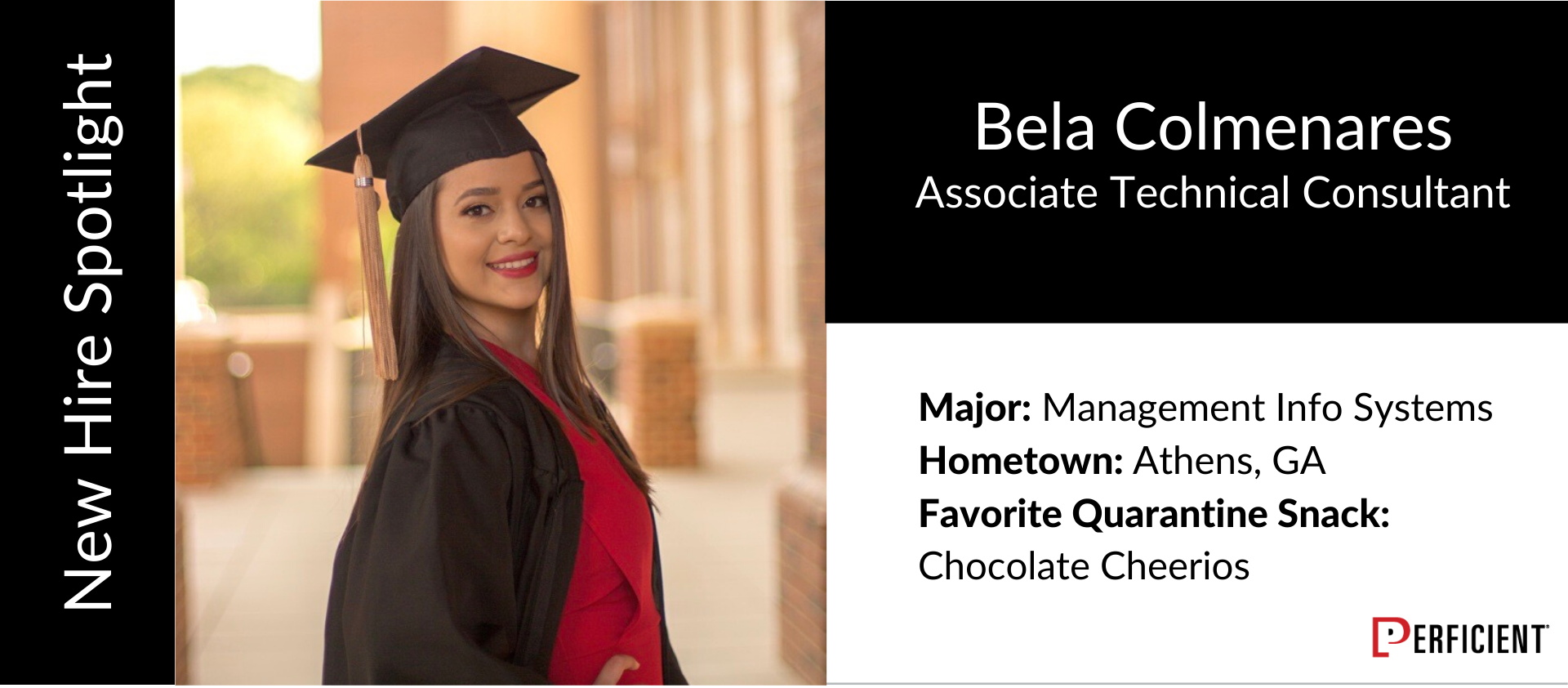 Because we're all experiencing the uniqueness of starting remote, the Boot Camp group is growing in connection each week.
"Having a tight-knit group makes it easier for people to reach out to each other and form relationships." — Alex Karadsheh, intern technical consultant
The Perficient team has put in extra effort to replicate the social aspect of the office, scheduling weekly happy hours and virtual break rooms. In order to meet each other face-to-face and interact outside of work, the Boot Camp group also coordinated an outdoor Athens event which helped solidify friendships and create a bond.
BONUS: Check out some the typical office activities we're excited to get back to
Being remote certainly has its drawbacks, but it has taught the Boot Camp team a lot about maintaining a solid work ethic and staying productive. Kam Ndirangu, intern technical consultant, feels like he is definitely growing personal skills that he wouldn't have otherwise if he was in an office.
"When facing the distractions of being at home, it's important to treat it like the real world. Can I still hold myself accountable when no one is watching over my shoulder?" — Kam Ndirangu, intern technical consultant
Tips for Starting Your Career Remotely
Whether you're starting your career out remotely or looking for ways to improve your productivity at home, here are some tips from the Boot Camp team that has made remote working a little easier:
Set up a dedicated workspace free from distractions in a separate part of the house
Take small breaks throughout the day to refresh your mind: stretch, get a snack/water
Change up your lunch break: cook a nice meal, take your dog for a walk, call a friend
Switch locations: take advantage of sitting outside if possible
Stay in touch: reach out to coworkers throughout the day
Ensure that you're putting in the work when no one is watching!
DID YOU KNOW: Perficient was already ranked a Top Workplace in 2020 in Atlanta and Minneapolis! And we're not stopping there…
---
At Perficient, we continually look for ways to champion and challenge our talented workforce with interesting projects for high-profile clients, encourage personal and professional growth through training and mentoring, and celebrate our people-oriented culture and the innovative ways they serve Perficient and the community.
Visit our Careers page to see career opportunities and more!
Go inside Life at Perficient and connect with us on LinkedIn, YouTube, Twitter, and Instagram.