Customer experience leaders continue to look for ways to improve their customer experience technologies. These leaders understand that as expectations evolve, competitors try to jump ahead, and other companies invent new capabilities, they must also evolve their capabilities. Assessing your technology stack with respect to customer experience is essential to making sure your technology is keeping pace and able to deliver new and innovative capabilities.
Too often, we think of CX technology as the platform that runs our website or ecommerce site. However, customer experiences are not isolated to these channels. If you want to understand the state of your experience technology, you have to broaden your review to cover the wider range of digital touchpoints.
When we help customers assess their CX technology, we typically review the following areas: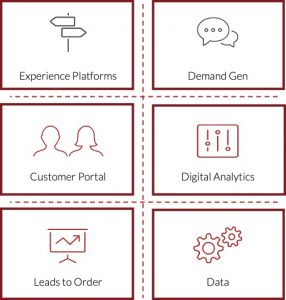 Experience Platforms – These systems typically drive your owned web and mobile experiences and include content management, search, digital asset management, and others.
Demand Gen – These are more top-of-the-funnel systems that we experience, such as display ads, paid search, social posts, etc.
Customer Portal – Many times the self-service customer portal is built with platforms different from the main experience platforms.
Digital Analytics – Collecting usage and behavior data across all touchpoints can help you optimize each experience as well as each journey.
Leads to Order – Here we look at systems that manage leads, provide lead scoring, and move a potential customer into a true customer. This category also includes ecommerce platforms, order management systems, and fulfillment systems.
Data – Backend data, front-end data, customer profiles, and product information are all critical elements of data that must be right for our experiences. In addition, we look at how the integration systems link all the other systems together to provide data to all channels.
Looking across this landscape, it's not uncommon to discover 50 or more systems involved in delivering customer experiences. Sometimes this is due to the specialization of systems within the stack. For example, there are many digital analytics systems that focus on one channel only or one type of measurement. Other times, we find duplicative systems that can negatively affect both the experience and the teams trying to manage the experiences. As an example, we have seen customers implement two or more tag management systems. One large customer had more than 10 web content management systems in place.
Understanding your inventory of systems is one step in an the overall assessment. Evaluating whether the systems you have implemented are right for your team and your customers is the next step in assessing your CX stack. Many times customers purchase a new platform in one of these areas but later find out that it won't integrate with other systems in the CX landscape.
Have you undertaken a broad customer experience technology assessment lately? I'd love to hear about your experience.