Enterprise Performance Management (EPM) cloud roadmaps are expanding rapidly across organizations and industries. It's becoming more and more common to see multiple cloud EPM applications being implemented; Oracle Planning, Oracle Financial Consolidation and Close, Oracle Profitability and Cost Management, etc. And while the number of applications being implemented by organizations are increasing, so is the need to efficiently manage the dimensions within and across the EPM footprint. Continue below to learn why Oracle Enterprise Data Management Cloud (EDM) is critical for managing dimensions for cloud EPM applications.
EDM Provides Time Savings – In an EPM cloud environment without  EDM, administrators have to apply dimension updates to each application individually. However, with EDM dimension management is centralized. Dimension updates can be applied with a few clicks within EDM – no need to log into each cloud application & apply the update separately. EDM also enables the synchronization of updates for dimensions shared across applications; meaning that users enter the update only once and EDM does the work of aligning the dimension for all the impacted applications!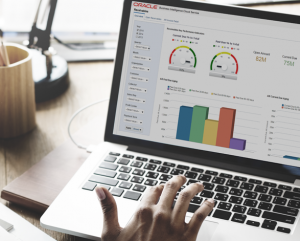 Explore key considerations, integrating the cloud with legacy applications and challenges of current cloud implementations.
EDM Empowers Business Users – EDM's workflow components allow for business users to submit requests. Simply enough, but it provides a truly unique feature for users – change visualization. Within a request in EDM, users can see & interact with future-state dimensions as they apply updates. The target applications are not updated until the request passes final approval – ensuring data integrity remains. Gone are the days where business users are required to "mock up" the future-state of a dimension so that administrators can comprehend & apply the updates.
EDM Enforces Data Governance and Reduces Errors – In a traditional EPM cloud setting, business users submit a request to administrators who are responsible for analyzing & applying the updates. Does the request meet system requirements? Does the request meet organizational data standards, such as naming conventions? Has all the required supporting information been provided withe request to ensure is applied correctly? Has the request been approved by data stewards? – All questions that typically are left to administrators to ensure are answered. And what happens if the administrators miss something? The time lost to correct the issue could be significant. EDM removes this bottleneck by systematically enforcing data governance requirements on the front end – when the request is initiated by the users. EDM workflow policies can also be configured to ensure requests are reviewed & approved by required personnel.
There you have it. Three major reasons why EDM is critical for EPM cloud environments. Contact us today to learn more about EDM!