Previously, I discussed how pharmacovigilance can work, when implemented correctly. In the final installment of this blog series, I look at the future of pharmacovigilance.
How can you close the knowledge gap and move pharmacovigilance from a state of reactive to proactive? While the presented earlier is merely an example, it is based on real PV practices of a few forward-looking marketing authorization holders. It takes some proactive planning and partnering to spool-up a patient adherence and patient support program, but with the right partner, you can be ready.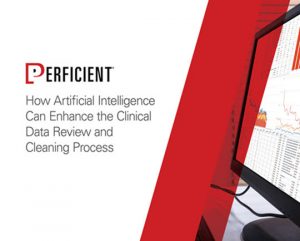 This guide analyzes how artificial intelligence – including machine learning – can be used by pharmaceutical and medical device companies to improve the clinical data review and cleansing process.
A holistic pharmacovigilance system is not just adverse event cases entered into a database and endless line listings spit out for analysis. It is an iterative process that begins with the first step in the PV system and ends with the last feeding back to continuous improvement and old-fashioned communication between healthcare providers, regulatory authorities, and patients.
Many points exist where one touch can change reactive into proactive pharmacovigilance. Proactive means early detection, implementation of quick remediation, and actually changing the paradigm of the adverse event profile through common sense touch with the care providers or the patients themselves to enhance understanding of the drug, its use, and set expectations based on clinical data. Don't forget about reviewing the AE profile in real-time to look for other potential indications from the AE profile such as described earlier.
Technology plays a critical role in making this a reality. Do you have the right analytics tools? Do you have the bandwidth to set up real-time programs for patient support or adherence or partnerships who can assist? Do you have the savvy scientific and clinical knowledge in your organization?
Remember the tenants of safety surveillance, but also the total risk management system. Independent of product type, the continuous surveillance of real-time data can make a difference.
Fit-for-Purpose Pharmacovigilance Analytics
Leveraging our deep pharmacovigilance, regulatory, operational, and technical expertise, we have created PV Hawk, an application that enables Argus Safety users to watch and analyze the overwhelming influx of PV data.