4 Boosted Outcomes Using Oracle Cloud
The Utility industry is facing enormous change along with the rest of the world due to Covid-19 and its effects on commercial and residential consumption of energy. The industry has had to learn quickly to juggle demand and workforce planning. Oracle Utilities has long been a leader in industry applications for operations at power generation companies. Oracle's suite of enterprise applications; ERP, SCM, EPM, and Data & Analytics all lead the industry to new fond levels of efficiency and innovation with special focus on the four desired areas of business outcome below;
I. Using Oracle Data & Analytics to Manage Business Decisions 
Improved decision-making via data is high on the list of priorities for utilities. Smart meters, the smart grid, and the Internet of Things (IoT) devices all generate lots of data. For this data to prove value, Utility's customers need analytics, dashboards, and reporting to consolidate information and highlight important analytics.
II. Steering Innovation and Agile Process with Oracle ERP & EPM Applications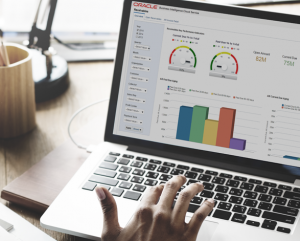 Explore key considerations, integrating the cloud with legacy applications and challenges of current cloud implementations.
Utilities, historically, have made heavy capital investments with little to no competition, slowing rapid evolution difficult. There is a strong need to be agile and scale quickly to better serve customers and employees with innovation.
III. Building Improved Customer Experience and Interaction with Oracle Data & Analytics
Today's utilities have an imperative to serve customers through their preferred channels, whether that's via phone, email, or online chat. Missed opportunities in this area result in undesired customer experiences and ultimately less loyalty and revenue to the company.
IV. Improving Mobility & Field Operations with Oracle SCM
Phones and tablets used by utility employees and customers have forced utilities to deal with the challenges of the new mobile era. Mobility has affected the speed of the utility's digital transformation, with employee and customer expectations increasing rapidly. Customers want to know how mobile technology has helped utility organizations become more efficient and responsive.
Enterprise Risk Management and conflated risks that have been brought into a new light by the pandemic, but Oracle's ERP, EPM, SCM, and Data & Analytics solutions along with Perficient's Change Management team can save the day for today's Utilities.