Disconnected data. Supply chain disruptions. Employee wellness. Shift planning and management. Finding ways to return employees safely to the factory floor.
When it comes to reopening and rebuilding, there's one underlying commonality for manufacturers in the wake of COVID-19. The common thread: solving for distance.
In some cases, it's physical. How do you ensure a healthy, safe work environment in production plants, while adhering to social distancing guidelines? How do auto dealerships sell vehicles without giving customers the hands-on opportunity to take a test drive? How do you enable more oversight remotely?
In others, it's a matter of bridging gaps – all the way from data integration to closing the distance (digitally) between customers, dealers and brands.
Why It's a Big Challenge for Manufacturers
For manufacturers, it's often a bigger struggle than most. Compared to many industries, manufacturers have historically lagged behind when it comes to digital transformation – often relying on spreadsheets and dealing with silos created by legacy systems. But COVID-19 has abruptly changed the playing field.
According to Forbes, manufacturing will experience five years of innovation in the next 18 months. Many will be pivoting to aggregate data with cloud platforms, along with embracing automation to optimize efficiency, reduce costs and address pain points – fast. In fact, most manufacturers are looking for solutions that can be implemented within days or weeks, rather than months.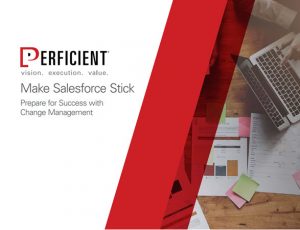 To ensure your Salesforce implementation or migration goes as planned, our team of change management professionals discuss how to manage the transition process to ensure your team is ready, willing, and able to perform effectively in the new environment.
But recovering, reopening and rebuilding will be a two-fold process: what now and what next.
The Journey Ahead: Back to Work
The first step on the road ahead: getting back to work safely.
Last week Salesforce announced Work.com – a new set of technology solutions and resources to help businesses restart safely, re-skill employees and respond efficiently on the heels of the COVID-19 pandemic. The goal: help businesses of any size reopen as quickly as possible, while helping keep employees, customers and partners safe and informed. The solutions will roll out in late May and June.
What are the most notable features coming for manufacturers?
#1: Workplace Command Center
In a nutshell, the workplace command center is a single source of truth that brings together at-a-glance dashboards with real-time reports and collaboration. In one place, executives and managers can see employee wellness (by location), manage shift scheduling, track training completion, and more. Best of all, it's customizable for your needs, so you can make data-driven decisions quickly.
#2: Shift Management & Planning
As facilities reopen, it's key to ensure they stay open. That means coordinating facilities and employee shift scheduling will be critical – and it will require adaptations. With work.com's shift management and planning solutions, organizations can model their workplace site capacities, ask employees when they are available and stagger arrival times to ensure proper distancing. With that visibility, shift managers can use quick tools to specify which employees, functions and projects are staffed first. Employees can confirm availability, receive automated schedule notifications via mobile, and be notified with specific arrival windows to ensure they feel safe and secure.
#3: Contact Tracing
Above all, keeping employees healthy is everybody's top priority. That includes tracking health-related interactions to safely and securely minimize the spread of COVID-19. Designed for speed, privacy and safety, the contact tracing solution helps in three ways. Manufacturers can:
Accelerate the process to identify people at risk using out-of-the-box assessments.
Identify risks to communities and "hot spots" by tracing relationships across people, places and events.
Immediately reach out to people who've potentially been exposed and setting them up for ongoing monitoring and check-ins.
You can watch a demo and learn more about the features here. At its core, work.com is designed to support recovering and reopening – putting the plans, logistics and communications in place to resume operations while protecting employees. But it is also creates the foundation for looking forward.
The "Next" Normal of the Future
As manufacturers stabilize and reopen, the next path ahead will be growth – how to accelerate change in the next normal, accelerate digital transformation, and become faster and more relevant to your customers than before the crisis.
We can create a roadmap to help you with every step.
Recovering. Reopening. Rebuilding. Wherever you are in the journey, we're here to help. Need a hand with getting solutions in place quickly? Contact our team, talk one on one, and tell us what's in your way. Let's get to work.