MuleSoft CONNECT is the premier global integration conference to discover how to unlock data and unleash innovation with API-led connectivity. In response to COVID-19, the event has been reimagined as a series of three free, real-time, virtual experiences.
The Americas event is May 20 and features sessions, demos, breakout sessions, and a keynote you won't want to miss. There are even opportunities to get certified in MuleSoft technology for free.
Each breakout session aligns with a conference channel, enabling attendees to choose the right sessions for them. The channels are:
Get started: Get a tour of MuleSoft Anypoint Platform and hear from customers
Take a deep dive: Maximize the value of Anypoint Platform with tips from experts
Expand your knowledge: Get an in-depth view of the latest product capabilities
Achieve business outcomes: Digitally transform and quantify the impact of tech investments
Implement industry solutions: Address industry challenges in banking, healthcare, and retail
Drive public sector innovation: Advance tech innovation and digitize government services
Unleash the power of Salesforce: Integrate any data, system, or device with Salesforce
Accelerate value with partners: Work with our partners to maximize business success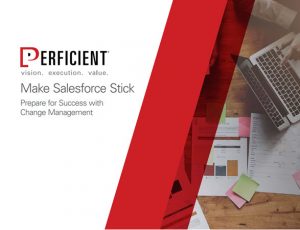 To ensure your Salesforce implementation or migration goes as planned, our team of change management professionals discuss how to manage the transition process to ensure your team is ready, willing, and able to perform effectively in the new environment.
Click here to view the complete Mulesoft CONNECT agenda.
Just like at in-person conferences and tradeshows, you'll learn new skills, consult with experts, and network with your peers.
Plus, for every person who joins the keynote, MuleSoft will donate to the WHO COVID-19 response fund.
Register today to gain access to a half-day of curated content, streamed online for free.
---
Perficient continually looks for ways to champion and challenge our workforce, encourage personal and professional growth, and celebrating our people-oriented culture. Work on interesting projects for some of the world's most recognizable clients and enjoy life while doing so.
Learn more about what it's like to work at Perficient at our Careers page. See open jobs or join our community for career tips, job openings, company updates, and more!
Go inside Life at Perficient and connect with us on LinkedIn and Twitter.