The following is the first in a series of blogs about how innovation is necessary for businesses – and how Azure Red Hat OpenShift, a managed offering from Microsoft and Red Hat, enables that innovation. In this first blog, we're going to examine the current cloud market and why businesses need to innovate now.
The benefits of cloud are many – scalability, velocity, and agility, to name a few – and the number of businesses that have modernized with cloud back that up. Gartner estimates the cloud adoption rate reached 85% in 2019, showing that the majority of businesses have at least moved some workloads to the cloud.
Early cloud adopters are increasingly ahead of the curve as they automate significant portions of their application lifecycle to innovate at a rapid pace, deploy applications more often, and reach their market faster.
It's not too late, however, for companies that have yet to harness the potential of cloud technology to adopt these processes and tools. In fact, Forrester predicts that 2020 is the year that businesses will really start to modernize their core business applications.
Why are companies modernizing core business applications?
Unfortunately for some, the reason businesses are now modernizing their core business applications is because it's the next stage in many businesses' modernization journey, according to Forrester. Those that are now modernizing their core business applications have largely already modernized their systems of engagement and insight. This means those that haven't started to modernize are behind. Businesses have already modernized some applications and are now moving to those that are crucial to their business.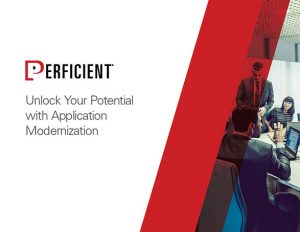 Application modernization is a growing area of focus for enterprises. If you're considering this path to cloud adoption, this guide explores considerations for the best approach – cloud native or legacy migration – and more.
Businesses are modernizing these crucial applications because of the need to innovate. New capabilities in cloud, automation, AI, and machine learning are emerging seemingly every day, and you need to be nimble and able to evolve in order to remain relevant.
It's not just the business that has new tools to play with, either – customers do too, and their expectations are rising by the day. Developments such as bots mean that customers can now communicate instantly with you, and they expect you to have the information on hand to remedy any issue or answer any question that they may have. They expect to be able to communicate with you whenever, wherever, and however they want, and they want that interaction to be seamless. Providing that level of service isn't a simple task, though – you must evolve to make it possible.
That evolution entails creating ways to improve the customer experience and may involve providing new services. With cloud, your IT team can become a center of innovation that can potentially drive business, just as Netflix's innovative cloud-based services did. Netflix isn't alone though. Businesses like banks, for instance, can now service clients almost entirely remotely. Whatever the industry, those that don't innovate risk losing market share, becoming irrelevant, or even obsolescence.
How are cloud providers responding?
The cloud market itself is also shifting, with Amazon Web Services, Google Cloud Platform, and Microsoft Azure seizing control of the hyperscale cloud market in North America. Software as a service and container platform vendors are now partnering with these vendors to offer businesses solutions that can be leveraged on the major public cloud platforms.
As IBM Executive Chairman Ginni Rometty noted in 2019, cloud has passed the first wave of adoption – it's now moving further and further into a space where multiple options are leveraged. This presents new opportunities for businesses – especially in the vital arena of innovation.
At the cutting edge of these offerings is Azure Red Hat OpenShift, a solution that combines the power of Microsoft Azure and Red Hat OpenShift, including Azure's wide-reaching capabilities in areas such as big data, analytics, internet of things, edge computing, and OpenShift's ability to empower developers to innovate with containers.
Throughout this series, we're going to examine exactly what that means for IT organizations and how these capabilities, combined with Azure Red Hat OpenShift being a managed service offering, promote the innovation that businesses of today need.
To read more about Azure Red Hat OpenShift, you can download our guide, Power Innovation with Azure Red Hat OpenShift, by following this link or by following the prompts below.