George Chang is a member of Perficient's ever growing Sitecore practice. Over the years, George has seen the practice evolve and take shape into the cutting-edge team it is today, in part due to people like him.
Like most of the Sitecore team, George has a humor about him that makes conversation easy and fun. You can tell when talking to George about his team members that he feels a real sense of camaraderie, with an equal amount of admiration and respect.
Meet George Chang, Sitecore Practice Architect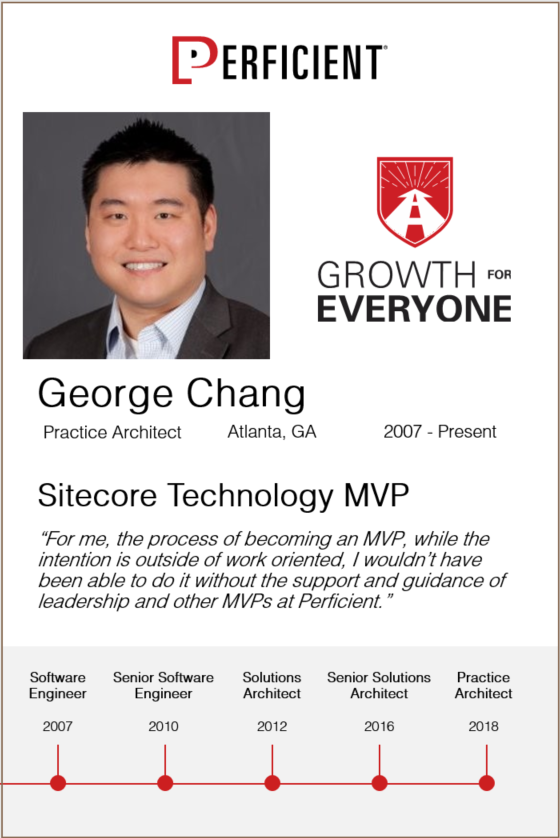 George Chang didn't start his journey with Perficient directly, but was brought in through an acquisition about seven years ago. When he first started, George was an entry level software engineer, fresh out of college and unsure of what his future career path would hold.
Thankfully, he found right away that consulting was a good fit for him because of the ever-changing day-to-day tasks. Not only that, but as a digital consultancy, he explained that you get the opportunity to learn about different industries. Luckily, he also found the right team.
"A lot of my love for this job and this career, I credit to the leadership and the people that I work with. Having good, smart people to work with allowed me to find something that I love. With a different company or different situation, I may not be here or working in technology. It is the people that really help motivate me. They are people I can look up to."
BONUS: Why Sitecore and Episerver Developers Choose Perficient
Growing a Career as a Practice Architect at Perficient
Since starting his career, George has gone from entry level software engineer to solutions architect to his current role as Practice Architect.
As a Practice Architect, he works to improve the practice and how the team delivers projects. It also means doing whatever is necessary to drive the business forward, whether it is delivering more successfully, helping the team follow through with sales support, or managing a bigger engagement.
SEE MORE: George regularly blogs on the latest Sitecore updates and features
Ultimately, his evolution at Perficient is a testament to his dedication to his job at a company that recognized his hard work.
Acquiring Change
Even though George's journey didn't start at Perficient, the process that brought him here was essential to shaping his outlook and career now. He explained that with an acquisition, there is a lot of fear of significant changes to the office, work flow, daily tasks, and overall morale. However, the acquisition turned out to be a significant benefit to George and the team he already knew so well.
"For the large majority it was seamless and smooth. Our leadership was instrumental in keeping that, keeping the culture going, and keeping things moving along smoothly."
In that experience there was also a lot of growth in understanding how the business worked. When you work for a smaller company, George explained, you wear a lot of hats; whereas after joining Perficient, there was a lot of established processes that made sense and helped with how his team operated in a day-to-day perspective.
Going through an acquisition gave George a fresh look at change and its inevitable occurrence in our lives.
"In knowing change is inevitable, you can recognize that it is coming and take the proper perspective. Some changes are good and some are bad, but regardless it is an opportunity to learn and to make yourself better at something that you may not have been good at before. If you do the same thing every day without any major shifts or waves, you don't get as many opportunities to learn."
Growing his Knowledge and Experience on the Sitecore Team
When George first started at Perficient, he wasn't working with Sitecore. As with any growing business, there is going to be change in teams, operations, and focus. As George already knew, change can bring opportunity. So, when George and several team members were given the chance to work on Sitecore, a digital experience platform (DXP), they jumped at it.
It was a poignant turn for George's career. "It was aligned with the things myself and the team were interested in. When that opportunity arose, we took it and decided we were going to learn everything we could about it and become the experts and create this business out of thin air."
Since hiring key Perficient leadership for the Sitecore practice, the business has exploded over the past several years. The newly established team, that George was a part of, was motivated by the backing of leadership within Perficient; they knew if it did pan out, that it was going to be something that was big for the company. "It was akin to getting in at the ground floor of a startup. No one knows anything and we are all learning, but without the financial risk."
READ MORE: See all of Perficient's blogs on Sitecore
Becoming a Sitecore MVP at Perficient
Each year, Sitecore designates the MVP title to experts across the country who have a passion for sharing their knowledge and expertise about the platform through online and offline Sitecore communities. Sitecore MVPs are recognized in one of four categories: Technology, Strategy, Commerce, or Ambassador. Here at Perficient, George is one of 15 Sitecore MVPs, and he has been since 2017. George credits part of becoming a Technology MVP to the others at the company.
"We have a number of MVPs who have various backgrounds in various topics. These people are all resources that we can consolidate knowledge from and learn. We are able to learn from each other, as well as define the one true way of how we develop software here at Perficient."
At Perficient, the Sitecore practice is so strong in large part because of the number of experienced Sitecore MVPs that we have. Helping to foster and grow that talent is vital to our company's success. George is a great example of just that.
"For me, the process of becoming an MVP, while the intention is outside of work oriented, I wouldn't have been able to do it without the support and guidance of leadership and other MVPs at Perficient."
George explained to me that his becoming an MVP was encouraged by the leadership. He even went on to say that the Perficient blog, where you are reading this very story, was a good springboard to reach out to the community. Although you have to contribute to the community outside of work related sharing, George, and many practice members, utilize the Perficient blog to get them acclimated to contributing elsewhere.
Advice for Aspiring Technology Leaders
So, how did George Chang become Practice Architect at Perficient? In college, he majored in computer science with a vague interest in technology. That said, it was hard for George to get motivated to be productive and excited about school or a job.
To his younger self looking for his next step, he would tell him, "Don't be discouraged with your present situation. You can grow out of it. It's never too late to learn or improve yourself." And by all accounts, George proven that statement to be true.
Even without knowing what his career might hold, he has managed to define his own path and find a role he loves at Perficient. Even though George's first job out of college was at a digital consultancy that he "kind of fell into," through the power of good leadership and working with smart people, George found something he loves to do and continues to be ambitious in improving himself.
Perficient's Priorities: Making Customers Happy
The leadership that started George's first company and then came to Perficient through the acquisition remain on the team and continue to be great motivators to George's work. He explains that watching his practice leaders, Jason Barrett and Matt Connolly, interact with customers has inspired how he sees his job. Neither leader's primary objective is getting promoted or personal gains, but rather doing their best to make customers happy, which is their driving force.
"Their customer-centric attitude almost conflicts with the point of business being to make money. It is as though making money is secondary because the customer's happiness is always number one priority. I look up to them for thinking that in doing right by the customer, everything else will fall into place."
Because of their leadership, George tries to look at the work he and the team do in terms of "what is driving this decision we are making." In doing this, emulating the customer-centric mindset for each task, he hopes that other colleagues recognize it and have the same passion for making customers happy.
Finding Motivation and Looking Ahead
In the end, I wanted to know what motivates someone like George, who allegedly "just fell into" an expansive, accomplished career here at Perficient. His answer was simple. He said that what motivates him is being able to accomplish something and see it to the end.
As a self-proclaimed lifelong half-finisher, George lamented that being able to finally finish something was very rewarding. More than that, knowing that something is possible and that getting to an end is feasible helps him to remember to never give up along the way. This philosophy is just one of the many reasons George is a Sitecore team Practice Architect.
Although his younger self may not have seen the glowing Perficient light at the end of the tunnel, George's career has proven to be a growth story that is sure to inspire many discouraged, perhaps confused computer science majors of the future.
---
At Perficient, we continually look for ways to champion and challenge our talented workforce with interesting projects for high-profile clients, encourage personal and professional growth through training and mentoring, and celebrate our people-oriented culture and the innovative ways they serve Perficient and the community.
Learn more about what it's like to work at Perficient at our Careers page. 
Go inside Life at Perficient and connect with us on LinkedIn,  Twitter, and Instagram.