We understand the difficulties healthcare organizations nationwide are experiencing during the coronavirus pandemic. In order to help clients during this challenging time, we've partnered with Drift to develop a free assessment chatbot for COVID-19. This tool allows your organization to give specific, clear recommendations for populations at risk in the communities you serve.
The assessment is interactive like a chatbot messenger and walks a visitor through a series of questions.  At the end of the assessment, a hospital can display a custom message as to the action the user should take — e.g. call a hotline vs. your regular Primary Care Doctor.
Designed for screening and care navigation, the COVID-19 Assessment is a decision tree that outlines key components of a person's individual risk of contracting COVID-19, including:
exposure
Symptoms
Risk factor
Using the Drift chatbot system, visitors can interact with the standard Centers for Disease Control and Prevention (CDC) questions to seek further guidance about where to receive care.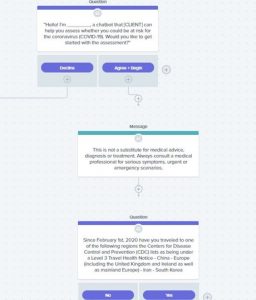 In order to protect your organization and members of the community, the assessment tool does not take free-form input and avoids personal health information (PHI). Instead, it navigates users through a step-by-step triage process to direct people to the most up-to-date place for more information.
This chatbot is effectively "open-source." Your team can download it without cost and self-configure any specific updates. In addition, Drift has cut its minimum contract for hosting a chatbot with this service to a nominal fee.
Our Digital Healthcare Solutions strategists developed this to be a low-cost, easy-to-implement solution. This tool gives healthcare organizations the ability to control and update the workflow as needed, which allows you to react to the fluid situation we're seeing regarding COVID-19.
Contact Drift and initiate a chat with COVID in the title or reach out to our team at kayla.brown@perficient.com to learn how you can implement this assessment tool on your organization's website.