How to Find Success Navigating Through an Acquisition
"If you don't try new things or change the status quo, you aren't ever going to grow." 
Growth is something Kim Wilkinson knows a lot about. From growing Perficient's Twilio practice to growing her own career, she is not short on tenacity or the passion to fuel it. 
Coming from four years as a Business Development Manager at Clarity Consulting, a small, entrepreneurial company that was made up of about a hundred and fifty employees (doubled since her arrival), Kim wasted no time diving deep into Perficient when Clarity was acquired in 2017.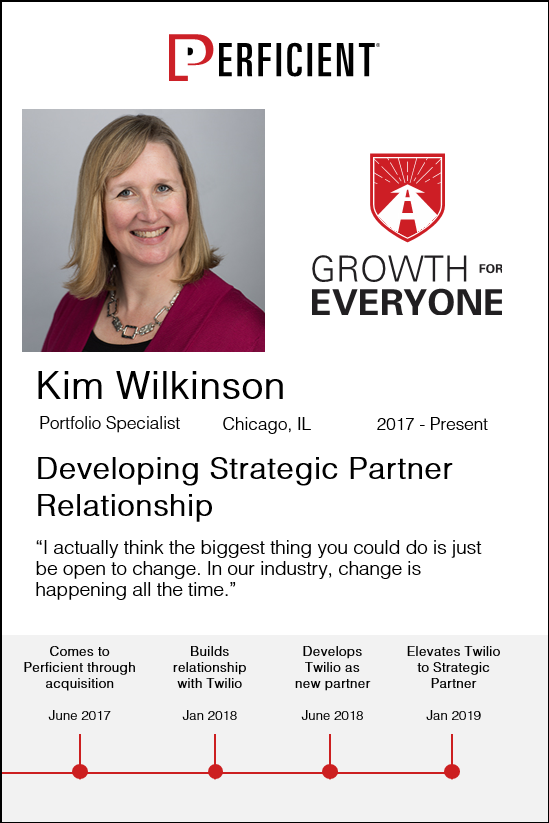 Getting in the Right Mindset for an Acquisition
Whether faced with a new role, a new project, or even a new company, Kim remembers learning of her impending professional changes and offers some practical advice:
"I actually think the biggest thing you could do is just be open to change. In our industry, change is happening all the time. If I look back two years or five years from today, what I did and what I sold is very different than what I'm doing today.

"If you get stuck in your ways or if you're unwilling to make that change, you're not going to grow and you're not going to go move forward. I think the biggest piece is really being open to change and embracing it.

"My advice is to take more risks. Don't get comfortable in what you're doing. Do embrace that change and make that leap of faith. Just go for it! Things may work great and you may fail, and that's okay," she emphasizes.
TIP: Interviewing with us or new to Perficient yourself? Start here.
The Value of Flexibility in Today's Workers
The way we work is changing, no one argues that. But our expectations around how we work need to change too. Tasks have digitally transformed themselves, and now the new skills are more about understanding how to keep up.
"Employees who approach their job with a flexible mindset are typically more highly valued by employers," explains Alison Doyle, one of the industry's most highly regarded job search and career experts for TheBalanceCareers.com.
Because skillsets, technology platforms, and all the systems and gadgets needed to operate them are constantly in flux, employee "soft" traits like critical thinking, emotional intelligence, and adaptability are becoming increasingly sought after, something Kim explains she learned first-hand recently as she took her son to freshman orientation at Purdue.
Just entering into the educational world of Computer and Information Technology, the department leaders explained to parents how things have changed. Students used to go to college to learn information to then go and practice it in real-life scenarios or internships. Now, because technology is changing so rapidly, programs can turn over every 18 months. Instead of focusing on learning the information, students are prepared to be continual learners and to be nimble enough to reinvent themselves, something Kim reflects on wishing she would've been privy to as she entered her career. 
READ MORE: See how Perficient colleagues rely on each other for knowledge-sharing
Letting Go Can Be Tough
While she might not have learned that lesson in college, she sure learned it in the field. From the changing technology landscape to changing companies in the acquisition, she noticed people who were successful with the transition to Perficient embraced the new way of doing things and didn't try to hold on to old habits and processes of yesterday. 
"When it's clear you have to let [your old job] go, it's hard. It's sad and you have to mourn it, but you can't bring new things into your life if you can't let go of the old ones."
Making Room for New Opportunities
Moving to an exponentially larger company came with its own learning curve. Systems and processes that worked for a couple hundred people would not serve a couple thousand employees (or more). 
With past experience working in larger organizations, Kim knew this move would bring more resources for her fellow employees, especially in terms of HR, sales, and marketing, as well as enhance back-end support. And the real goldmine, one that Kim really credits as what smoothed her transition to Perficient: training. 
Every quarter, Perficient hosts sales training at the national headquarters in St. Louis, bringing all new sellers and marketers together to dive deep into the details of our partners, clients, and services. Kim states, "That was really helpful because I got to meet other salespeople across the different GEOs and start building that network within Perficient."
TIP: Advice for Starting a New Job at Perficient (or Anywhere)
Why Building Your Internal Network is Important
Coming to a larger company has its benefits, but can also be confusing at times, a daunting quality that all change holds. 
To help acclimate after an acquisition, Kim recommends building relationships not only across your team but also other business units and offices. 
"I think it's by far the biggest thing you could do. Perficient's large and there's a lot of 'how do you do this' or 'where do you go for that?' which can be hard and overwhelming. When you need to know 'what's the process for getting this done,' it's nice to be able to lean on the veterans or people who have been through it. There are always best practices, and as you grow your network, you learn who can help with different tasks."
READ MORE: Perficient Career Growth Reveals "The True Meaning of Teamwork"
If you're going onto a new team as part of an acquisition, Kim specifically recommends finding someone who has been down the same path a few years before you and learning from them. 
READ MORE: Four Reasons Why Employees Love Collaboration at Perficient
When Teamwork Really Does Make the Dream Work
Perficient holds a unique spot in the industry in terms of company size, which our colleagues reference time and again as a top factor for diving on-the-job satisfaction.
We're capable of digital transforming the world's most recognizable brands, but not so large you get lost in the shuffle and feel like a cog in a wheel; we're also tight-knit, allowing each employee to deliver real impact with their tasks and projects, but not small enough that the business might not be around the following year. We offer innovation, opportunity, and stability. 
It's that magic recipe that created the environment for Kim's biggest accomplishment at Perficient, one she (and the rest of the company) is very proud of.
"Launching and building the Twilio relationship and practice, that's been by far the biggest accomplishment that stands out. What I'm most proud of is, right now, we are their go-to partner."
BONUS: The Perficient Approach to Twilio Flex
Kim is quick to give credit where credit is due, relying on her team to collectively build the relationship and support the practice. 
"It's not just me, it is a team of people that developed this relationship. I'm super proud of that."
BONUS: Perficient Recognized for Twilio Flex Success on Earnings Call
Creating a Leader
With any growing practice, there are obviously changes that come along with that, some that are more challenging than others. "Sometimes when you're growing so quickly, it's like a double-edged sword; it's exciting but it's also challenging. We'd all rather have that problem than the other, right?" she asks with a smile. 
Leadership can sometimes be hard to create out of thin air, but it can be much easier to emulate. Luckily, within Perficient, there are several chances to experience different types and styles of leadership. Citing an example of transparency building trust with a client, Kim credits Jon Rauschenberger, General Manager, as an "incredibly strong leader because he exemplifies the word integrity, he really lives it." 
Kim applies that integrity-driven approach to driving Perficient's Twilio practice forward. With Kim and her team's coaching and support, Perficient helped one of our partners achieve a major business milestone, establishing their very own partner program, which continues to grow. 
BONUS: Find out how Perficient uses Twilio to transform contact centers
Three Leadership Lessons to Bring With You
In addition to leaning into mentors' advice and having patience in herself and the process, Kim shares other lessons she has learned:
1. Communication Means Smoother Operations
Kim credits upfront communication to her team's success. During those challenging times, it's as simple as reminding each other "we're all in this together and we will get through it." 
Communication is especially critical to not just soothing anxiety, but to ensuring smooth project delivery. 
"We can all get stuck in our own little worlds at times, and if you're not communicating, you sort of forget the impact your actions have on other departments and you can inadvertently create chaos for them."
2. Use your Resources
With the additional mindshare, you also have access to a variety of resources. You don't have to solve every challenge on your own and can rely on your team. 
"My growth has come from pulling in other resources and teammates to brainstorm through problems — which is probably the biggest thing in a team, being willing to help." 
3. Promote your Success
Promoting our success within the organization has been important in making sure we continue building excitement and grow our exposure so when we ask for help, people are aware and willing to share resources and thought leadership. 
TIP: Learn from Tony Karre's Top Tips to Consultant Career Success
Paving Your Way to Career Success at a New Company 
When Kim was a Clarity Consulting employee, she called 150 other people her colleagues. Now at Perficient, Kim cites the almost 4,000 new colleagues as the source of her Perficient Pride. 
"Far and away, our people are the best. We would never have had the success at Twilio if we didn't have some of the best and brightest developers and resources to bring to projects. It makes me very proud that the quality of our team is unparalleled, for both clients and partners. 
"I've seen integrity across the board because we do what's right for the client. We aren't going to sell something for the sake of selling it or make promises that we can't deliver on. We're never going to do something at a client's expense to move Perficient ahead. And that makes me very proud to work for Perficient."
---
At Perficient, we continually look for ways to champion and challenge our talented workforce with interesting projects for high-profile clients, encourage personal and professional growth through training and mentoring, and celebrate our people-oriented culture and the innovative ways they serve Perficient and the community.
Learn more about what it's like to work at Perficient at our Careers page. 
Go inside Life at Perficient and connect with us on LinkedIn,  Twitter, and Instagram.