For business leaders wanting to prepare their companies for the future, look no further than Modern Business Experience next month. From visionary keynotes, conference sessions, and theater sessions, to demos and networking receptions with an estimated 8,000 colleagues there's something for everyone! Perficient is proud to be a silver sponsor of Modern Business Experience, which is being held March 23-26, 2020 in Chicago.
Visit us at one of two Perficient kiosks in the Experience Hub – Finance and Supply Chain. Meet with subject matter experts and thought leaders and learn how we've leveraged our extensive expertise in Enterprise Resource Planning (ERP), Enterprise Performance Management (EPM), and Business Intelligence and Analytics (BI) to drive digital transformation for our customers.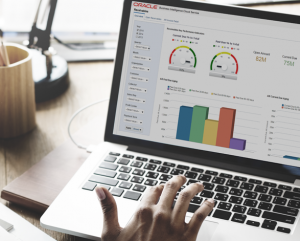 Explore key considerations, integrating the cloud with legacy applications and challenges of current cloud implementations.
Perficient is the leading digital transformation consulting firm serving Global 2000 and enterprise customers throughout North America. An Oracle Platinum Partner, our dedicated practice for ERP, EPM, and BI has been serving clients for nearly two decades, delivering more than 3,000 successful implementations. From strategy and full-lifecycle implementation projects to upgrades and enhancements for on-premises, cloud, and hybrid solutions, we are helping companies tackle some of the most complex end-to-end supply chain and finance challenges. Come meet our team and learn why we have a 95% repeat business rate.
We have a great 20-minute theater session at this year's conference, where you can hear Luis Sanchez, SCM Director at Perficient, present on Industry 4.0.
The rights tools, technology, and progression to adopt Industry 4.0 standards
Wednesday 9:40AM – 10:00AM
Session Type: Theater Session [THT2363]
Companies that participate in the supply chain ecosystem, that either manage their own processes or execute them on a third party's behalf, are constantly looking for the most streamlined and scalable applications that not only incorporate the latest innovations in execution and analytics but also leverage emerging tech like IoT (Internet of Things) and ML (Machine Learning) that facilitate deployment of highly automated and self-driven solutions. The task of adopting some of the advanced standards that Industry 4.0 calls for requires an awareness of the best hardware, software and partnerships that can make the most of the objectives of an organization wishing to go in this direction.
If you're not able to attend the event, but would like to learn more about Industry 4.0, please reach out to us.