It was recently announced that Oracle Analytics Cloud (OAC) has been named Visionary in the 2020 Gartner Magic Quadrant for Analytics and Business Intelligence Platforms.   This is great news as it validates what we have been seeing in the marketplace for quite some time.  It comes as no surprise to firms like Perficient who've been helping clients design and deploy Oracle Analytics Cloud (and its Cloud-based precursor) for the last 4-5 years.   We have seen many clients, with very different analytical needs, from departmental to enterprise-level, get great benefits from OAC.
Best of Both Worlds: Enterprise Governance AND Self Service
For a while now, OAC has been the premier analytics platform for combining enterprise governance and control with world-class self-service capabilities and advanced visualizations.  The analytics world has realized it is not "either/or" when it comes to enterprise governance and self-service – it is both.  With OAC, it is possible to connect to any supported data source and immediately begin to query the data without any modeling.   Advanced visualizations are available with one click and can be swapped in and out quickly by selecting from a palette of visualization choices.  On the other hand, OAC's enterprise semantic modeling capabilities make it possible to provide a curated and governed user experience for critical metrics where 'single source of truth' issues cannot be tolerated.   The security model for OAC is very mature allowing integration with on-premises or cloud-based single sign-on providers and definition of permissions by role and by type of data.
Augmented Analytics and Machine Learning
With OAC, Oracle has embraced the concept of augmented analytics whereby machine learning is built into the platform to enhance and improve the capabilities of business analysts.  With a single click, the OAC platform will explain key drivers of attributes, identify outliers, provide recommendations for improving a data set or generate a forecast.  OAC also provides prebuilt machine learning algorithms that can be used for predictive analytics and other data science use cases without any coding.  In order to leverage data to drive competitive advantage, we are seeing many companies take advantage of OAC's no code machine learning capabilities to improve their analytics and gain new insights without having to hire a full team of data scientists.
Mobile and Natural Language Query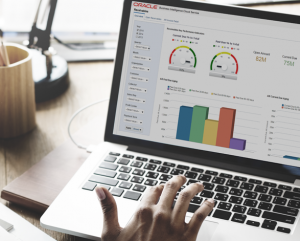 Explore key considerations, integrating the cloud with legacy applications and challenges of current cloud implementations.
According to many experts, the predominant user interface of the future for analytics will be our voice and, increasingly, we will be speaking to some form of a mobile device.  With OAC, the future is now as it natively supports mobile devices without any additional set up.  Natural language is also supported in OAC as it is possible to speak naturally into your mobile device to request the analytics that you want.  Additionally, OAC will generate a natural language description of any visualization with a single click (which can be very helpful with complex visualizations).
If you would like further information about some of the great features of OAC please see my recently published blog.
Perficient's OAC-based Prebuilt Solution Templates
Having seen the value of OAC, Perficient decided to create a number of prebuilt solution templates that leverage both OAC and Oracle's Autonomous Data Warehouse (ADW) as their foundation architecture.  OAC is tightly integrated with ADW and together they provide a comprehensive analytic solution at any scale – from departmental level to enterprise, petabyte-scale data warehouses.
Perficient's prebuilt solution templates allow companies to get up and running quickly on OAC and provide speed to value to companies looking to improve their analytics without long custom development project cycles.  Prebuilt solution templates based on OAC and ADW have been created for the following functional areas:
Finance
HR
Sales
Service
Marketing
Procurement
Supply Chain.
Whatever your data and analytics environment looks like today, you can be sure Perficient has seen it before.  We can help you identify your critical KPI's and metrics, untangle your data integration issues and develop your future state data and analytics roadmap.