Our Chicago colleagues have found a way to turn friendly competition into a highly anticipated office tradition. Every year, they gather together at a pool hall for a tournament with the ultimate prize: office bragging rights.
Sam Davitt, senior solutions architect, said the tournament has been going on informally for a few years. The low-key event steadily grew from just a few people gathering at the same pool hall. Now the team rents several pool tables to hang out before the weekend and compete for bragging rights. The 2019 tournament raised the stakes with an official trophy. This year, Steve Held and Sean Cleary, both directors, walked away with the prize.
Sam joked that Steve and Sean's pool skills aren't near a professional level, and they must have been playing "Jedi mind tricks" on everyone they went up against. Especially since they lost every side game they played! None of the contestants are pool sharks, so its always a surprise who will win.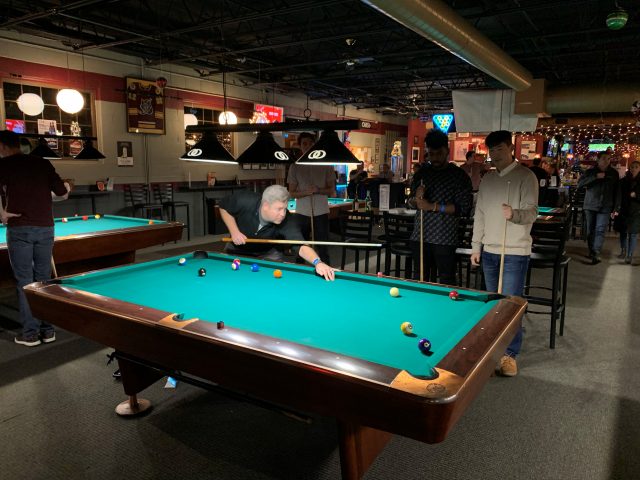 "It's a good opportunity to hang out for a few hours with everyone before the weekend, and someone will end up having bragging rights and the trophy for the rest of the year," Sam said about the tournament.
Social events like the pool tournament have become a very important part of the office culture.
"Hanging out with team members outside of the office is a great way to get to know them. You get to learn what they are up to for the weekend, what their hobbies are, etc. Building this rapport also translates to our projects. We deliver projects very well, and I think our social events play a role in that," Sam said.
---
Learn more about what it's like to work at Perficient at our Careers page.
Connect with us on LinkedIn here.
Follow our Life at Perficient blog on Twitter via @PerficientLife.