Our Chennai, India-based colleagues moved into the Perficient Tower, a sprawling nine-story building with state-of-the-art features, in November 2019.
There's plenty to be excited about inside the new space. However, it's a Perficient sign on the outside that's been the source of the most excitement. The sign, positioned prominently at the top of the building, signifies the team's transition from several shared, multi-tenant spaces to a building that's all their own.
To them, the sign far transcends the mere practicality of a geographic marker; it carries a certain prestige and makes a statement about Perficient's remarkable growth story in India. It symbolizes an ongoing journey, one in which our colleagues have made significant strides, and one in which they strive for continued success.
"What we see in the new office, which we are proudly calling Perficient Tower, is our identity," said Prakash Chembai, General Manager. "Instead of being a tenant in a large building, we are the building. There's real pride in that."
FORGING THE PATH TO SUCCESS
Prakash joined Perficient in 2007, and his seniority dates back to 2001. At the time, he worked with our Oracle team in northern California. In 2011, he moved to India and continued to work for Perficient in a 1,000-square-foot space in the older RK Salai building, where operations started with a team of three. With determination and dedication, the team grew to about 30, at which point they were running out of space.
Colleagues moved into the Sterling Center, a 7,000-square-foot office. They focused the next two years on establishing expertise in various technologies, bringing in a team structure, contending for complex projects, and introducing process-oriented development. The efforts helped the team grow to 100 by the fourth quarter of 2014, at which time they again needed more space. Chennai colleagues then moved to Olympia Platina, a 25,000-square-foot space added in two phases in 2015.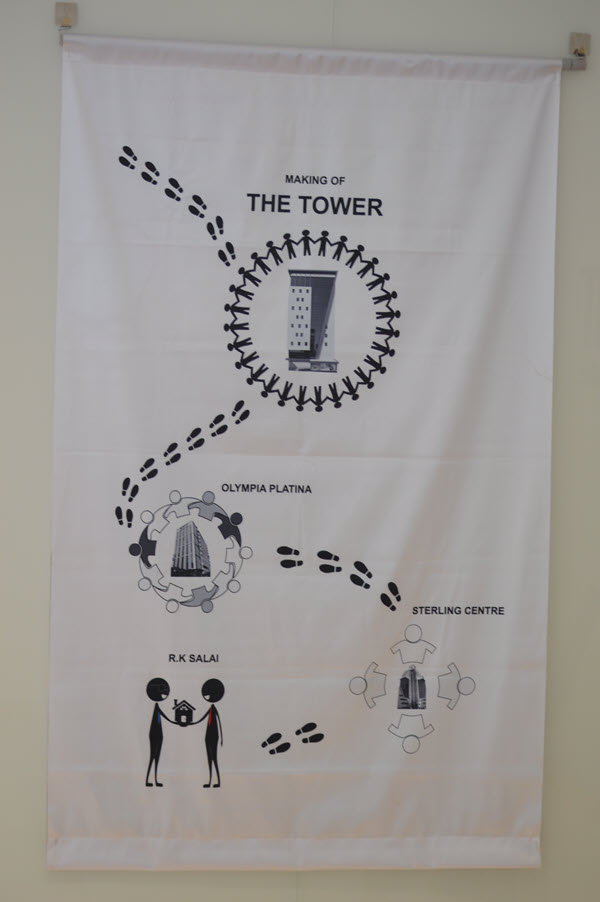 A SPACE TO CALL THEIR OWN
Fast forward to today, Perficient Tower spans more than 65,000 square feet across nine floors to support the delivery of software development, testing, and support services. The building's agile, open floor plan pattern seats between 575 to 650 colleagues and will allow substantial team growth and expanded offerings to meet the growing needs of our clients.
"We have several people who have traveled the journey from the 1,000-square-foot office," Prakash said.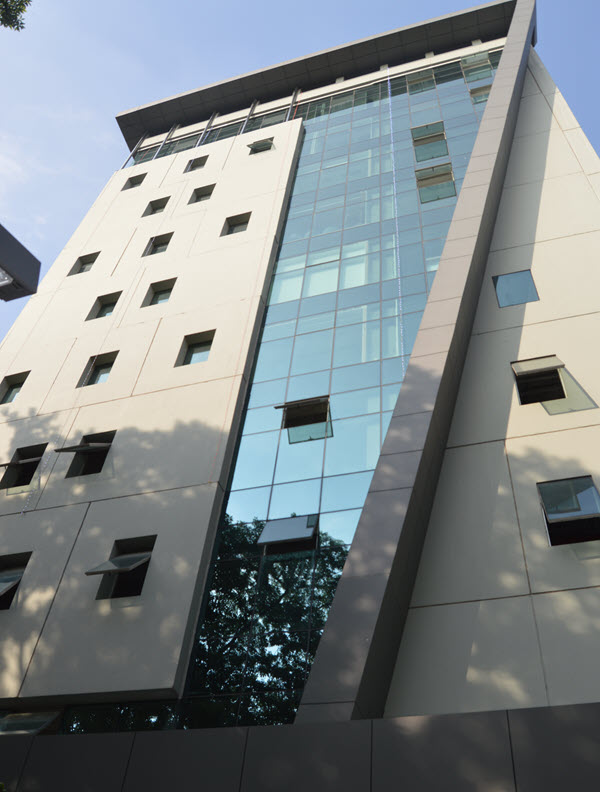 For those folks, and for the broader team, the move into the new space is a momentous one.
"We are not just moving into a new office. We are moving into an office that we built brick by brick, metaphorically speaking," Prakash said. "We are reaping the fruits of our efforts. There are so many colleagues who have contributed to this success story. This office provides a very emotional connection for all of us."
STATE-OF-THE-ART FEATURES
Perficient Tower is located in the heart of Chennai and features state-of-the-art interior design, highly functional floors, dedicated space to host clients, and other exciting elements. Many colleagues share in Prakash's excitement.
"I am looking forward to the increased space, the beautiful interiors, the eminent location, and the sense of pride that the new office space will bring," said Sumantra Nandi, director.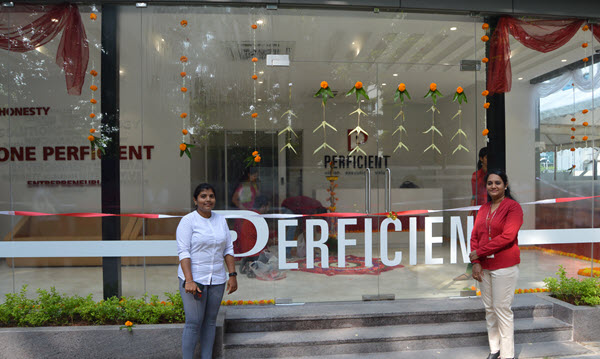 "We are looking forward to the nicer collaborative spaces, the more spacious conference rooms, and the increased availability of parking," said Parvez Maideen, director dedicated delivery.
Gayathri Hariharan, director HCM, who has been with our Chennai team since the RK Salai office, said: "We look forward to having a 200-seat fine dining area, which will be very cozy and relaxing.
"There will be a nursery for looking after babies, keeping them engaged and safe while parents work peacefully. That is sure a great highlight."
"I am able to visually see the growth we have had since my association from RK Salai office and feel so proud of Perficient," said Kamini Chandar, Director Finance. Siva Paramesh, Director Consulting, added: "There will be an exclusive rooftop space for hosting parties. Even the location itself is a perk. This will reduce commute time for most of us."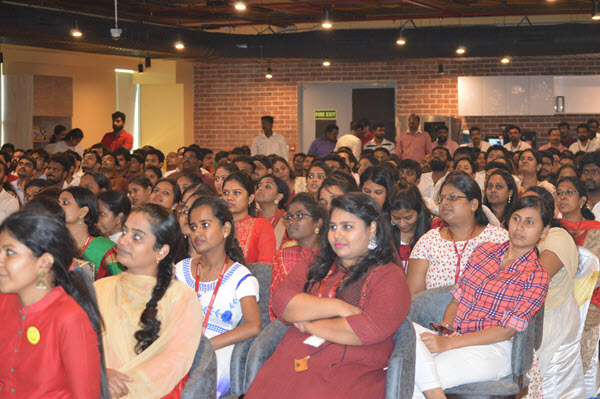 A WHOLE NEW LEAGUE
"I have worked for larger organizations and was part of larger office moves, which were just another address change. But here, I have a great feeling of belonging, a very emotional connection, and my team is super excited to start working out of the new facility," said Iyappan Rathina, director.
Venkat Janardhan, senior project manager, echoed that sentiment. "'We built this' is the feeling," he said.
"This is a dream come true for me. In the past 15 years of my career, I have never worked in a Tower; this one being our own is the icing on the cake," said Saraswathi Ramanathan, Senior Manager – Finance.
"This is a whole new thing in totality, and we look forward to it," said Manivel Jaganathan, director.
"This is taking us to a different league. Way to go Perficient," said Kapildev Munisamy, IT manager.
A COMMITMENT TO EXCELLENCE
Perficient's optimized global delivery capabilities play a critical role in delivering successful, end-to-end, digital transformation solutions to our clients.
"We are thrilled to grow our presence and our capabilities in Chennai, the fourth-largest metropolitan city in India," said Kevin Sheen, Vice President of Global Delivery, Perficient. "Not only do the people here bring amazing talent and skills to the technology consulting market, but the area is also home to prestigious universities."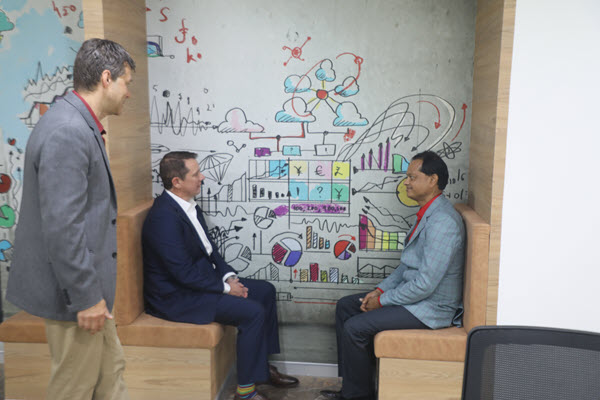 Our Chennai colleagues are 100-percent Perficient employees and are Scrum Master Certified or higher. The Chennai GDC operates at SEI CMMI-L5 and boasts significant security certifications that ensure it's a trusted partner to leading enterprises. This includes being HIPAA certified by multiple major healthcare providers, ISO 27001 Security Certified, and SSAE 18 ( PCI-DSS) Certified.
"The new space firmly establishes Perficient as a major player in the IT consulting space in Chennai," said Raj Ganapathy, Director Talent Acquisition. "This means Perficient becomes an even more attractive employer in the eyes of prospective candidates.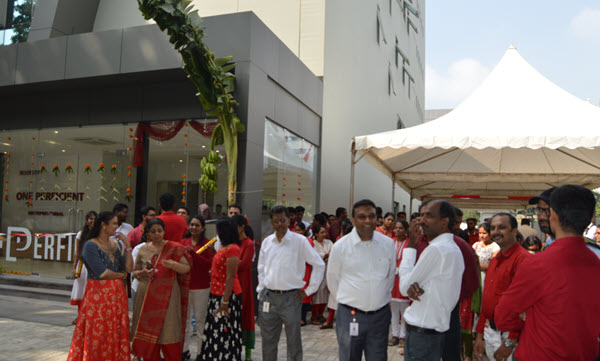 A BIGGER PRESENCE
Our Chennai colleagues always roll out the red carpet for office visitors. Now, at Perficient Tower, the greetings stand to be even more grandiose – and more impactful – even before visitors arrive at the office. The new building is a 10-to-15-minute drive from the airport. As airplanes land, passengers will be able to see the Perficient sign standing tall.
"That kind of visibility for our brand – and the individuality of Perficient therein – that's something we are all looking forward to," Prakash said. After a pause, he added, "It's Perficient Tower."
He let that sink in for a moment. The name says it all.
---
Learn more about what it's like to work at Perficient at our Careers page.
Connect with us on LinkedIn here.
Follow our Life at Perficient blog on Twitter via @PerficientLife.