Oracle Analytics Cloud (OAC) is Oracle's cloud-based platform for reporting, analytics, data exploration, and data visualization. It encompasses many capabilities and multiple products. As a result, it was hard to limit the post to just 5 features given that there is so much to choose from. That being said, the following are my top 5 favorite features of Oracle Analytics Cloud:
1. Connect to almost anything; Query immediately without modeling
I appreciate the need for enterprise data governance and how OAC enables such governance through its enterprise semantic model. But, in today's fast-based world where analytic needs change quickly, it is great to know that OAC can connect to virtually any data source and start querying the data immediately. As a result, there is no modeling required.  This is great for data exploration and for departmental data marts where the underlying data structure is not too complex.  It is also great for data science teams who need to review data quickly to determine its usefulness.
Please see the following link for a list of supported data sources for OAC:
https://docs.oracle.com/en/cloud/paas/analytics-cloud/acubi/supported-data-sources.html
2. Easy, Advanced Visualizations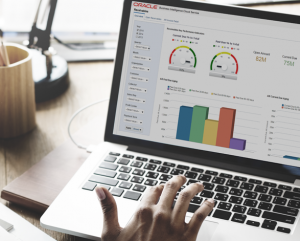 Explore key considerations, integrating the cloud with legacy applications and challenges of current cloud implementations.
With OAC, one click of the mouse is all it takes to select an advanced visualization from among many visualization choices. And if you are not happy with your initial selection, a new visualization type is one click away. I love this feature because using it makes you a better data analyst. Since it is so easy to visualize your data using multiple different visualization types, through trial and error you quickly get very good at determining what is the best visualization type for your data and the message you want to send.
3. Self Service Data Preparation
This feature really sets OAC apart from other business intelligence tools and analytics platforms. With OAC's self-service data prep it is now possible for business analysts to prepare, load, transform and blend data in ways that would have required IT assistance and weeks or months of work just a few years ago. The data prep module is augmented with machine learning, so it will catch things in the data and suggest improvements.  I worked in Corporate IT for many years but before that, I worked in the business and did a good bit of self-service data wrangling.  I love this feature and wish that it had existed 10-15 years ago!  just know that it will add efficiency to many departments.
4. Easy Integration with Autonomous Data Warehouse (ADW)
This is another feature that didn't exist just a few years ago on any vendor's platform. Now it is possible with just a few clicks to establish a connection to ADW directly from OAC – without needing the help of IT or a DBA.  Once the connection to ADW is established, you load data into ADW directly from OAC –  with no help required from a DBA.  This is hugely empowering for users of all kinds.  In the past, there was a need for data integration and analysis but no desire or funds for a project with IT. A departmental data mart was created often using MS Access or Excel, and this data would not get integrated with the rest of the corporate data. Now with OAC and ADW integration, data and analytics needs can be quickly satisfied without necessarily creating additional data silos.
5. Machine Learning (ML)
Machine Learning takes two forms in OAC. First, it is built into the platform and augments the capabilities of the platform behind the scenes without the user knowing that machine learning (ML) is being applied. For instance, OAC will provide recommendations to enrich a data set that has been uploaded. ML generates statistics about data sets.  With a single click, OAC will tell you what values are key drivers of critical attributes in your data sets and will also point out anomalies.
These examples both use ML behind the scenes.  The second form of ML usage in OAC is more explicit and driven by the end-user.  OAC provides approximately 15 ML algorithms that can be used for advanced analytics.  You do not have to be a data scientist to use the algorithms.  A 'regular business analyst' can use the algorithms to do things like predictive analytics and customer segmentation.  I love this feature because it makes 'AI' accessible to everyone.
Bonus Feature: Natural Language Generation
I know I said just 5 but there is one other feature that I have to mention. With OAC and ML, visualizations can be rendered into plain English. It does a remarkably good job of breaking down even the most complex visualizations into easy to understand bullet points. This provides another vehicle for increasing understanding.
What are your favorite features of OAC?
You can read more insights about Oracle here.