"Why should there be hunger and deprivation in any land, in any city, at any table when man has the resources and scientific know-how to provide all mankind with the basic necessities of life?  There is no deficit in human resources. The deficit is in human will." — Martin Luther King Jr.
In America, over 46 million people live under the shadow of food insecurity. Hunger is a widespread issue that is often masked by pride. It is far-reaching and pervades all areas of life. 
Dallas has one of the largest and hottest economies in the US. Yet, in the local community, one in six people (one in four children) from all walks of life do not know where their next meal will come from. Hunger has a severe impact on people you would never expect to be suffering. From children who rely on school meals to our friends and colleagues. 
"As a leadership team in Dallas, we decided to help. It was important for me because I had recently seen some staggering statistics about hunger right here in West Plano, which is one of the most affluent areas in the country. When I heard about the impact on children specifically, I thought about my own kids and how fortunate we are.  It's important to all of us [my family] to give back to our community, and Feed the City allows us to do that together. With Feed the City, 100% of the donations are distributed to those in need within a few days and that is very important to us." — Lawrence Russell, Director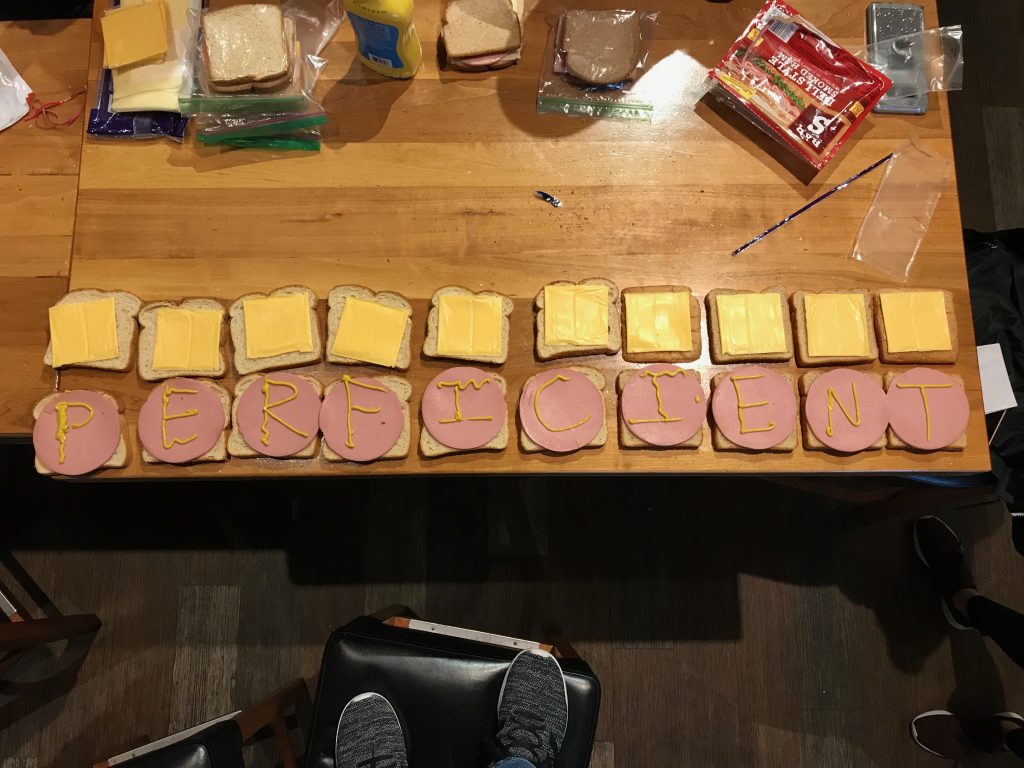 Dallas says, "Take that, Hunger!" 
The Perficient team researched ways to help and came across TangoTab's Feed the City experience.
TangoTab is an organization focused on a dual mission of helping local restaurants and solving hunger. TangoTab, a mobile app, enables restaurants and diners to contribute to solving hunger through a check-in process; a donation is made for every person that checks-in to a restaurant using the TangoTab app. For every check-in, a meal is provided to someone in need.  
In 2015, TangoTab launched the first Feed the City as a community engagement event that allows volunteers of all ages, races and religious beliefs to work together to make meals for people less fortunate in their local communities. Feed the City has since grown to over 20 monthly events in cities around the country.
BONUS: Find a Feed the City event near you!
Perficient Colleagues are Proud to Support Feed the City
In Dallas, Perficient loves to partner with Feed the City because:
There is a shared mission to end hunger.

There are no age requirements. It is very easy for families to participate. It is a fun way to know our broader team better while we are making a difference in the community.  

We can participate every month.

TangoTab makes it really easy to participate; the events are held in local restaurants every month, and there is little coordination required. (While you don't have to sign up, it helps to spread the message by posting on social media you are attending!)

There are no quantity requirements around participation; it doesn't matter if we have one person or 50 people, we know we can show up and help.

We appreciate the ability to make an immediate impact in the local community.

All the events are high energy and FUN! 
It can be easy to get caught up in daily life, so volunteering like this is important for our colleagues. While teams get to spend time together in a meaningful way, the real gifts are the lessons you take home with you.
"It was important for me to get involved because it's so easy to take for granted how fortunate we are and forget that there are a lot of people out there who can't even rely on getting a good meal on a daily basis. Being able to be directly involved in improving that is a great opportunity not just to help all these people, but also to remind you how lucky you really are. I got involved in this several years ago because it was one of only a few ways to get my daughters involved in volunteering when they were fairly young. Feed the City is a great organization for letting all ages help eliminate hunger in a fun way." — Mike Williamson, Director 
We have regular participation from our Dallas BU and our Oracle EBS team, but we welcome any and all Perficient employees and their families to join us at these times each month in 2020!