My last blog outlines how banks are implementing digital transformation strategies. In this blog, I examine how digital transformation increases success, and highlight where work needs to be done.
The Need to Stay Competitive

Despite the tremendous investments in digital transformation made by the big banks, medium-sized and regional banks have remained competitive. They surprisingly scored higher customer satisfaction ratings among digital-centric customers across all age groups. This is a testament to smaller banks recognizing the strategic importance of remaining competitive in digital. Big banks have benefited from improved customer satisfaction among customers under the age of 40 in recent years. In 2019, they attained higher satisfaction scores than smaller banks for convenience, ATMs, mobile and online banking, innovation, and financial advice with this demographic.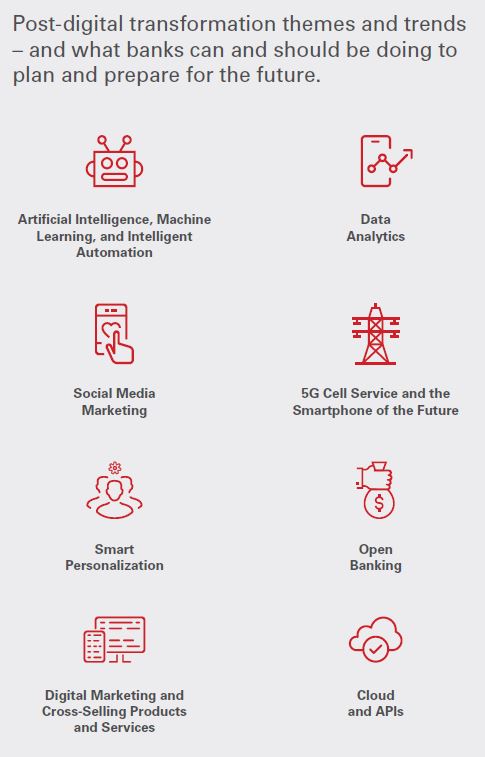 Banks have been successful in improving service quality and providing technology that makes it easier for customers to access and manage their money. And they know in the future they can differentiate themselves by scale, market focus, and personalization. Those that leverage data in ways that provide authentic personalization through important customer journeys and that solve customer financial problems in an advisory fashion will thrive.
Where Do We Go From Here?
So, does this mean banks can declare victory when it comes to digital transformation? Hardly. There is still more work to be done. These themes and trends will continue to be essential and require attention. A new crop of themes is popping up that represents a "post-digital transformation" landscape for banks. Taken in totality, it may turn out to be the critical areas that ultimately will determine which banks survive and thrive, and which banks fade away.
Undoubtedly, the digital transformation and post-digital transformation themes in this piece are interconnected. The competent execution of digital transformation initiatives will help banks ensure the successful implementation of post-digital transformation programs. While specific predictions are tricky, executive teams should consider these strategic planning assumptions. They are needed to achieve better customer satisfaction, loyalty, and ultimately growth in what is a highly competitive marketplace.
Learn more about previous digital transformation themes, post-digital transformation themes and trends, and how digital transformation increases success. You can download our guide here or complete the form below.