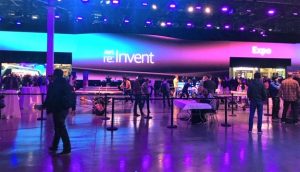 This week, technology leaders from our Customer Care practice attended Amazon's annual re:Invent conference in Las Vegas. This conference always promises powerful developments and 2019 certainly did not disappoint. AWS announced several plans to release new tools and implement upgrades to existing products to inspire innovation and transform customer experience in 2020.
Liz Stuart, Alliances Director for Emerging Solutions, shared her experience and some of the exciting announcements from the AWS event:
Amazon's yearly re:Invent conference offers something for everyone. As I navigated the vast campus of workshops, events, speakers and keynotes, I couldn't help but think about all the innovators and builders that I was surrounded by and how this cross-section of people and technology is the key to expanding what is possible for companies and their customers.
Learn the six most common pitfalls when upgrading your contact center, and how Amazon Connect can help you avoid them.
The technology announcements are sure to spark innovations and more ways to bring customers new services and experiences. A new technology AWS announced is WaveLength, a service to deliver ultra-low latency at the edge of 5G networks. We predict new business models will be built on WaveLength.
We also heard a lot about containers, machine learning and Connect. Let's dig into some of these announcements:
The last few years have seen substantial growth in container adoption, with 81% of all containers in the cloud run in AWS. During re:Invent, AWS announced its fourth container service with Fargate for EKS. Now, AWS Kubernetes customers can realize the benefits of serverless for Kubernetes. This means the only limitation for developers is their imagination.
We learned many AWS customers use Amazon Elastic Kubernetes Service to deploy and manage containerized applications. With the announcement of Amazon SageMaker Operators for Kubernetes, data scientists and developers will be able to set up repeatable ML pipelines, maintain greater control and easily integrate SageMaker and Kubernetes workflows.
AWS announced several plans to enhance SageMaker this week, including SageMaker Studio. This is the first IDE (integrated development environment) for machine learning. SageMaker studio facilitates easy building, training, debugging, deploying and monitoring of your machine learning models.
As Amazon Connect continues to resonate with customers worldwide, Amazon's technology partners are taking notice.  Salesforce is offering a pre-integrated version of ServiceCloud with Amazon Connect, which will allow deployment of a voice integrated ServiceCloud solution. AWS also announced ContactLens. ContactLens is a set of integrated ML analytics capabilities for Amazon Connect that gives contact centers the ability to understand the sentiment, trends and compliance of customer conversations to improve customer experience and identify crucial customer feedback. ServiceCloud and ContactLens are just two examples of changes coming to Connect that are bound to transform customer experience.
We had the honor of attending Amazon's re:Connect party. This customer appreciation event hosted customers and partners from all over the globe, where we showcased Amazon's new integrated Chat capabilities with Amazon Connect. The new Chat is an artificial intelligence assisted agent experience that captures customer sentiment and results in more immediate customer assistance.
The announcements keep coming, so stay tuned for more from re:Invent 2019!