Perficient is proud to be a sponsor at the 2019 "Light Up Glennon" event in St. Louis presented by The Big 550 KTRS taking place on December 3 and December 17 at 8 p.m. Join us to help spread hope and holiday cheer to the patients of SSM Health Cardinal Glennon Children's Hospital.
Note: Due to the unfortunate weather circumstances, Light Up Glennon has been rescheduled to Monday, December 23! Mark your calendars! 
Our Perficient colleagues in St. Louis will be present at the Light Up Glennon event on Monday, December 23rd at 8 p.m. to celebrate the holidays and give back to the St. Louis community by bringing carols, light, and joy to the brave and inspiring patients and their families.
If you are in the St. Louis area, we hope you and your family will attend the festivities! Starting at 8 p.m. we will sing carols and turn our flashlights on, pointing them at the hospital. The patients will have their own flashlights and will shine them back at us. Come out and help us let patients and families know that the community is thinking of them throughout the holiday season.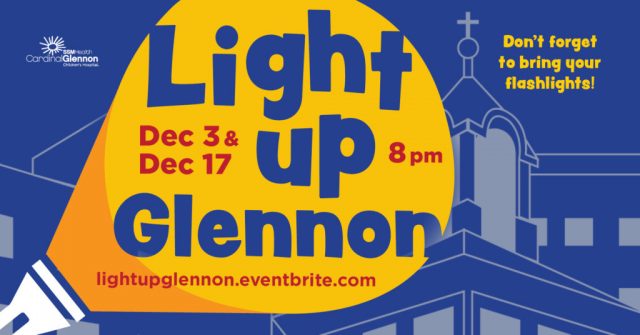 The Light Up Glennon event is free and open to the public. If you'd like to attend, please register here or by visiting glennon.org.
As a proud sponsor of Light Up Glennon, we hope you can join us to light up the night for these incredible kids. The more people the better! Don't forget your flashlights!