It's that time of year again to reflect on all we are thankful for. Teams across all of our locations often take time out in late November to join together over food and festivities.
Our Fargo office serves as a great example of this. The team hosts an annual Thanksgiving lunch complete with all the holiday fixings. The event is designed to gather together "work family," reflect on personal and professional gratitude, and enjoy some good food. Above all, it is an opportunity for the team to build strong relationships with each other.
A Time for Reflection
Brent Teiken, general manager, takes a couple minutes during the lunch to share his thoughts on the holiday and all that he's grateful for.
"It's a way to get the team together to remind us all of how fortunate we are. I give thanks for our company, clients, careers, and team member," Brent says, "I talk about why Thanksgiving is my favorite holiday. I share all that I am personally and professionally grateful for, like family, health, and community."
"And of course, I express my gratitude for the team members I get to work with each and every day," he said. "Additionally, I usually come with a list specific life and work related events that serve as good reminders of why we give thanks."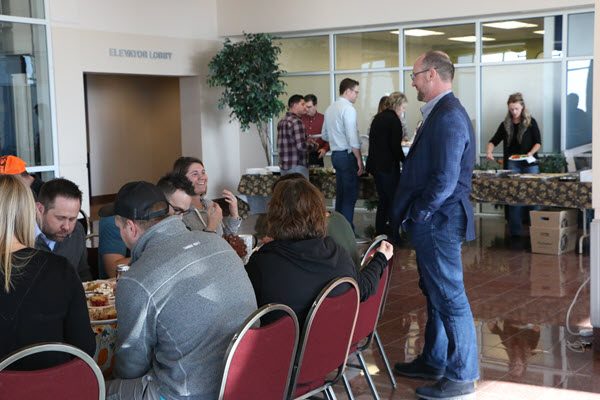 A Favorite Event
Susanna Oliver, lead technical consultant, enjoys the lunch for many reasons. "It is my favorite office event with its laid back, enjoy-your-dinner kind of atmosphere. It's a time to chat, relax, and be thankful for the many blessings we have. Family, friends, health, career, hope, life, home – whatever blessings they may be," she said.
"It's also a chance for me to get to know others in our office that I don't work with on a day-to-day basis," Susanna added. "It not only gives me the opportunity to think about the bigger picture of life and how I can make an impact not only in my personal life, but also at work every day with the people that surround me."
Grateful All Year Round
The Thanksgiving lunch illustrates how close-knit our Fargo team is. Colleagues describe it as a family picnic, with plenty of time to catch up and relax.
One year, Laurie Carvell, office administrator, gave Brent a sign that reads, "Grateful, Thankful, Blessed." The sign hangs outside Brent's office. The message reminds the team that it has a lot to celebrate and cherish.
---
Learn more about what it's like to work at Perficient at our Careers page.
Connect with us on LinkedIn here.
Follow our Life at Perficient blog on Twitter via @PerficientLife.