Twenty-five Perficient teammates recently joined together to give back to the Anti-Cruelty Society of Chicago. Colleagues hosted an in-office crafting party during which they put together dog and cat beds, so the animals would have a warm place to lay down this winter while they are waiting for their forever homes. Together, our colleagues made 20 dog beds and 14 cat beds.
"It was a great opportunity for our team members to accomplish something great together and give back to a good cause – a very rewarding feeling all around," said Kristen Byrne, talent acquisition specialist at Perficient. "It's always such a pleasure seeing people get excited about spending time together outside of the typical work day, sharing some laughs, and connecting at a personal level."
Jumping on the Opportunity
Elisha Goldman, a project manager at Perficient, has been volunteering for the Anti-Cruelty Society for several years. As such, the organization immediately came to mind during the team's ongoing community outreach discussions.
"We received an email from a team leader asking for volunteers to help with our office's Service Committee, and I knew right away that I wanted to join," Elisha said. "I have helped plan other events in other roles, and this was a great way to help and have the opportunity to give back to my charities, right here, in my favorite city."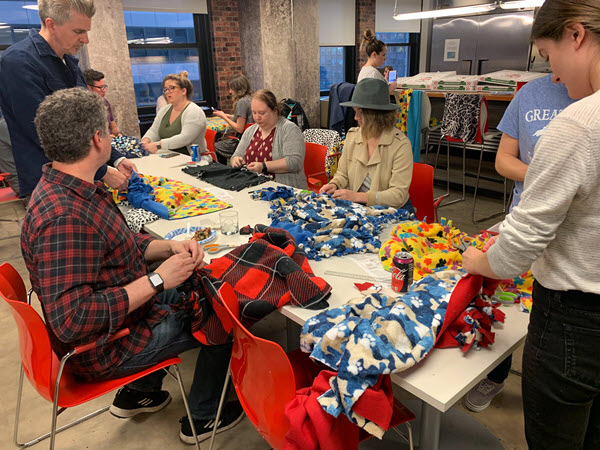 Enjoying Time with Coworkers
Elisha found making the dog and cat beds to be a warm and welcoming experience. "It was the first event I had taken the lead on at Perficient, and it was so great to see so many people show up and jump right into crafting blankets," she said.
"A lot of folks were thankful to have an event right here in the office where they could give back and get to hang out with their fellow colleagues."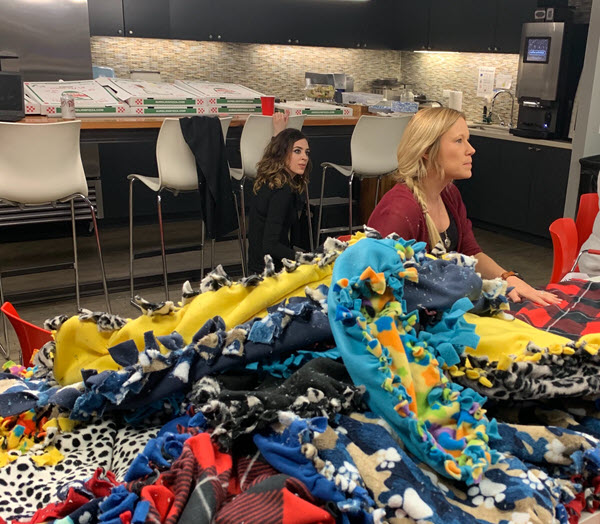 Providing Ongoing Support
Elisha hopes the society is able to keep dogs and cats warm this winter while they are waiting for their forever homes. She is encouraging colleagues across all of our locations to support such efforts, regardless of their location.
"If you are looking for a new best friend for your family, please check out your local shelters. There are always great cats and dogs there that need a home," she said.
---
Learn more about what it's like to work at Perficient at our Careers page.
Connect with us on LinkedIn here.
Follow our Life at Perficient blog on Twitter via @PerficientLife.