At the May 2019 Google I/O event, Google Search and Google Assistant officially announced support and a new Google Search Console enhancement report for FAQ structured data. The FAQ schema.org markup is meant for Frequently Asked Question pages that contain all questions and answers on a single page. Adding it can create a FAQ rich result in the search engine results page (SERP) and eventually a FAQ Action for Google Assistant.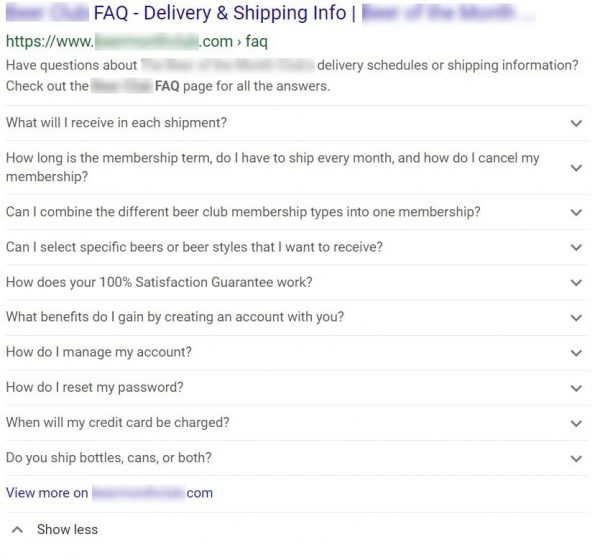 Usually when we hear that a new type of structured data can earn you a rich result in Google, we are quick to assume that it will automatically improve click-through-rate (CTR). From my experience, this is not always the case. Before you complain about SEOs always responding with the "it depends" non-answer answer, I have metaphorical "receipts" from multiple deployment methods and clients. As soon as the support was announced for FAQ markup at Google I/O, I deployed the JSON-LD to two different clients' frequently asked question pages for testing.
Almost two months after deployment, the results between the two clients, who both have a membership-based subscription model, have been dramatically different.
Client A: FAQ schema markup was implemented via Google Tag Manager as a custom HTML script.
Results: It took over a week for Google to crawl the FAQ structured data due to the second wave of JavaScript rendering required for GTM. Using the click-through rate as the key performance indicator (KPI), I discovered that as a rich result, the FAQ page's CTR stayed about the same. To my surprise, CTR initially only slightly increased compared to when the page appeared without the FAQ rich result. Four months post-implementation, the rich result shows steady growth in both clicks and impressions without any additional changes being made.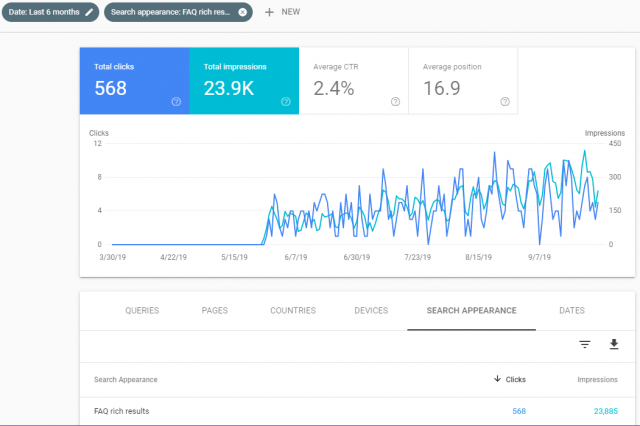 Client B: FAQ schema markup was implemented as inline JSON-LD.
Results: Within just one hour, Google started displaying the page as a rich result in the SERP. The FAQ page's CTR significantly increased from 2% without the rich result to 14% with the rich result.

FAQs on FAQ Schema
Question: How many FAQ rich results can appear in the SERP at the same time?
Answer: For now, three FAQ rich results are being displayed at a time in the Google organic results.
Question: Can I use FAQ schema for FAQ pages that link out to separate pages for each question?
Answer: No, the array of answers and questions are required to be listed on the same page. All content also needs to be present in the HTML so that it can be rendered by search engines and visible to users.
Question: Can FAQ markup be added to non-FAQ pages like my homepage?
Answer: Yes, and no. Google doesn't allow homepages to earn any rich results anymore so don't bother with adding it (sorry single-page applications). Luckily, if you add FAQs to a product or service page, you can mark it up and earn FAQ rich results as long as it's not overly "promotional." Keep in mind that you likely won't get both the FAQ rich result combined with other markups like product review or offer – although that would be one super snippet.
Question: Should I markup the entire question and answer, even if it's really long?
Answer: Google's structured data guidelines suggests that the markup includes the entire text of each question and answer. I personally find this unnecessary, not to mention a poor user experience. Long-form answers, especially ones that feature HTML lists and tables should have their answer markup limited to the most important information. I've tested only including essential answer text multiple times, and it still works.
Question: Is there an easy way to implement it in WordPress?
Answer: Yes! I use Schema App for WordPress. This plugin automatically adds schema to your pages and allows for customization. You can click on the pencil icon and paste your FAQ markup once you've validated it using Google's Structured Data Testing Tool. Keep in mind that if you update the content, you will also need to update the markup to match what is in the page source.



This is exactly what I did to add FAQ markup for this blog post. Within an hour of being pushed live, Google now displays this page with the FAQ rich result shown below.


Update: I updated the custom JSON-LD schema markup to include any links referenced in each answer and they also showed up in the FAQ rich result. You can do the same with the a href attribute using the apostrophe instead of the straight quotes:
<a href='https://example.com/'>anchor text</a>
Key Takeaways
If you decide to add FAQ structured data to your site, keep in mind that you're providing all your information to Google. This can be a good or bad thing.
On the positive side, this helps with Google indexation. You'll also get a rich result or SERP enhancement that displays the Q&As in an expandable accordion. Rich results (previously known as rich snippets) can lead to higher engagement and earn valuable SERP real estate. Google Assistant will eventually support interactive FAQ Actions. On the other hand, the user may not need to click-through to the page because Google is already providing all the content in the rich result. This can create the dreaded "no-click" dilemma.
Either way, I strongly recommend testing out FAQ structured data and using the Google Search Console Performance report to compare the average click-through rate of the FAQ page when it was and was not displayed as a rich result. If you deploy the schema markup with a tag manager platform, you may see a one- to two-week delay for rich results. As always, results may vary.
Have more questions on Frequently Asked Questions markup? Leave a comment below.